Reports of the death toll following the devastation left by super-typhoon Yolanda (Haiyan) continue to pour in. The most recently-released official Philippine government estimate released two days ago put the number of deaths at more than 5,200. President Benigno Simeon "BS" Aquino III has since "conceded" that the death toll is at least double what he originally estimated in earlier days.
First responders reported seeing numerous bodies littering the streets and floating in the water, and local government and police officials feared the storm had killed up to 10,000 people.

The government was displeased with that estimate and sacked the regional police director in Eastern Visayas, Chief Supt. Elmer Soria, who had quoted the figure from a briefing by Leyte Gov. Dominic Petilla on Nov. 9.

The sacking of Soria and the clampdown on body-count reports by the National Disaster Risk Reduction and Management Council (NDRRMC) gave rise to the criticism that the government was playing down the death toll.
But the Philippine leader is
reportedly
"not bothered" by the mounting body count saying instead that the government will henceforth refrain from issuing death toll estimates until figures that "[cannot be doubted]" are available so as not to "increase the people's anxiety, especially those with missing relatives".
SUPPORT INDEPENDENT SOCIAL COMMENTARY!
Subscribe to our Substack community GRP Insider to receive by email our in-depth free weekly newsletter. Opt into a paid subscription and you'll get premium insider briefs and insights from us daily.
Subscribe to our Substack newsletter, GRP Insider!
Learn more
President BS Aquino's concern for the "anxiety" felt by Filipinos with missing relatives is inconsistent with reports of hundreds of unidentified bodies being unceremoniously dumped into mass graves — a common procedure routinely practiced by Philippine government personnel whenever thousands of people die in the numerous "natural" disasters that hit the country. "In Tacloban, recovered bodies are deposited in the public cemeteries at Basper village, 8 kilometers from the provincial capital, and Suhi village, 13 km from the city," continues the same Inquirer report. Back in 2011, when Typhoon Sendong devastated the cities of Cagayan de Oro and Iligan in northern Mindanao, there were even reports that mass graves were being dug in garbage dump sites. This despite assurances from the Department of Health (DOH) and the World Health Organisation (WHO) that decaying corpses do not pose immediate risks of outbreak of communicable disease.
Slow progress at providing reliable estimates of the death toll can also seemingly be attributed to government red tape and meddling by certain Cabinet officials…
Asked why the recorded number of fatalities remained the same despite reports of bodies being retrieved in Tacloban City and other areas, [Maj. Rey Balido, NDRRMC spokesperson] said Interior Secretary Mar Roxas had directed local chief executives to submit official reports duly signed by the mayors or governors to the NDRRMC.
It is interesting to note that it was also Roxas who had previously vehemently downplayed reports that the government was mismanaging the collection and processing of victims' remains in an earlier interview with CNN reporter Andrew Stevens.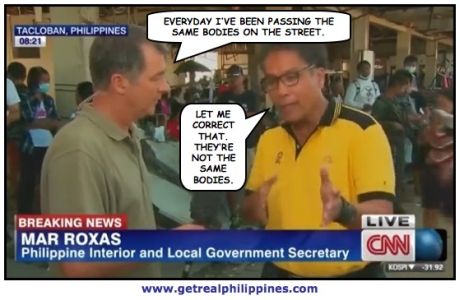 The WHO recommends in its Technical Note for Emergencies No. 8 that health-related risks due to uncollected bodies are "negligible" but that the rapid collection of victims' remains is important "because of the possible social and political impact and trauma."
Also stressed is the importance of identifying bodies before their disposal for record keeping purposes; "Once [a body is] identified, a death certificate should be issued, an official record of death prepared and the body tagged. With violent deaths, it is also important to record the cause of death for possible future investigation." The report also recommends that burial procedures "be consistent with the usual practices of the community concerned."
[Photo of Yolanda mass grave courtesy NBCNews.com.]
benign0 is the Webmaster of GetRealPhilippines.com.