There are NO CLASSES today in pre-school, elementary, and high school in Manila, Quezon City, and in other component cities of Manila.  It was something that caught me by surprise last night when my wife and I were scheduling activities this coming week.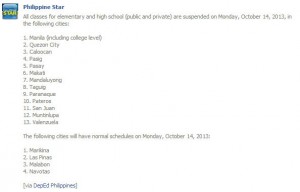 Apart from being a little relieved that my daily schedule today would have one less stop (I wouldn't have to drop off my kid at his school before going to a meeting), I was also a little perturbed by what could be a show of force from the Iglesia Ni Cristo.
In a press statement that seemed to have been circulated quite widely, it is said that the massive gathering that has suspended classes in 12 component cities of Metro Manila will be participated in by some 1.6 million members of the INC.
SUPPORT INDEPENDENT SOCIAL COMMENTARY!
Subscribe to our Substack community GRP Insider to receive by email our in-depth free weekly newsletter. Opt into a paid subscription and you'll get premium insider briefs and insights from us daily.
Subscribe to our Substack newsletter, GRP Insider!
Learn more
Granted that the gathering is meant to drum up the INC's Grand Centennial celebration in 2014, the record breaking size of their medical and dental mission should be a cause for concern should the orgnizers of the event shift its focus on one particular malaise that has rocked the Philippine government — a malaise that has symptoms composed of the P10 Billion Pork Barrel Scam and Malacanang's illegal and unconstitutional Disbursement Acceleration Program.
Apparently, I am not the only person who received word that the INC gathering today may be somewhat of a sign that the leaders of one of the country's politically potent religious organizations are not at all pleased with the Aquino Administration.
In a status update on Facebook, Stuart Santiago said, "even before mmda announced suspension of classes tomorrow in metromanila, husband says he was advised by an iglesia friend to stay away from manila especially, the traffic will be humongous, hundreds of thousands of members expected to converge on quiapo for march to palace. anti-pork? would neither confirm nor deny. interesting. we will see soon enough kung ek nga lang ang medical mission press release."
Just consider the timing of the event!
This ginormous gathering happens in the wake of the controversy surrounding the Disbursement Acceleration Program, a budgetary anomaly that has been described as illegal and unconstitutional by Joaquin Bernas (one of the framers of the Philippine Constitution), Senator Miriam Defensor Santiago, and Senator Joker Arroyo.
And the fact that last week, the talk of the town was Conrado de Quiros' brother Emilio granting board members of the SSS P1 Million each in bonuses!
JP Fenix encapsulates the uproar this has caused among members of the country's pension fund:
When any of us fail to pay a debt – credit card, housing loan, car loan – first thing auditors look at is what expenses we have to get rid of to pay the debt. Next, what assets or things do we have in our possession do we need to get rid of or sell to add to the funds needed to pay the debt.

In other words your standing depends on how they perceive you handle money. No matter how much you tell them that you'll pay them back, no matter how credible and trustworthy you character references say you are, nothing proves your worth better than showing that you put settling your obligations first. Be it just one peso or a million, showing your priorities reveal your character and sincerity.

Now in the case of SSS, these management decisions are seen in the light of retirees not being able to make ends meet, high costs of food, medicines, clothing and other basics, long queues and waiting time to be served and even impatient, grumpy SSS employees behind the counter and even slow or erratic internet access to the website.

SSS management's moves are seen as – to say the least – insensitive to the millions of private sector employees who contribute to and are the real owners of the fund.

While these board members are appointed by the President, it would also be good to note that these appointments were made by the power vested in him by the citizenry, many of whom are the members of SSS.

And that's why these very same members – who may or may not have a loaded gun on their hands (I pray it isn't the latter) – are pissed.
Then of course, we have the discovery that the Aquino administration has been sucking revenues from various GOCCs and slush funds — like the Malampaya funds.  Bobby Tiglao's column is tells of the VOODOO perpetrated by Aquino's financial shaman, Finance Secretary Cesar Purisima:
Aquino hijacked the P12.3 billion in profits that government-owned and controlled corporations had turned over to the Treasury. That was just for 2011 though, and still unreported are the amounts for 2012 and 2013.

These were from such GOCCs as the Philippine Charity Sweepstakes Office, the Philippine Amusement and Gaming Corp. (Pagcor), Development Bank of the Philippines, and the Land Bank.

This is so patently illegal. Under the Administrative Code and the GOCCs' charters, and emphasized by Republic Act No. 10149 or the GOCC Governance Act of 2011, these firms' profits remitted to its principal shareholder—the State—form part of the General Fund, or the nation's kitty. No wonder then that Aquino through his finance secretary Cesar Purisima since mid-2011 had been pressuring the GOCCs to remit as much profits as they could to the Treasury, even to the point of cutting down their expenses and operations.

But each centavo and peso of the General Fund has to be authorized by law, which is done by Congress when it enacts the annual appropriation laws. The President even has a crucial say in these laws as it is his budget department that prepares the bill, which he signs into law after the Senate and the House of Representatives approve it.
The word that has been going around is that Purisima is the go to guy as far as any financial voodoo is concerned.  As one bureaucrat points out, "You don't have to steal money in order to control it."
Anyway, just consider that in March this year, Finance Secretary Cesar Purisima received some $1.1 Billion from the government's Malampaya Joint Venture partners.  The amount represents the government's revenue form operations for the year 2012, from the pioneering natural gas project that supplies 2,700 megawatts or up to 45% of Luzon's power requirements.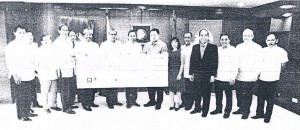 Bayan Party-list Representative Neri Colmenares has questioned the use of Malampaya funds in the wake of the P10 Billion Pork Barrel Fund Scam:
Colmenares enumerated other items in the Malampaya funds that should be scrutinized:

* P 5.8 billion ($131.25 million) given to the Department of Agriculture as "agricultural guarantee fund" for typhoon victims;

* P7.09 billion ($178.78 million) to build roads in lucky districts favored by the President through the Department of Public Works and Highways (DPWH);

* P745 million ($16.86 million) given to the Department of Health (DOH);

* P1 billion ($22.63 million) given to the AFP Modernization especially since there was no record of the release of this fund;

* P2.14 billion ($48.43 million) given to the Philippine National Police supposedly for "disaster preparedness."
Now given all these indications that CORRUPTION has increased rather than decreased during the reign of President Aquino, is the INC's literal MILLION PEOPLE MARCH today really a message to the President to either SHAPE UP or SHIP OUT?
If you've ever wondered why the Aquino Administration's "Tuwid na Daan" seems like a reference to the INC's "Tamang Daan" — which is the title of one of INC's TV programs that features debates and rebukes of what it calls false teachings — wonder no more.
The INC endorsed the Noy-Mar Tandem in 2010
Iglesia ni Cristo leader Eduardo Manalo on Wednesday officially endorsed the Liberal Party tandem of Senators Benigno "Noynoy" Aquino III and Manuel "Mar" Roxas II.

Manalo announced the names of the candidates through a "palibot liham" distributed during Wednesday's worship service at the INC central temple in Quezon City.
Coincidence or not, among the many things that makes INC a politically potent organization that could END the Aquino Administration:
1. Not only its size but the quality of its membership and its cohesiveness as a group.
2. The INC owns the highest rating (BAR NONE) radio and TV network, which is an essential tool for mobilization and coordination.
3. As mentioned above, its members are well placed throughout the government.