(An open letter to Conrado De Quiros from an SSS contributor in response to his column titled "What's in a name?")
Dear Conrad,
Let's not kid ourselves and say that the SSS that we have now has been so vastly improved that the bonuses approved for its officers and employees that it would go unquestioned.
That people can check the status of the SSS benefits and contributions anywhere in the country, like an ATM as you put it, is really making a big deal out of being able to see a pittance.
Because, after 20 years of monthly contributions or 120 monthly contributions if you're self-employed, what you get is monthly pension and lump-sum, the size of which is really just better than nothing.
According to one calculation, if you were earning around 15,000 a month for 20 years, your monthly pension would amount to about P6,000 a month.
Wow!  If you had nothing else to count on in what would hopefully be your many years of retirement Conrad, I doubt that could pay for more than a couple of nights drinking at Conspiracy, 70's Bistro, or wherever it is guys like you drink beer.  For the rest of the month, if you spend all that dough drinking, well, you'll have to be like the lead character in "No One Writes To The Colonel":
"If the rooster wins,' the woman said. 'But if he loses. It hasn't occurred to you that the rooster might lose."
"He's one rooster that can't lose."
"But suppose he loses."
There are still forty-four days left to begin to think about that,' the colonel said.
The woman lost her patience. 'And meanwhile what do we eat?' she asked, and seized the colonel by the collar of his flannel night shirt. She shook him hard.
It had taken the colonel seventy-five years – the seventy-five years of his life,minute by minute – to reach this moment. He felt pure, explicit, invincible at the moment when he replied: 'Shit'.
The crux of the matter, Conrad, is not morality but circumspection.
I don't know how far up someone's ass you'd have to put your head in order not to see how news of the controversial million peso SSS bonuses would look outrageous at a time when millions of taxpayers are smarting over the P10 Billion Pork Barrel Scam.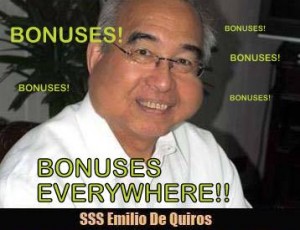 The main beef that middle income Filipino tax payers have with government is that they're getting next to zip from government for the amount of taxes they are compelled to pay every month.  On top of which, middle income Filipino tax payers have to pay "extra" for the stuff that should be provided by the government.
Middle income earners have to send their children to private school because the public school system is so bad; they pay to live inside gated villages with its own private security force because you just can't count on the police; they drive cars to work and pay for its maintenance because there IS NO public transport system; and these are just three of the many things middle income earners have to pay extra for.
And at the end of their productive and employable lives, after having contributed to the SSS whether they like it or not, they get what? A paltry lump sum and a pitiful monthly pension.
Yes, I wish you could read out your column in front of SSS pensioners, particularly this part:
I did not, as the intriguers keep saying, cajole Malacañang into putting him in the SSS. He was recommended by the banking community after he retired as BPI executive vice president and president of Ayala Assurance, the latter earning for him various plaudits.

Has he made the SSS profitable? Has he made the SSS viable? Has he put the SSS in a position to give more and better service?

Yes.
Being forced to give money and getting little or nothing in return is one definition of robbery.
Galing ng kapatid mo, Conrado… BIGYAN NG JACKET!