The racket over epal relief good distribution in Bohol has made me wonder if calling out the self-aggrandizement and credit claiming actually promotes instead of demotes the politician or organization committing it.
When the Habagat last year flooded Provident Village in Marikina, I really didn't bother to read the names printed on the rescue boats, trucks, and tents.  Neither did a wife's kababayan from the province remember the names of the politicians who distributed relief goods at the evacuation center they were in.
In a way, my experience tends to confirm what fellow Marikenyo Senator Koko Pimentel told me in a conversation in 2012 and that is MOST people won't remember the names of politicians who helped them during disasters. Thus, Pimentel figured, when election season comes around, there'll be only a few votes coming out from all the money spent by politicians for relief goods.
Besides, pinoys expect political campaign seasons to be a perverted mash-up between a fiesta and Christmas.  Where, instead of the usual banderitas you have campaign posters strung up across streets and instead of parading saints with marching bands we have a string of amiable sociopaths going around in motorcades with god-awful jingles blaring.  Instead of Misa De Gallo, you have the Miting De Avance and instead of Aguinaldo (what they call Christmas gifts from godparents), people get Ninoys (500 peso bills).
Question is, what kind of person would expect people to vote for them after reminding them of bad times?
Anyway, calling something EPAL actually makes people notice the EPAL and has a tendency of burning it in their memory — which can actually have the tendency of making more people vote for the EPAL.
One friend on FB, upon being shown the EPAL of his town mayor, was even elated that he had seen his town mayor's picture being spread widely on the internet.  People can be looking at the same thing and even when the message is clear, they'll always come away with a different perception — which by the way, isn't so much the nature of "social media" as it is the nature of people and perception.
Even more, controversy gets eyeballs on the internet.  It's an old trick which probably has its roots in showbiz promotions, create a controversy for an artista and you get tongues wagging all over, inevitably promoting the artista as well as whatever movie or show they'll be in.
Apply that to politicians during the lull between campaign periods and voila! Instant attention for some ambulance with their name on it or some manner of publicly funded construction.
Great racket really.
You gain eyeballs and win points with a lot of young, impressionable rebels without a cause (the 17 to 21 years old that comprise the bulk of social media users)… And you get to either hawk your social media consultancy to politicians who, up until the time they had an EPAL crisis, wouldn't bother with social media at all.
Anyway, I guess politicians have already seen through the racket and kids on social media (being the kids that they are) have already turned their eyeballs away from the anti-Epal campaign.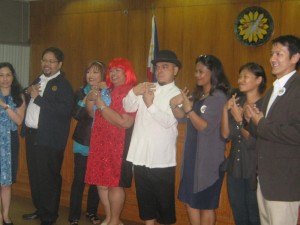 In other words, like a joke that already provoked laughter, it can be said that "nabenta na" ang anti-Epal and a new racket has to be made, which now brings us to the recently coined #corporateEPAL of one washed out mestizo de entresuelo tour guide.
Funny, really, that after laying off ranting about SM for a couple of months after supposedly talking with someone from the mall and real estate giant, Mamser Carlos "Mestizo De Entresuelo" Celdran has again started ranting against the company.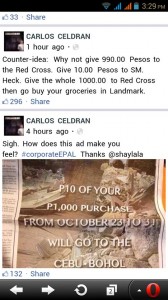 Of course, good old Atanacio Salvador had some thing to say about it:
Carlos Celdran is at it again, bullying SM. Ok, we get you… but at least they're doing something. You, Celdran, on the other hand have done nothing but b***h. You claim to be a consultant of Manila City's tourism office but the only thing you've done is sell tickets of your Manila historical walking tour to schools and teachers and having Manila taxpayers foot the bill. What's the matter, Carlos? Your flagpole kickback ain't enough for your Syquia apartment rent and c*****e binges?
That's really a bit harsh on Mamser Celdran.  I mean, give the guy a break, how do you expect someone like Carlos to earn money?  And like what Heath Ledger was supposed to have said, "If you're good at something, never do it for free."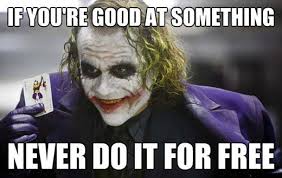 To be fair to Celdran, he did use his social media accounts to call out to people to donate to victims of the Visayas Quake.  I don't know how much he donated to the victims, but I'll simply just assume he did because I didn't see him on FB or Twitter saying he did.  Then again, saying he helped the earthquake victims on social media would be epal, right?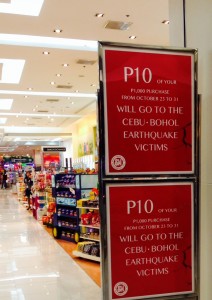 But what would be wrong about saying you're helping out victims of the earthquake, if… in fact… you are helping the victims?
Mamser Celdran's counter-idea seems a bit deranged… "counter idea: why not give 990.00 Pesos to the Red Cross. Give 10.00 Pesos to SM.  Heck, give the whole 1000.00 pesos to Red Cross then go buy your groceries at Landmark."
Great if people go for it!  But, chances are… I don't think people will.
Thing is, I think Mamser Celdran's thumbs weren't connected to his brain when he posted this on Facebook and he couldn't do the math.
What it looks like to me is that SM is going to give is 1 percent of its daily sales from its department store and perhaps grocery operations all over the country.  Now, I don't have an idea how much that would amount to on a daily basis, because I'd need the annual sales figures and divide that by 365 to get that.
But even then, perhaps it's safe to assume that 1 percent of SM's daily sales would amount to millions a day and that's certainly a lot more help than just posting status messages on Facebook.
If at all, Mamser Carlos is acting like Maribojoc, Bohol town Mayor Leoncio Evasco Jr. who turned away the Red Cross' help after the members of the humanitarian organization refused to handover its relief supplies to him.
In Bohol's time of great need, I think people should reign in their baseless feelings of self-importance and arrogance.