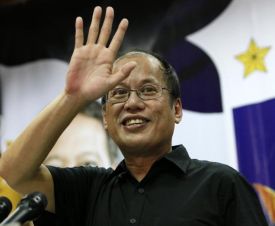 So the Philippine intelligentsia are scratching their heads; baffled as to why Philippine President Benigno Simeon "BS" Aquino III remains "popular" despite outrage over pork barrel thievery rippling across their society. Wonder no more! It's always been obvious that it is Filipinos "resilience" that is at work here. Filipinos, after all, are renowned for their ability to keep a dog-like smile plastered on their faces even in the face of hideous adversity.
What accounts for that ability? Well, they don't attribute bliss to ignorance for nothin'. Filipinos remain beholden to The Prayerful One simply because they fail to understand three fundamental concepts that would have been the key pillars of any sound intellectual capability to evaluate the dire circumstances of their politics.
* * *
(1) Lesgislators have no business managing, much more doling out, public funds.
This is a concept I laid out in detail in my article Executives execute, legislators legislate.
Districts and their people's and local leaders' aspirations to develop their communities should not have been relying on funds channeled through a legislative body of government to begin with. The points around which these hollow-headed pork barrel apologists have built their arguments are constructs premised on the very thing — the pork barrel — the existence of which should the crux of the whole debate itself. Instead, of debating the continued existence of pork, the "debate" has been shunted by the nation's "thought leaders" onto how the funds should be monitored and controlled. If Filipinos were a bit cluier — and less needier — they would've shut down that non-sequitur line of thinking months ago.
The principle here is quite simple:
Legislators are neither administrators, managers, nor executives.
(2) Legislators should be selected on the basis of their ability to craft laws — not on the basis of their ability to fund and run local projects.
Trouble is, for all the hollow-headed "indignation" about grandstanding "epal" politicians, the fact is, Filipinos remain utterly clueless about what criteria they should be applying whenever electing their "representatives" to Congress. The voter "education" situation is quite dire when one considers that Filipinos, as my colleague Gogs points out, do not seem to value work. It is a big problem when the electorate see money as something to be begged for rather than earned.
So the real qualifications that Filipinos need to evaluate when it comes to selecting legislators — their ability to craft good laws — are simply beyond the reach of their stunted minds, which is why circus acts, publicity stunts, and, yes, epal tactics like plastering politicians' names and portraits all over public facilities will continue to be effective on the Filipino Voter for the foreseeable future. And bozos like the folk we are now stuck with in Congress will continue to get elected.
(3) Projects/money delivered by any government official to their constituents are not favours to the public.
They are appropriations presumably made within the context of a strategic or operational plan. Perhaps an official may take input from their immediate constituents on what the priorities should be. But incorporating that input into any decision on where to spend money goes through a process that relies on a broader strategic or tactical context to make said decision sound.
Of course, we cannot really expect the Filipino Voter to understand that either.
To the average Pinoy ballot stuffer, the typical Filipino politician represents their Santa Claus and Fairy God Mother fantasies come true. Their local "representative" is someone to wait up for come Christmas Eve. Filipino politicians are expected to personally hand out Jollibee Chicken Joy boxes in the aftermaths of mudslide and earthquake disasters. They can be "relied" upon for abuloy and ninong envelopes during funerals and fiestas.
* * *
Until Filipinos are able to wrap their heads around these simple principles, they will remain blissful victims of the very people they consciously choose to lead and represent them. Thus the sad reality of this sad nation of 100 million "blessed" individuals.
Indeed, as charity organisation Gawad Kalinga founder Tony Meloto gushed…
Proud of PNoy! Great leader of an emerging economy -solidarity w victims of calamity, enmity w the corrupt, governs w integrity & humility.
benign0 is the Webmaster of GetRealPhilippines.com.