What are we to make of Pinoy music legend Freddie Aguilar's dating a 16-year-old girl? Not surprisingly, most netizens reacted with an Ewwww. At 16 the girl is 44 years younger than Mang Freddie. What might it be like for a girl of 16 to be dating a 60-year-old man?
I'm sure a lot of Yemeni women will have something to share around that sort of thing. But this is the Philippines where there is an abundance of young men. After all, by my rough reckoning, as much as 20 percent of Filipina young women could be beyond the reach of the average Pinoy male — with many of them toiling away as domestics and factory workers abroad or dead-set on bagging a pensyonado foreigner from the First World. This means there are many Filipino men who are looking.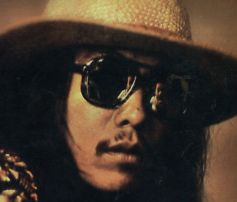 Then again, who are we to judge Mang Freddie? By all accounts, he does not seem to be someone who's got something to hide. He dates her publicly (they were first spotted together attending the 5th Star Awards for Music at Solaire Resort & Casino), admits to being in love with her, and announced to the public that he plans to marry her. A lot of women twice this girl's age cannot even claim to have had a partner who would gush about them with the same gusto!
Age after all is just a number. There are 16 year olds who can hold a permanent job and some have even raised great kids after having had them at that age. And then there are some 30-year-olds I know who just can't put their lives in order. On Facebook, I see a lot of middle-aged women dressing like 20-something pretty young things. We celebrate that kind of thing and regard the number that supposedly defines how they ought to dress and behave as a quaint irrelevance. But then in the case of Freddie's current squeeze, that number suddenly becomes the single point of contention around which us spectators design our savagely judgmental tweets.
To be fair it's all probably easy for me to say. If I had a 16-year-old daughter, I wouldn't want her to be dating a 60-year-old guy with long black hair. For that matter, I wouldn't want her dating a 17-year-old with long black hair either! I'd feel like telling that hypothetical 60-year-old suitor, "Don't you think you ought to leave someone who still has a life ahead of her alone?"
Indeed, we appreciate the power men with mature and worldly minds have over girls who are smitten by them. When I was 17, I had this humungous crush on my young religion teacher. Perhaps because he was a religion teacher, a lot of students pereceived him to be the sort of person who they could be safely comfy with. It was not uncommon to see him surrounded by a handful of students each competing with the other for a chance to put in some small talk. It's not that they all had the hots for him. He just came across as a very approachable go-to person. I only now, in my riper years, worked out what might have been the source of his harmless magnetism. Religion is a pretty relevant topic in the mind of a student in a Catholic all-girls' school. And to have a tall, lanky, cute young man presumably knowledgeable on that topic on campus available to discuss the matter was simply too good to be true.
More important is the difference between a mid-twenties guy who's had several girlfriends (if I recall right he had two in high school, one in college, and the fourth one he was with at the time he was our teacher) and the average pimply 17- to 19-year-old guys that came to our soirees and parties at the time. 25-year-olds exuded coolness without even trying. Most 17-year-old guys, in contrast, failed even if they tried hard.
In short, guys like my religion teacher, already had many of us at "hello". Thing is, "hello" is all my religion teacher ever said (figuratively, ok?) to us even if some of us wished he would say or do more than that. Did my religion teacher know how much power he had over the minds and wills of his teenage female students? Most likely. He'd have probably worked it out — maybe even considered using some of it on some of us. But he didn't. And that is why my admiration and respect for him grew and matured.
Personally I look back and wonder if I would have behaved myself if he had shown the least bit more "curiousity" about me than he had exhibited during a couple of the one-on-one consultations I had with him in his office. But that's just me looking back wistfully at could-have-beens in my youth with my 30-something mind. In truth, a 16-year-old would not have that same twinkle in her eye about such "possibilities" that I now presently use to color my memories of my religion teacher.
And that is the only thing about Mang Freddie that I wonder about. Did he have to act on something just because it felt "so right"? But then, who are we to judge.
Frustrated artist doing geek for a living.