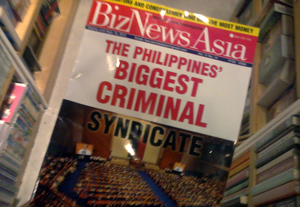 This cover of the BizNews Asia magazine  has been making the rounds in social media. I shared many skeptics into thinking that this could be another well rendered fake magazine cover remiscent of the Time magazine parody that trolled Inquirer.
So to quell doubts, off I went to the nearest bookstore.
I was supposed to buy my own copy but when I browsed through the September 30,2013 edition of BizNews Asia, I felt it wasn't worth my Php 150.00 when I saw the uncorrected COA report that Way Kurat, (ex-Congressman and now Compostela Valley Vice Gov Zamora) still topping the PDAF releases despite the Department of Budget and Management (DBM) admitting to clerical error in listing the simple Representative with a Php 3B Pork!
As per philnews.ph:"Budget Secretary Florencio Abad Jr. clarified that the DBM made a mistake in including Zamora's allocation of P500,000 from his Priority Development Assistance Fund (PDAF) in the same statement of allotment release order (Saro) it issued for the P3-billion project of the Department of Public Works and Highways (DPWH).

The Saro Number (A-07-095396) project of Rep. Zamora for a multipurpose building or Davao Hospital in Tagum City is the same with the P3 billion allocated for the DPWH's road maintenance projects nationwide. It was a clerical error in part of the DBM.

…Secretary Abad stated that the mistake was due to human error, according to him, the processing of SARO numbers used to be one manually. He already informed COA about the error and the agency has already apologized to Zamora's daughter." (DBM Admits Clerical Error on "Way Kurat" P3 Billion Pork Barrel Controversy
by ED UMBAO on AUGUST 21, 2013)
Recall that Way Kurat, the same 3 Billion peso chart topping PDAF Congressman, was celebrated back in 2003 as one who has broken all Congressman stereotypes. For he is the only congressman who wears a dowdy barong and proudly rides his mountain bike plate numbered with an "8" from his rented home in Northview subdivision to the Quezon City Congress complex!
As per pcij.org: " When his bike breaks down and he has to take a tricycle, House guards will first bar him from entering the complex, since no one on anything as lowly as a pedicab or tricycle is allowed into the grounds.

But the guards take only a few seconds to recognize the 51-year-old Zamora, the representative of the first district of Compostela Valley in Mindanao, whose peasant ways and bike riding have made him a celebrity. He stands out among the 200 or so congressmen in Armani suits and P500,000-Rolex watches on their wrists." (Compostela Valley Rep. Manuel Zamora defies all the stereotypes of trapo congressmen by Luz RImban)
Now, amidst all the Pork scandal, SORRY is all that Way Kurat's getting especially NOW that his name has made it to the pages of this international magazine?
Amazing that Commission on Audit (CoA) wasn't able to make the correction right after the DBM's admission? And why isn't DBM getting slammed for the crap that has resulted to the infamous Napoles?
Is it because of the political color that imbues this nation? We better change the colors of the Philippine flag then since it's been a Daang Matuwid with blinders on for the past 27 years!
It is a pity that senators and representatives like Way Kurat become collateral damage to a cover story that elicits a major face palm. That is tragedy when other good men become political apologists and do nothing .