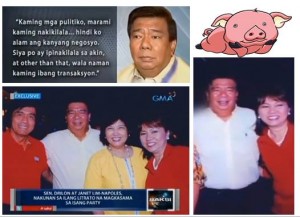 Guilt by association is a logical fallacy that members of the yellow press and yellow army have played ad nauseam — not really counting on the possibility that it could swing back at their faces like a double hinged door.
For example, pictures of Janet Napoles with Bong Revilla have been circulated after the senator denied knowing Napoles – who has been accused in various news reports of masterminding the P10 Billion Pork Barrel Scam.
The surfacing of such a picture did two things: One, it tended to portray Revilla as a liar, and two, it gave the opportunity for a number of insinuations including involvement in the P10 Billion Pork Barrel Scam.
Just this morning, I caught a picture put up on Facebook as a boosted or sponsored post and in that picture is Senate President Franklin Drilon with Janet Lim Napoles.
In the inset of the picture is a caption of what I assume to be the explanation of Drilon regarding his appearance in a picture with Napoles, it reads: "Kaming mga politiko, marami kaming nakikilala… hindi ko alam ang kanyang negosyo. Siya po ay ipinakilala sa kain at other than that, wala naman kaming ibang transaksyon."  (Translation: We politicians get to meet a lot of people… I don't know what her business is.  She was just introduced to me and other than that, we had no other transaction.)
Just one thing, does one have a transaction with everyone they meet for the first time?  Is that a Freudian slip?
Is Drilon the senator referred to by a Pork Barrel Scam witness as the senator whom Napoles gifted with  expensive pen?
The ninth whistle-blower said dinners with the lawmakers were in expensive restaurants, like the Greenhills Stone Grill and Tsukiji in Makati City. She said Napoles asked her to buy gifts for the senators.

"One time she asked me to pick a ball pen, Montblanc, worth P65,000 from Rustan's," she said, adding she paid for it in cash.

"I had to pick up the ball pen the following day because it had to be engraved with the senator's name," she said.
The thing is, why did this picture surface only now?
Is it at all true, that in an effort to debunk the view that Malacanang is using the Pork Barrel Scam to derail the political careers of potential presidential and vice presidential candidates in 2016, Palace spin-masters will have to sacrifice some of its allies.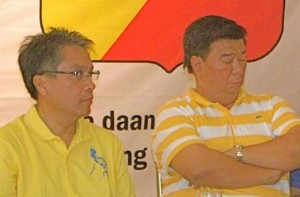 Drilon is one of DILG Secretary Mar Roxas' closest allies, being both fromVisayas regions — Roxas being from Capiz and Drilon being from Iloilo.
According to the Liberal Party Website, Drilon is the Vice Chairman of the Liberal Party.
Could it be that the feud between the Samar and Balay factions of the Aquino Administration is heating up again? (According to an article in the Inquirer: The Samar group is composed of Aquino's supporters who backed the candidacy of Vice President Jejomar Binay while the Balay group is composed of those who supported Roxas' candidacy. Roxas is Aquino's running mate during the last presidential elections.)
Also included in the roster of party officials are President Benigno Aquino III (Chairman), Speaker Feliciano Belmonte (Vice Chair), DILG Secretary Mar Roxas (President on leave), DOTC Secretary Joseph Emilio Abaya (Executive Vice President now Acting President), Congresswoman Henedina Abad (Vice President for Policy, Programs and Advocacy), Rep. Mel Senen Sarmiento (Secretary General) and Gov. Alfonso Umali, Jr. (Treasurer).
Congresswoman Abad is the wife of DBM Secretary and former Batanes Representative Butch Abad.  It will be remembered that Malacanang recently defended Congresswoman Abad over the issue of having been allocated PDAF way above the yearly P70 Million that most other congressmen receive.
Every year, each congressman is given P70 million in PDAF while each senator gets P200 million.

But Abad, wife of DBM Sec. Butch Abad, was reported to have a PDAF of P92.5 million in 2012. This is reportedly even bigger than the PDAF of House Speaker Feliciano Belmonte.

During a press briefing on Thursday, however, presidential spokesman Edwin Lacierda said the current PDAF for each lawmaker may vary depending on their use the previous year.

"Every year, you are given P70 million. [The end amount] depends on your use. It's rolled over," he said.

The Palace official said that this is called a continuing appropriation, which applies to all congressmen.
Governor Umali is the brother of Mindoro Congressman Reynaldo V. Umali who was a member of the prosecution team in the Corona Impeachment Trial.  Umali will be remembered mostly for having claimed that he had been given bank documents purportedly of former Supreme Court Chief Justice Renato Corona by a "little lady". 
Oriental Mindoro Representative Reynaldo Umali said that he did not give importance to the "small lady" who gave him the envelope containing the bank documents of Chief Justice Renato Corona.

"Madali ako pumansin ng tao pero ito hindi ko talaga binigyan ng importansya kasi akala ko kung ano lang eh," Umali said in an ambush interview after the trial proceedings Monday.

He said that he could not remember exactly where it was given to him in the Senate building but was sure it was before he had entered his vehicle. He said that he was rushing to another meeting that's why he did not give much attention to the envelope.
Umali's claim of having been given confidential documents by a small lady, however, was contradicted by Senator Tito Sotto who said that the Senate's CCTV did not show Umali receiving any such documents from any little lady.
The closed circuit television (CCTV) in the Senate showed no 'little lady' handing bank documents to a member of the prosecution team, Senate Majority Leader Vicente "Tito" Sotto III reported on Monday.

Sotto turned over a copy of the CCTV to the Senate which he requested to find out if Oriental Mindoro Representative Reynaldo Umali's claim was true that a "small lady" gave him the identification and specimen signature cards of Chief Justice Renato Corona with the bank.

"It has not contained any little ladies giving anything to Representative Umali from the time he arrived 1:00 p.m. up to the time that he boarded his vehicle…" Sotto said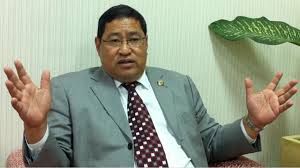 Nevertheless, a source revealed to me that some time in 2013 just before the elections, Umali was seen with Janet Lim Napoles at a popular coffee shop.  The source said that this was not a casual meeting as the two were together for more than an hour.  Whether they were discussing the transfer of funds or other matters was not clearly disclosed.