The upcoming September 11 EDSA Shrine prayer vigil against pork barrel funding seems to be getting a lot of flak  for supposedly being covertly orchestrated by the Aquino Administration to serve some hidden agenda.
A couple of people in various threads on Facebook are telling people not to participate in the September 11 EDSA Shrine prayer vigil and not to allow themselves to be unwittingly used by the Aquino Administration in an attempt to control a movement to scrap all forms of pork barrel funding.
In addition to this, the same people are saying that the September 11 prayer vigil would be disruptive, being held at the EDSA Shrine in the middle of the week on a regular working day.
The last sentiment echos a part of what Peachy Rallonza-Bretaña said when she stated her position on the September 11 anti-pork barrel gathering:
Just to clarify, the EDSA call is NOT from me and not the same as the #MillionPeopleMarch. #ScrapPork has nothing to do with Marcos' bday or martial law.

And besides, anything on EDSA is too disruptive to our economy and the daily lives of the ordinary taxpayer like us who eke out a living. We want to make an impact yes, but an impact that works within the system and doesn't throw us back to the bottom of the pit again. Thus the #100days to Justice. I am quite sure there will be those who will get angry at me for saying this but I just want people to be more aware of whatever they're getting into.
What seems to be a justification for the skepticism and/or cynicism towards the September 11 EDSA Shrine prayer vigil against pork is the accusation that one of its organizers has some manner of association or link to President Aquino.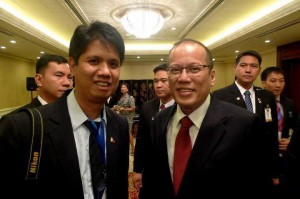 Junep Ocampo, who briefly became the head of the media bureau of the 2003/2004 Senatorial campaign of Richard "Dick" Gordon and became my boss, is one of the organizers of the September 11 EDSA Shrine prayer vigil.  I am not at all aware of the extent of his links to President Aquino or the Liberal Party, but it seems he has explained the circumstances surrounding a picture of him with the President.  In a Facebook status update, Junep said "I got the chance to cover the China state visit of PNoy as well as the APEC summit. Both of my trips were paid for by the newspaper I work for in Iloilo City. "
Perhaps what is causing people to be skeptical about the August 26 and upcoming September 11 anti-pork gathering is the participation of "communications consultants" a. k. a. "PR people" in its organization.  The fact that Junep is a communications consultant with his own company and that Peachy Bretana is the Creative Director/Public Relations and Communications of Publicis Worldwide appears to be jarring to people with notions that "authentic" widespread protest movements shouldn't need PR people promoting it.
Of course, there is also the insinuation is that PR people pulling off the staging of a massive gathering could use this as a "case study" or "proof of effectiveness".  Of course, it would be difficult if not impossible to judge what is inside people's heart of hearts and thereby conclusively classify their participation as organizers as either professional or personal.  Then again, there's really nothing wrong with being passionate about one's profession.
Anyway, the other people figuring as organizers of the September 11 EDSA Shrine prayer vigil are:
Noel Wahe and Rodel Bañares, graphic designers
Ben Bañares at Katrina Stuart Santiago, writers
Ian Pedarse at Jay Jalbuna, photographers
Cel Ocampo, teacher
Jim Libiran, film director
Of the others mentioned as organizers, Jim probably is the more recognizable — having been at the fore of the "flash mob" protesting the cutting or balling of pine trees in Baguio City and another movement to "Save the Manila Bay Sunset" from reclamation.  Both protest actions seemed organized and staged, complete with "hakot" crowds composed of 'urban poor' and students.
Although the August 26 and September 11 gatherings feature different personalities, both have a message in common and those are the calls to support President Aquino's campaign against corruption.
Junep states his reason for participating in the September 11 gathering: "I have high hopes for this country. Isa ako sa mga sinasabi ni PNoy na nagsabi sa aking sarili na puwede na uling mangarap nang manalo siya sa eleksyon. Patuloy akong nangangarap. Patuloy akong umaasa na gagawin ni PNoy ang tama — ang ia-abolish ang lahat ng uri ng pork barrel simula sa level niya. Dala ko ang pag-asa na yun sa pagtungo ko sa EDSA Shrine sa Sept. 11 para magdasal. "
(Translation: "I am one of those people that Pnoy referred to when he said that we can hope again when he won the election.  I continue to hope.  I continue to hope that Pnoy will do the right thing — which is to abolish all forms of pork barrel funding starting with his own. I will bring this hope with me when I go to EDSA Shrine on September 11 to pray.")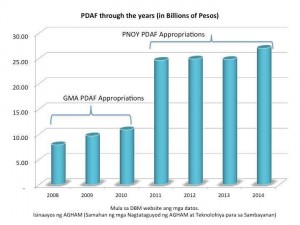 In any case, I think if there is anything at all that President Aquino wants to head off or manage is the tendency for the widespread public outcry against pork to turn into a call for his resignation or ouster.  After all, if the pork barrel system is patently corrupt, the person responsible for almost doubling this form of corruption is President Aquino himself.
Peachy's sentiment that protests against pork barrel funding that won't disrupt peoples workaday worlds looks kind of sheepish and funny in the face of a statement from Budget Secretary Butch Abad that says that pork barrel funding would stay in the  2014 budget.
The whole point of the protest is precisely to DISRUPT the entire network of corruption that feeds off pork barrel funding.  This demands nothing less than the resignation and prosecution of all legislators and line department officials who stole from the pork barrel funds.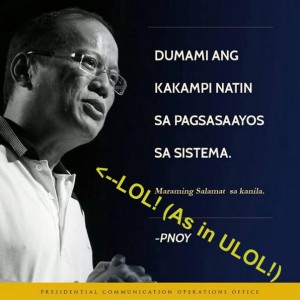 The thing that will keep people from finding themselves being led and played in any kind of propaganda is to have a definite idea of what the issues are as well as what it really means to scrap the pork barrel.
The fact that President Noynoy Aquino was PORK tongued when he announced he was moving to abolish the Priority Development Assistance Fund (PDAF) doesn't really lend much credence to a previous statement signifying his unity with the people on the pork barrel issue.  Either that or the President has a poor understanding of where the problem of pork barrel funding really lies.
His abolish pork statement two days before the August 26 Luneta gathering was a bit schizophrenic in the sense that while he said his administration would abolish PDAF, he also said that lawmakers would be able to propose to his administration the funding for projects and programs in their districts.
Of course, this didn't escape BenignO's attention and compelled him to underscore what is really wrong with the PDAF:
The Executive branch executes. The Legislative branch legislates.

Why do legislators feel entitled to pocket money that allows them to play Santa Claus before the gawking star-struck eyes of their "constituents"? Perhaps they need their Santa Claus suit because legislative work is simply too abstract for an electorate too fixated on heroes, bread, and circuses to grasp. Without a chance to play administrative Santa Claus, legislators' otherwise important role to play in modern democratic governance simply does not resonate with the Filipino voting public.
The President's modification of the PDAF, which I assume will be to line budget rather than allocating lumpsums for discretionary spending, doesn't do away with other pork barrel evils such as supporting patronage/transactional politics and wasteful government spending.
BenignO states this point rather powerfully:
Just because a billion bucks was spent does not mean a billion bucks worth of value was delivered. You can't get a strategic outcome unless there is a sound strategy around the way you spend money. Allowing a billion pesos to be spent in a "discretionary" manner is NOT a strategy.
Considering this and all that has been said here on GRP, there really is no room for a compromise.
Mr. President, scrap pork barrel funding now and THEN let's talk about being allies.