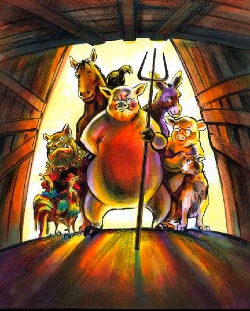 The Law is catching up with what may be hundreds of politicians who are likely to have made a killing skimming hefty "living allowances" off the 'Priority Development Assistance Funds' (more commonly known as the pork barrel). Senator Jinggoy Estrada, for one, issued what some call a preemptive palusot reportedly saying that he fears that "unscrupulous elements" may prod scam suspect Janet Lim Napoles to implicate him in the imbroglio…
Estrada, however, did not identify who these "elements" are, but described them as "powerful."

The son of former President and now Manila Mayor Joseph Estrada said he has "no issue" with Napoles surrendering to President Benigno Aquino III.

"Ako naman, I believe in the integrity of the President," he said.

He further said that he has "nothing to hide" and expressed confidence that he can clear his name "in the proper forum."
This was the same man who earlier
washed his hands off any responsibility
for the channeling of pork to fraudulent non-government organisations (NGOs), boldly proclaiming that "It is not up to the senators to determine whether an NGO is bogus or not…"
To use the Queen's English, it seems a lot of senators and House representatives are shittin' bricks. Auditors, investigators, and activists are on their tails and alleged mastermind Janet Lim Napoles could squeal any time.
But the problem really lies at the source — where it all begins: the budget proposal issued by the Office of the President. Indeed, the buck stops at President Benigno Simeon "BS" Aquino III. An IBON Foundation report noted that pork under BS Aquino ballooned in size, all but dwarfing budget allocations of previous administrations…
The bigger the fund, the greater room for corruption and misuse, IBON said, noting that PDAF in the Aquino administration's first national budget proposal for 2011 more than doubled by Php 13.9 billion or 128.5% from Php 10.9 billion in 2010 to Php 24.8 billion. Legislative PDAF has further risen to Php 25.24 billion in the proposed 2014 national budget.

The research group stressed that even the itemized and supposedly reformed PDAF, described in the President's speech last month as abolishing lawmakers' PDAF, is still pork barrel in character. This is also on top of at least Php 500 billion in special purpose funds, unprogrammed funds, off-budget items and other ambiguous funds that are prone to be used for patronage politics and self enrichment. Huge lump sums in the budget set aside for the discretion of a few lawmakers and the President goes on to spell an elite system of decision-making over public funds, said the group.
The House of Representatives led by Speaker Sonny Belmonte have scrambled to cover their asses as well following a presidential directive to the Speaker to "assess the removal of the Priority Development Assistance Fund". In a late-breaking news report, the Inquirer.net revealed that "members of the Liberal Party decided on Monday to eliminate the P25.24 billion lump sum allocation for the much-debated 'pork barrel'."
In a weekly caucus presided by Belmonte Monday morning, the over 100 party members in the House of Representatives agreed to remove the P25.24-billion lump sum appropriation for the discretionary fund.
Ouch! Looks like Christmas this year will be a glum one for politicians' kiddies,
apos
, and mistresses.
What is really interesting, however, is the pork received by BS Aquino while he was a member of Congress. As Manila Standard columnist Jojo Robles writes, this is very relevant considering he is wanting to be seen to be on top of the national situation as this high-profile corruption scandal rocks his Daang Matuwid administration…
For too long, people have wondered if Aquino, during his Congress years, was ever a "client" of Janet Lim Napoles. The rumors have been given traction by the supposed speed with which Aquino acted on the April 17 letter that Napoles sent to him, which lambasted the National Bureau of Investigation for allegedly harassing Napoles' brother Benjamin; that the letter has been "lost" has made the Aquino-Napoles link even more compelling.

For the matter of that, why doesn't CoA also disclose the audited pork expenditures of former and current lawmakers close to Aquino, like Budget Secretary Florencio Abad Jr. and Senate President Franklin Drilon? That would certainly make for interesting reading.
The overarching point here is that Filipinos seem to be in the midst of a media-induced tunnel-visioned fixation on Napoles even as the issue of a far bigger system of government thievery begs to be addressed. Indeed, every politician is pretty much a suspect which means that even calls to launch protest actions to express public outrage over this scandal have become challenging — because leadership for most major "movements" have traditionally been traceable to politicians. The so-called Black and White (B&W) Movement, is a case in point here. The B&W Movement traces its roots to the old Patalsikin Na, Now Na protest frenzy that lasted through much of the term of former President Gloria Macapagal-Arroyo (GMA).
Back then, the B&W Movement upheld a very simplistic position with regard to how they presume to classify members of Congress. As I wrote back in 2007…
True enough, despite pages and pages of blurb on the need for "reform" all over the Black & White Movement website, it all came down to this statement by "helga" (one of the B&WM owners) in a comment in their blog:

[…]it would be a no brainer list, really. Everyone from Team Arroyo would be on the Black List. No fun in that.

This was referring to how the Movement presumes to classify Philippine politicians into Black (no-vote) and White (yes-vote!) as a "guide" to the electorate in their efforts to "elect into Congress men and women of moral courage…". To which they add "…who will exact accountability from the GMA regime for the unabated corruption and extrajudicial killings".
Very powerful words there. Unfortunately, whatever cojones these self-described "reform activists" possessed back then seems to have since all but dissolved in the Yellow Kool-Aid they've been drinking. Indeed, no less than the e-Mandirigma himself Mr Vicente "Enteng" Romano coughed up a flaccid excuse for B&W Movement's deafening silence today in the face of the vast scale of Congressional thievery being progressively revealed today…
Unlike militant groups, Black and White is not anti-establishment. While we started that way during the time of GMA, we have evolved into a good governance advocate. Which means we do not limit ourselves to being critical of government. We also work with or within government to push for meaningful reforms.

Some of our original conveners are now with government, in positions where they can push hard for the reforms we have been fighting for in the streets in years past. It's no easy task but they do their best to reform a government badly needing of overhaul, even when they are shackled by red tape and a slow-moving bureaucracy.

True, they are deemed resigned or on leave of absence from Black and White Movement. Still, they are able to give us valuable insights on current national issues, providing us with a more holistic perspective.
To be fair, that's good spin doctoring on the part of Romano on the crux of the matter — that B&W Movement's "original conveners" are now "with government". In fact, the latest juicy appointment made by Malacañang is top celebrity B&W Movement honcho Leah Navarro who now occupies a plum seat in the Movie and Television Review and Classification Board (MTRCB).
What can I say?
Old activists don't die. They just get appointed to government when their manok wins.
Right Manolo?
To give some credit to the Second Aquino Administration, BS Aquino's minions aren't really as stupid as many people now believe. As Ben Kritz notes in his article And Just Like That, the Concept of "Social Media Revolution" Dies Choking on the Astroturf, selecting these old stalwarts of anti-GMA ocho-ocho "activism" was a stroke of Yellow management genius…
There was already some evidence of an effort by the Administration to 'hijack' the [Million People March to Luneta] protest last Monday with the appearance (appropriately given an abundance of attention by the government-backing media) of well-known Aquino apologists such as Jim Paredes and Mae Paner, the catcalls and jeers directed at former Chief Justice Renato Corona which were apparently instigated by Administration supporters planted in the crowd, and this simpering paean to Aquino posted in the hours before the demonstration by "social media expert" Cocoy Dayao, which was seized upon by both of Malacañang's Designated Talking Persons as evidence of genuine support from the public. Whatever else can be said about the Aquino Machine, their grasp of the importance and potential of social media as a propaganda tool is formidable, and well it should be: Social media management is the responsibility of the unctuous, ethically-challenged, but extremely intelligent Manuel L. Quezon III, the third and clearly the most adept of the three Cerberus heads of the Palace Comm Group.
And so, for the simmering outrage we now see over pork thievery to deliver concrete outcomes, a bit of creativity is in order to come up with more innovative forms of activism. "Social media activism" in the Philippines, unfortunately, has been all but made impotent by rampant inbreeding amongst a small clique of social media "experts". Old-style bricks-and-mortar activism has been infested by costumed circus acts. And big-time politicos whose presence and endorsement once lent credibility to protest movements are now part of the line-up of suspects in what could be the next big tele-trial event since the impeachment of former Chief Justice Renato Corona.
Interesting times ahead. If only Filipinos possessed the sort of world-class imagination to reap the mother lode of opportunity that comes with this latest national scandal.
[Photo of President BS Aquino courtesy DPReview.com.]
benign0 is the Webmaster of GetRealPhilippines.com.