I read with wonder how Voyager 1, a little space probe launched by the United States in 1977 had "finally" left our solar system — "for real this time" according to a Scientific American report. What is really amazing about this spacecraft and the men and women who designed, built, launched, and worked with it all these decades is how much it had achieved with so little.
The "little spacecraft that could," in the words of project manager Suzanne Dodd of the NASA Jet Propulsion Laboratory in Pasadena, Calif., is getting old in years and is technologically weak: the average smartphone has thousands of times more memory than the spacecraft. Yet most of Voyager 1's instruments still work, and they continue to send signals back to Earth. The team estimates the probe still has enough power from its plutonium power plant to operate all its instruments through 2020, when it will begin shutting them off one by one, until it goes dark in 2025. That still gives Voyager 1 more than a decade to study the realm of the universe it has entered.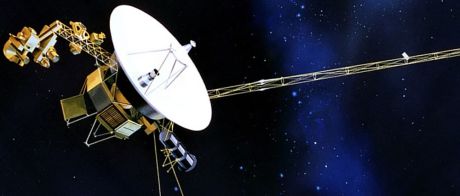 The engineering excellence involved in building such a craft that could operate for almost half a century using 1970s technology and still keep Mission Control updated about its whereabouts today cannot be overrated. You get a bit of perspective when you come back closer to home, say in your workplace, where your colleagues complain incessantly about not getting that Microsoft Excel bar chart to look nice enough so that the boss can make a sound and "informed" decision about next month's stuff. All that 21st Century technology brought to bear for a months-long plan that probably wouldn't even pan out.
Tsk tsk.
Consider then the technology behind the events that led to the Philippines' most recent real deal — the 1986 People Power EDSA revolution. Back then, there were no networked home computers, no ready access to the Internet (which did exist at the time, nonetheless), no affordable mobile phones, no "social media", and (best of all!) no self-described social media "experts".
Compare the unprecedented (and utterly un-repeatable) success of that low-tech "revolution" with the rather quaint calls to mass action over much of the decades since the rise of the Facebook/Twitter A.D.D. generation of "activists". Just this week, there have been several calls for the public to physically mass in various venues all over the country — with mixed success. As of this writing there is another one — dubbed "Luneta Million People March II", or something to that effect — being called for this afternoon. All of these banked on the memetic power of social media to propagate their calls to action. Yet the results failed to impress.
What exactly is going on here?
Just like computers running on magnetic loops and vacuum tubes guided the Apollo ships to the moon and kept the lights on for four decades in the Voyager space probes — all designed by people using pencils and slide rules while sharing expensive limited mainframe time — there was not much else that fuelled the mass action of 1986 other than conviction.
Going into the investigation of grand government thievery at a scale that could approach and possibly exceed the alleged thievery of the 1970s, we now wonder whether Filipinos are still able to muster the same level of indignation and mobilise the same sort of resolve and conviction to take their government officials to task. The challenge, I believe, is that unlike in the 1970s and 1980s when the low hanging fruit of a single "evil" person could be demonised by would-be "activists", the root problem today is enmeshed in a vast criminal system that is deeply-ingrained not just in the Philippine government but in the very fabric of Philippine society itself. This is the real deal and will remain so despite efforts by the usual elements to put up alleged scam kingpin Janet Lim Napoles as the singular demon for the public to tar and feather on cue.
No amount of technology can substitute real resolve in a people. Indeed, some argue that perhaps it is the very existence of these technologies that prove to be an utter distraction to what is important. After all, how can we believe people who at one moment tweet incessantly about "million people marches" then, in another breath, flood our timelines with their gushing "livetweets" about their favourite Voice of the Philippines contestant?
Get real, Philippines.
[Image courtesy SpaceAppChallenge.com.]
benign0 is the Webmaster of GetRealPhilippines.com.