While people are going agog about the P10 Billion Pork Barrel Scam, another scam is being perpetrated without an uproar, without crowds gathering at EDSA, and without pictures of different people posing with Jeane Lim Napoles.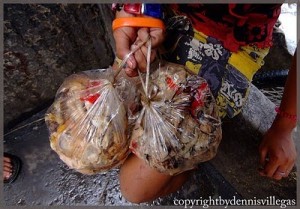 Not everybody in a country with over two thirds of its people groaning under the poverty line gets a bite of pork with their meal everyday, but those who are better off than their pagpag (recycled rotten food) eating neighbors get to eat some rice and with every bite they eat, they're feeding the members of yet another web of corruption in the Aquino Administration.
In April alone THIS YEAR, the Filipino taxpayers lost USD10,439,275 or P457 Million – a killing for a single transaction — due to rapacious corruption.  This nearly half a billion loss to corruption is bound to loom even larger to P2 Billion if the government pushes through with its plan to import 700,000 metric tons in November.
This is yet another example of how yet another small soul-less group of people have shown no qualms of lining their beds with billions of pesos of tax payers money at the expense of millions of Filipinos who have no choice but to stretch out to sleep on discarded newspapers and plastic bags on the street.
It is yet another example of how the greed for money leaves millions hungry, homeless, and without hope.
Rice Import Corruption Exposed: Restraints on Free Enterprise Encourages Government Corruption
In a country where most people are poor and lack proper education, corruption is equated with robbery and/or theft — which are both poor analogues for how an unscrupulous few can game complex systems in order to reap undeserved profits.  This is why, even after ousting elected officials and putting bureaucrats behind bars, the so-called fight against corruption has amounted to nothing more than lynching fiestas which fail to banish its evils.
Loud and gaudy trials by publicity milled by the paid press and PR spin-masters are no more than topical salves which will not cure the disease that is corruption.  This is just as well, because as soon as the uproar and cries for blood dies down, other people can take the place of the scapegoats driven out by the mob and the looting of government funds can begin anew for the benefit of the new masters of the scheme.
To reall get rid the country of corruption, we must take a step back from engaging in the usual vilification drive against personalities to the see the mechanics of how the looting was perpetrated and continues to be perpetrated .
In the case of this ongoing rice scam, the government's rice importation program and the impact of decades of delay in the implementation of the Marrakech Agreement which established the World Trade Organization (WTO) actually created the opportunity for graft and corruption.
As I've pointed out in previous posts where the poor are made justifications for the creation of poverty alleviation programs which sooner or later become milking cows for corrupt government officials, the implementation of the Marrakech Agreement was delayed on account of the negative impact of unmitigated free trade and as expected, became a focal point for corrupt government practices.
The country was granted the option in 1994 to regulate the volume of rice importation via a trade quota , otherwise known as quantitative restrictions (QR).   This was extended in 2005, upon its expiration on the same year, to 30 June 2012.
This led the business sector to push government to get out completely from rice importation and allow free enterprise to reign.  The business sector argued that with the expiration of the QR on 30 June 2012, all legal impediments preventing the private sector from importing rice have been effectively removed.
Currently, however, pronouncements by the Department of Agriculture betray a tendency towards a full disallowance of additional importation beyond the annual 350,000 MT minimum access volume (MAV).  This  figure is exactly what the agency intends to allocate solely unto itself without participation from the private sector.
This tendency completely ignores the benefits of allowing business to reign completely in rice importation, one of which is that it would lead to greater market competition which has been proven to drive prices down.  As the price of rice goes down, it would then become increasingly unnecessary for the government to keep buying rice at a high price and selling it at a lower cost through the National Food Authority — a practice which leads to unnecessarily loses, therefore WASTE, every year!