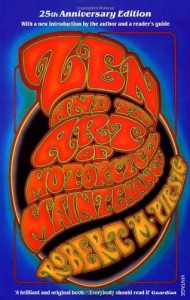 His lack of faith in reason was why he was so fanatically dedicated to it.
Zen and the Art of Motorcycle Maintenance   – Robert Pirsig
The book Zen and the Art of Motorcycle Maintenance by Robert Pirsig was probably mandatory hippie reading when it first came out in 1974.  I first read it in the mid 90's after it showed up in a recommended list by respected entrepreneur and  business author Harvey Mackay. You have all heard the saying that life is a journey and not a destination. The book details such a journey and the different metaphors that help frame experiences and points of view. To travel is better than to arrive is what it says. It is not about going from Point A to Point B that matters but what you take in while you are going from Point A to Point B.
The book is not THE way to look at life but it definitely is one way to look at life. How you go through it and how you make decisions as you go through it. What fascinates you and what frustrates you. Why you are open to certain things and why you avoid dealing with certain things.
There  was one quote in the book that always struck me was the idea of people who were dedicated to a cause, or fanatics. It is the very resistance that they encounter that gives them the strength to be fanatics.
His lack of faith in reason was why he was so fanatically dedicated to it.You are never dedicated to something you have complete confidence in. No one is fanatically shouting that the sun is going to rise tomorrow. They know it's going to rise tomorrow. When people are fanatically dedicated to political or religious faiths or any other kinds of dogmas or goals, it's always because these dogmas or goals are in doubt.
Zen and the Art of Motorcycle Maintenance   – Robert Pirsig
Speaking for myself I may come across as an "espíritu de contradicción" as they say in Spanish. A lot of my reactions in GRP are a result of what I consider irrational, excessive exuberance to things that I feel do not warrant such behavior. I truly believed that   irrational, excessive exuberance got    Noynoy Aquino elected in 2010. I bring that up because many people have not progressed beyond their mindset when they allowed this perversion of democracy to happen. Elect someone because their mom died?? That makes no sense.
That's pride f***ing with you. BLEEP  pride. Pride only hurts, it never helps.
Marcellus Wallace in " Pulp Fiction"
People stuck in the mindset that anything Aquino is the panacea to all the Philippines ills  are affectionately known in online discussion forums  as "noytards". I really feel bad in a way for Noytards who paint themselves into a corner. Incapable of swallowing their pride letting their "sad devotion to that 80s craze  supersede what should have been a more productive aim which would have been  to elect the most capable individual to helm our nation back in 2010. Pride does not help what is left of the intellect of Noytards.
The great sales trainer Tom Hopkins said that people buy emotionally and defend logically.   Nothing described a Noytard better. In the face of logic and facts they still side with Noynoy only because of his parents and whatever the parents meant to their memories. Leadership, experience , decision making, crisis handling , diplomacy be damned. Things Noynoy could never demonstrate before and surprise , surprise does not demonstrate now.
As the days and weeks go by with this Napoles/ Pork barrel fiasco I have yet to hear a coherent argument on how something this widespread can just conveniently exclude President Noynoy Aquino and his allies. Oh they will try to gerrymander   some scenario where Noynoy's hands are pristine.  I have documented elsewhere    that the big cheese himself can't seem to stick to a position when it comes to the pork  outrage. I totally agree a photo op with silver spoon girl Jeane does not prove anything. I once shook the hands of Ozzy Osbourne and "Weird" Al Yankovic    (not at the same time) and could have had my picture taken with them and they still would not have known me.  I of course find Raissa Robles'  justification   laughable considering  what I have always believed about Noynoy's headline dates.
Look at situations in life where people are making decisions. Situations like elections where doubt exist.  Doubt draws out fanatics like feces draws flies. The  fanatics then try  to "convert" those that doubt. For me that's why Noynoy has the dedicated legion that he does. The guy's track record pre 2010 proved him to be a political stiff. Nothing noteworthy in his resume, a  stereotypical trapo (traditional politician). One who gets elected by sheer family name but never amounts to anything once elected. This is where an emo nation like the Philippines comes into play. Only in an emo nation can  fanatics somehow make a leap from his parents glory days to an envisioned future of a competent Noynoy steering this ship of state towards utopia. That may be a bit of an exaggeration but one does not get fanatic over a vision of mediocrity. Their envisioned future had no basis in the reality that Noynoy has delivered in his first 50 years on Earth. He could not lead his way out of a paper bag. Yet he is supposed to lead this country.Well enough of the Philippine electorate bought that fantasy. Now three years later after buying the dream we are consuming the reality.
I have relatives who are hardcore noytards. I authentically fear for their health should they ever read this since they do know me as Gogs. It is bad enough for them I am an unbeliever. These people were in a fever pitch back in April of 2010 and it was from them that I got the idea for It's Noy or Never.    If a Noytard really pisses you off with their motherhood statements or their total manipulation of how things are I have a simple  way for you to achieve personal peace of mind. Just end the discussion peacefully and say something that they have a right to their opinion. Then as you part ways give thanks to the Lord above and say to yourself "There but for the grace of God, go I"
This blog entry is humbly dedicated to all the Noytards who unfriended me in Facebook because of my own personal conviction.
Putting a very sharp needle into the balloon known as Pinoy Pride since 2012.