All quiet on the western front. First the outrage, now the quiet. Surprisingly, even the Inquirer.net editor's curiosity was aroused today…
But why was there no remark whatsoever on the reported involvement of certain legislators in the scam? Why the tepid—some say safe—response from the business community in general? What do the employers' group, the exporters' association, or even the various foreign chambers have to say about the whole scandal? The silence is truly ironic because corruption has emerged as a major issue or stumbling block to investor interest in virtually all business surveys through the years. Many business groups have perennially complained about corruption in the Bureaus of Customs and of Internal Revenue. They were very vocal on similar issues in the past.

Why are they not taking this opportunity to join hands with the citizenry in fighting to do away with a major source of corruption? Why are they on the sidelines, as though fearful of tangling with politicians?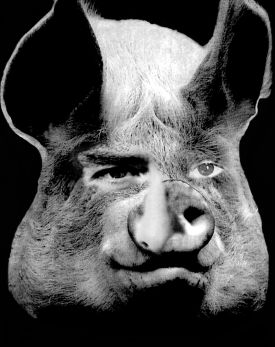 Curious indeed, but hardly surprising. After all, if you were a businessman in the Philippines there's lots of money to be made off stolen money — specially one where the trail is muddled and its secrets protected by a veil of politically-motivated silence by people to whom Filipinos have given the public trust.
Two things possibly explain silence amongst the country's business taipans.
First are the accomplices in the thievery — the potential involvement of some of them in channeling money from the government's coffers into the pockets of crooks both in the public service and private sector. That is what Janet Lim Napoles is accused of — middlemannery in pork barrel thievery. How many more Napoles's are out there in the country's "business" community? Many more, probably. And they're likely keeping their heads down. Perhaps first stop for a thorough investigation are bank executives. How much pork money laundering is going on in the Philippines' banking system? Who are the bank executives involved? Is there a criminal syndicate working within the appropriation and disbursement process? Does criminal intent go all the way up to the budgeting process itself in Malacañang — even to the nature of the campaign promise brokering business itself during elections? The implications are astounding. It's almost like an entire Philippine criminal society is waiting to be revealed just in this area alone.
For the second bunch — direct beneficiaries of pork — we need to cast a wider net and categorise as appropriate:
(1) Entities with direct and profitable client relationships with pork disbursers. How many private enterprises owe their revenue streams to pork money? Bogus NGOs have been cited specifically so far. But then, surely, there are many more. Construction companies who owe their continued operation to paper-thin asphalt overlay works, erection of tacky waiting sheds, "welcome" arches, pedestrian bridges. There are the dredging companies that are supposedly hired to "save" communities from the flood waters of overfolowing rivers and esteros every year. Contractor that rebuild — then rebuild again — public school buildings that were deliberately not built to last to keep them coming back for more building every year.
(2) Entities that supply direct beneficiaries of stolen pork at profit. There are the food concessionaires who supply labour gangs working on pork-funded civil works with double-dead meat, half-cooked rice, and weeks-old vegetables. Advertising agencies and tarpaulin sellers that live off politicians' grandstanding over pork-funded initiatives. Suppliers of materials and equipment to all these shady "public projects". The list is a long one. If OFWs' contribution to the economy to the tune of more than 10% of its value is a national embarrassment, the potential size of the contribution to the economy of pork is an utter national shame.
(3) Ordinary folk who have come to be dependent on pork. As starlet-turned-politician-by-marriage Lani Mercado famously remarked, "Basta huwag lang manghihingi sa amin ang mga tao!". Indeed, much like OFW remittances, pork money stimulates the nation's unabashedly hollow consumerist economy.
Indeed, perhaps the majority of Filipinos are suddenly re-thinking whether abolishing the pork barrel is really good for their health. Consider that the very institution populated by their duly-elected "representatives" has been described as the country's "biggest criminal syndicate" and the fundamental principle that, in a democracy, the character of elected officials mirror the character of their consituents, well, the dots are easy to connect from hereon…
Could it be that abolishing pork barrel will put the Philippine economy at risk of collapse? That depends on how much of private business is held by the testicles by pork. The deafening silence coming from the country's business leaders, in this light, does not bode well for a national economy long-suspected to be hollow at its core.
For now, I defer to the words of the esteemed Cielito Habito whose take on the ideal essence of what it means to be a real legislator of this fine nation reads as follows:
Sans the prospect of hundreds of millions of pesos in pork barrel funds, candidates [vying for seats in Congress] with less than noble intentions would have little reason to "invest" huge sums to campaign for these positions. Truly worthy but less endowed candidates are then more likely to run and succeed. We would have a legislature marked by statesmen and stateswomen truly worthy of their "Honorable" appellation.
Life without pork is a bitch when you are a member of Philippine Congress. Perhaps it's time politicians deal with this.
benign0 is the Webmaster of GetRealPhilippines.com.