I found the picture below in an article on the Manila Bulletin. My first impulse when I saw the BizNewsAsia cover was to doubt whether it was a legitimate one. After remembering how the Philippine Daily Inquirer (PDI) got burned by using a fake picture of president Benigno Simeon Aquino III (BS Aquino), I think this was but a natural reaction.
Speaking of Showbiz Government, I actually thought that that was also one of their memes. Hey, if the PDI got fooled, other publications can get fooled too. No offense intended to them, though.
Seeing the cover triggered another memory as well – a joke I heard a few years back:
In Italy, they have the Mafia.
In Japan, they have the Yakuza.
In the Philippines, they have the national government!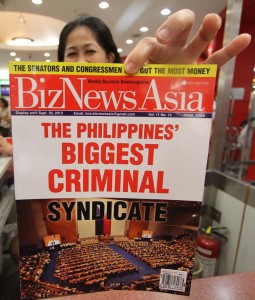 In the bigger scheme of things, however, it actually doesn't really matter whether the cover is legit or not. If anything, that cover verbalized with big, bold words the perception that more and more Filipino people are having about their government.
"The Philippines' Biggest Criminal Syndicate" – can't get any more succinct that now, can you?
At any other time, I'm willing to guess that the reaction to this cover would have been outrage. The Filipino public doesn't like being told to their face the ugly truth about their government and their society. They love to complain themselves, but to hear the same thing from other people? Don't bother lest you want to rip that onion skin sensibility to shreds and endure incessant whining.
I'm also willing to guess that once any of our "honorable" politicians catches wind of this cover, he/she will most likely file some sort of case against the magazine.
As I always like to tell people: if it's true, do something about it, other than whine. If it's not, ignore it.
Good timing for BizNewsAsia, though; nothing sells like a sensational, attention-grabbing headline that is actually in line with what the general public, especially their target readers, have at the back of their minds.
All roads lead to the next question:
What do the Filipinos plan to do about this "crime syndicate"?
Remember that thing we used to hear as kids, "Crime doesn't pay"? Well, apparently in the Philippines, it pays very well. Filipino citizens have always had it in them to stop crime and wrongdoing of all sorts. Collectively, however, it seems that they prefer to tolerate it.
Filipinos can get dismayed at their government all they want, but ultimately those people who rob them blind were voted in by them. Want to stop the robbery? Stop it at the source.
А вы, друзья, как ни садитесь, все в музыканты не годитесь. – But you, my friends, however you sit, not all as musicians fit.