The shame of being governed by what many now regard as a den of thieves is hitting fever pitch! BizNews Asia Vol.11 No.14 featured a photo of Philippine Congress in session with the caption in big bold letters "The Philippines' Biggest Criminal Syndicate."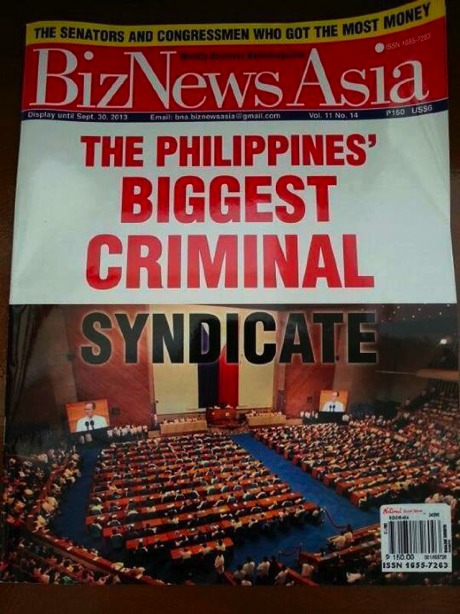 The Manila Bulletin cited it in its article Magazine labels Congress 'biggest criminal syndicate' and featured what seems to be a legit photo of a saleslady holding up the same magazine edition showing this cover. The article reports…
The September edition of the weekly business and news magazine zeroed in on the controversial multi-billion Priority Development Assistance Fund (PDAF) of lawmakers that went to bogus non-government organizations, as well as the key agencies and personalities involved in the alleged scam.

The magazine cover was first shared by journalist Ira Panganiban on Facebook, and was captioned : "And this is how we look to the world! Downright embarrassing."

The photo has been shared 4,656 times as of this posting, and has been repeatedly shared by other Facebook users.
In late August of this year, no less than Philippine Senate President Franklin Drilon himself proposed that Congress be abolished as public outrage over the corruption scandal intensified…
Senate President Franklin Drilon said that while the PDAF would be abolished as declared by the President, each lawmaker would still retain their right to direct a portion of the annual budget (P200 million for each senator and P70 million for a representative) to a hospital or a road project that they desired.

"What will happen if we will not take a direct hand (in the identification of projects)? Let's just abolish Congress then," he said.

Drilon said the only difference from the reviled pork barrel system and the President's plan was that these allocations would be made during the regular public hearings on the budget in Congress and that the funds would go directly to the implementing agency and not to nongovernment organizations. The NGOs handle the implementation, monitoring and reporting under the current system.
The legislative body along with the country's Executive branch led by President Benigno Simeon "BS" Aquino III from whose office the inclusion of the pork barrel in the national budget proposal originates is under increasing pressure to abolish this practice.
benign0 is the Webmaster of GetRealPhilippines.com.