As we inch closer to a prospective Western intervention against the Syrian regime, many are still confused over its circumstances and justification. And this has, quite understandably, raised a set of uncomfortable questions for many of us here in the Philippines.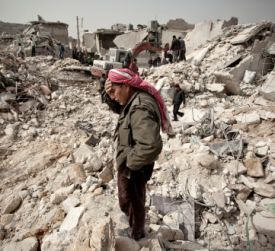 On the one hand, many have been appalled by the prospects of an embattled regime ruthlessly using chemical weapons (CW) against its own population. By flagrantly violating our most fundamental moral values, such alleged acts tend to encourage people to sympathize with any military intervention that could (a) punish the perpetrators and (b) deter further use of chemical weapons against civilians. On the other hand, from a consequentialist point of view, looking at the impact of actions rather than their principled justification, many could take the (semi-automatic) stance of opposing any form of inherently-destabilizing military intervention, regardless of circumstances.
In our case, matters have become more complicated by the fact that reportedly up to 2,920 Filipinos are yet to be repatriated, with 142 of them currently in the custody of Philippine representation in Damascus. The security as well as the safe repatriation of our OFWs will require not only a stable Syrian regime, but also its cooperation and goodwill.
The Question of Motivation
As of this writing, the fundamental problem, however, remains to be the lack of incontrovertible evidence to implicate the top Syrian leadership in a deliberate campaign of using CW against the civilian population.
Despite the release of two declassified intelligence reports by the U.S. and France, the West is yet to provide any credible information to prove that the Assad regime was in fact, and beyond reasonable doubt, culpable for any chemical weapons attack against the civilian population.
In fact, there are scant strategic reasons to expect Assad resorting to such despicable act. Recent months have seen major advances by the Assad regime, while the opposition has been not only weakened by growing internal divisions, but also hit by divisions among their external patrons, primarily between Saudi Arabia and United Arab Emirates, on one hand, and Turkey and Qatar, on the other. Russia and Iran, however, continue to support the Syrian regime.
Meanwhile, we have seen a surge in the activities of Al-Qaeda-affiliated groups such as Jabhat al-Nusra, who have been engaging in vicious clashes with more secular, moderate as well as Kurdish elements in the opposition to impose their own ultra-conservative version of a post-revolutionary Syria.
Most crucially, there have been indications that the radicals have gained access to CW. For instance, in May the Turkish police reported that they ceased 2 kg of sarin gas in the possession of the al-Nusra members, allegedly destined for Syria in the city of Adana. With hordes of supporters among Arab Sheikhdoms, extremist groups have enjoyed both material and logistical support to wage war against Alewite Shia Assad, who is treated as an infidel and a stooge of (Persian) Iran by more puritanical religious groups in the Arabian Peninsula.
The Folly of Intervention
The ongoing conflict in Syria is by no means a straightforward clash between forces of democracy against a tyrannical rule. The complexity of the Syrian civil war rests in the undisputable fact that a sizeable portion of the Syrian population, especially the ethnic-religious minorities and residents of Damascus and other major cities, continues to oppose the ongoing rebellion.
It is not so much about them wholeheartedly supporting the Bashar Al-Assad regime, which has so viciously muzzled any calls for democratic reform and failed at providing basic welfare for much of the population since inheriting power from his father Hafez Al-Assad in 2000, but instead their legitimate and deepening fear of how extremist forces could dominate the post-revolutionary context.
Washington's expressed plans to "punish" the Syrian regime for allegedly using CW against his own population, but with no credible evidence to back up such claim, is eerily similar to the equally unjustifiable 2003 unilateral Western intervention in Iraq, which was based on fabricated evidence alleging that Saddam Hussein possessed nuclear weapons and supported Al-Qaeda groups. This is precisely why Western citizens are opposed to another intervention, and why the English Parliament unequivocally opposed Prime Minister David Cameron's call for a direct British participation in any proposed military strike against the Syrian regime.
Today, Iraq is all but failed state, where sectarian conflict and suicide bombings are a regular affair. The more recent military intervention in Libya, deposing the Ghadaffi regime, has let to not only regime change, but also the collapse of the nation-state. No wonder, the combustible mixture of secessionism, rebellion, and rogue militia has gripped the nation.
In addition, any military action could decisively extinguish prospects of a "negotiated solution" to the Syrian crisis, which is pivotal to ending the ongoing civil war, while inviting counter-intervention by Syria's supporters. The military intervention will not only strengthen the hands of extremist elements within the opposition, which have consistently sought Western military support, but it will also undermine efforts by moderates on both sides of the conflict to pave the way for a peaceful, resolution of the ongoing civil war.
What Syria needs today is not military intervention and a cycle of violence pitting multiple communities and factions against each other. This is precisely why I have supported the Philippines' expressed position against any unilateral intervention, and our calls for the resolution of the Syrian crisis through multilateral arrangements such as the United Nations.
[This piece was originally published on GMA News Online. Photo courtesy The Dish.]
Richard Javad Heydarian is a Manila-based analyst focusing on economics and international security issues in Asia and the Pacific, whose work can be found in the Asia Times and the Huffington Post, among others. He is the author of the upcoming book, The Economics of the Arab Spring: How Globalization Failed the Arab World, Zed Books, 2014. He can be reached at jrheydarian@gmail.com