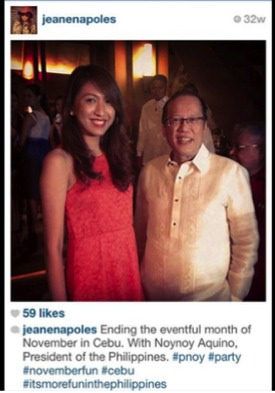 Photos of Philippine President Benigno Simeon "BS" Aquino III with Jeane Napoles, daughter of alleged pork barrel scammer Janet Lim Napoles, have been featured in an "exclusive" by ABS-CBN News. It appears to be an Instagram (or some other photo sharing social media service) photo of Jeane standing next to BS Aquino.
Malacañang after being queried on the subject is now reportedly appealing to the public not to put any malice in the photo.
Sabi ng Malakanyang, hindi ito nangangahulugang kilala ng Pangulo si Jeane Napoles.

Ayon kay Communications Secretary Ricky Carandang, hindi kilala ng Pangulo sinuman sa mga Napoles.

Aniya, ang larawan ay kuha noong Nobyembre ng nakalipas na taon sa isang pribadong pagtitipon sa Shangri-La Mactan sa Cebu kasunod ng canonization ni San Pedro Calungsod.
[Translation: This does not mean the President personally knows Jeane Napoles. According to Communications Secretary Ricky Carandang, the President does not know any of the Napoleses. The photo was taken November last year in a private gathering in Shangri-La Mactaon in Cebu after the canonization of Saint Pedro Calungsod.]
Get Real Post author Mike Portes observes on her Minsan may Isang Puta Facebook mega-page…
The body language at the September 10, 2013 presscon of the President of the Republic of Philippines was already telling when reporters asked the FAQ of the year: Did you know Janet Lim Napoles before she surrendered to him in Malacañang?

PNoy's answer was: No. Then he exited the podium. A few seconds after, he returns and graciously explained that :

"I tried to search in my mind if I ever came across her or even heard of her name [before the scandal] and I hope I am not turning senile but I don't recall," Aquino said. "Did I ever meet her? I can't even say I ever said 'hi' to her. When I saw her when she came to the Palace, I was trying to look at her and I don't remember her.

[Source: Manila Standard Today.]
Aquino apologists were quick to jump on the issue and put in their moronic takes. One quick one was "investigative journalist" Raissa Robles who tweeted…
Baka naman nilapit ni Janet Napoles and anak nyang si Jeane kay PNoy, baka sakaling magkagusto si PNoy at i-date. Kutob ko lang.
[Translation: Just my hunch: Janet Napoles was pushing her daughter Jeane to PNoy in case he might take a liking to her.]
…insisting too that the point is that the picture is of the daughter and not the mother Janet.
[Photo courtesy DZMM ABS-CBN News.]
benign0 is the Webmaster of GetRealPhilippines.com.