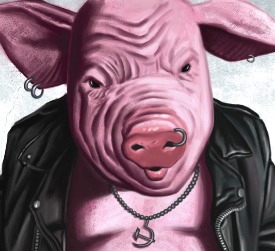 These are confusing times for would-be protesters. Everyone, it seems, is in agreement over the need to scrap the pork barrel gravy train that, for many politicians, has become the whole point of vying for a seat in Congress. Trouble is there are too many "experts" on what, where, when, and how protest rallies should be undertaken.
Ironic that many Filipinos take their cue from all these bozos. Are these rallies really fueled by "people power"? Or are they all about celebrity power. Seems to me it is the latter. Otherwise what grand ol' Apo Jim Paredes has to say about these protest rallies shouldn't matter to the average Pinoy schmoe at all. Of course, that does not stop Mr Tear-up-my-Green-Card himself from having his celebrity stamp of approval or disapproval. Commenting on Apo Jim's conspiracy theories concerning shadowy "operators" behind this and that rally, Angela Stuart-Santiago observes…
hmm. i hope paredes realizes that he seems as much an operator as any of the ones he's referring to, gven his continuing unflinching unwavering support for the incumbent. what did he say at the rally? something like, government is listening. yeah, right.
The simple fact of the matter is, there is a date, a place, and a point to be made. So you either go if you want to join others who wanna highlight said point or you stay away if you disagree. Does who the organisers happen to be really matter? Apparently it does for "operators" like Jim Paredes who does not really come across as a credible "reformist" when one considers his looonggg history of zombie-like beholdenness to the Aquino-Cojuangco feudal clan…
The point here lies in the ironic role Jim Paredes plays in today's politics. In a September 2009 concert with the Apo Hiking Society organised, it seemed, to marshal support for the "Yellow Army" a Noted Blogger once giggled about on television, guest of honour and then presidential candidate Benigno "Noynoy" Aquino [III] himself capped that night by coming on stage to assure the audience that "his Mom and Dad were looking down from the heavens and would be proud of the support generated by this campaign".
Read that aloud today and the words are likely to get stuck in your throat.
Nowadays it is hard to regard old relics of mid-1980's "people power" euphoria without feeling the same sort of cringe you get after taking in a slice of Ricky Gervais humour.
To bozos like Jim Paredes, it is still all about who were for or against former President Gloria Macapagal-Arroyo. Rather than learn new tricks, old "activist" dogs would rather remain consistent to the simpletonian mid-2000s logic of the Black and White Movement it seems. "Everyone from Team Arroyo would be on the Black List," as the tired old thinking goes. Never mind that Year 3 of President Benigno Simeon "BS" Aquino III has already come and gone.
It's simple, really. Politicians and celebrities have all but disappointed. They were never a solution. Even President BS Aquino who ran on a platform of melodrama calling on the "spirit" of a bygone "revolution" among other spirits (you wonder how his parents manage to R.I.P. with all the "calls" they get) is an utter disappointment. It is time Filipinos relied on themselves. No "heroes". No celebrities. No meaningless motherhood statements. No slogans.
To constitute a mature society that can earn its place in the ranks of real modern democracies, Filipinos need to demonstrate an ability to follow-through. Demand no less than the justice they deserve.
Who are the people accountable for billions of public funds forever lost in substandard roads, unfinished bridges, and tacky waiting sheds (among others) built over the many many years since the pork barrel was first introduced into the national budget? Simple. It is the people who are accountable to the public.
Public office is a public trust. Public officers and employees must, at all times, be accountable to the people, serve them with utmost responsibility, integrity, loyalty, and efficiency; act with patriotism and justice, and lead modest lives. – Sec. 1, Art. XI, ACCOUNTABILITY OF PUBLIC OFFICERS, 1987 Constitution.
Janet Lim Napoles is not a government official and, therefore, not in violation of the public trust. If the allegations against her are true, she will be tried as an ordinary crook. But the real deal here is to lock up those who are accountable to the people — the people to whom public funds were entrusted and who Filipinos relied upon to care whether or not the non-government organisations (NGOs) to which these public funds were disbursed to were bogus or not.
Those who are in violation of the public trust should be tried for plunder.
A GRP reader beseeches the Filipino people to use their brains — think, rather than listen to the moronisms of has-beens and sell-out former "activists" — lest they miss the whole point of the opportunity that presents itself to us today.
Ang PDAF ay perang pag-aari ng bayan. Ang mananagot po dito ay ang LAHAT ng opisyal o empleyado ng gobyerno na pinagkatiwalaang humawak nito o nagkaroon ng partisipasyon sa paggamit nito.

Kasama po ba dito si Janet Napoles halimbawang ang mga NGO na siya ang nagmamay-ari at nag-kokontrol ay tumanggap ng pera mula sa PDAF at ang mga perang ito ay hindi pinakinabangan ninuman maliban sa NGO na tumanggap?

Hindi po. Wala pong public accountability si Napoles. Ang mananagot po base sa public accountability ng Constitution ay mga opisyal na may kinalaman o partisipasyon sa lahat ng prosesong naganap upang ang pera ng bayan ay napasakamay ni Napoles.
Filipinos will do what they must. What that must-do is is something they will have to figure out on their own — like adults.
[Image courtesy Scott Anderson.]
benign0 is the Webmaster of GetRealPhilippines.com.