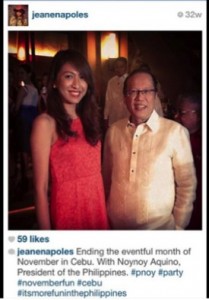 About an hour after I posted the picture of Senate President Franklin Drilon with Janet Lim Napoles, my neighbor sent me a text message saying that it wouldn't be unlikely that President B.S. Aquino would also have a picture with Napoles.
After getting over the initial shock of finding out that my 75 year old neighbor actually reads Get Real Post, I quickly dismissed the idea that the "guilt by association" bandwagon would actually roll around and figuratively run over President BS Aquino.
As it turns out, I should have given my neighbor more credence because when I logged into my Facebook account last night  my timeline was filled with pictures of Jeane Lim Napoles with President BS.
Yes. Janet Lim-Napoles' baby girl and the subject of so much vilification for her "undeserved" lavish lifestyle.
Yes. President Benigno Simeon Cojuanco Aquino the Third.
Together. In a picture.
Sure, the picture by itself doesn't prove anything beyond the fact that both the President and the daughter of the supposed mastermind of the P10 Billion Pork Barrel Scam were in the same place together.
Of course twisted minds will try to impose their interpretation of the picture on others like little lady dyornalist Raisa Robles:

Raisa's tweet says, "Maybe Janet Lim Napoles brought her daughter to Pnoy hoping the President would want to date her. Just my hunch."
Like, come on Raisa! Really?!  Then again, why did I think that it would be beyond you to go that low?
Thing is, Robles ought to be more circumspect because as recent events have shown, what goes around comes around and as far as the President's sister is concerned, people could as easily have their own thoughts about this picture below.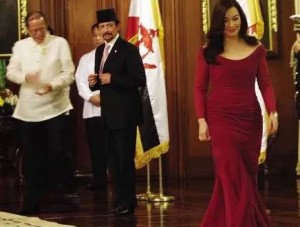 But, let's not go there, shall we?
Anyway, what the President's picture with Jeane Lim Napoles signifies for me is not "guilt by association".  But, rather, it gives form and shape to the thought that President Aquino could be lying about the closeness of his association with Janet Lim Napoles.
The President had previously denied knowing Janet Lim Napoles saying: "I tried to search in my mind if I ever came across her or even heard of her name [before the scandal] and I hope I am not turning senile but I don't recall.  Did I ever meet her? I can't even say I ever said 'hi' to her. When I saw her when she came to the Palace, I was trying to look at her and I don't remember her. She doesn't look familiar [at all]. In fact, I'll be very honest with you, comparing her to pictures of her in the newspapers, I thought for a while: Is this really the person that we were looking for?"
And yet, so many dots are lining up:
Janet Lim Napoles not only surrendered to Pnoy, but was fetched by high ranking members of his communication staff.
Brian Yamsuan apparently had "dealings" with Napoles and was until recently the consultant of Aquino's Executive Secretary, Jojo Ochoa.
And then there's Napoles' letter that so easily found its way to the President, when other such letters could have been lost.
Then… then… there's this bit of information in Jojo Robles' column:
One former business associate of Napoles, for instance, has confided as much to me. This person said that Napoles never feared that her business dealings would ever be investigated, because of her "personal relationship" with Aquino.

"Even when she wrote her letter to the President [last April, asking that Aquino look into alleged harassment by the National Bureau of Investigation of her brother, Reynald Lim], she bragged that she would get quick action because the President is her friend," this potential witness said. "And she was right, she said, because the President acted on her request right away. She always made it a point, in conversation, to mention that she and the President were friends."
Lastly, we have to consider that the very nature of the so-called pork barrel scam puts the onus on the President — not legislators accused in the controversy.
Former Philippine Daily Inquirer Vice President for Operations and good friend JP Fenix explains the Executive Department's culpability in the pork barrel scam:
What people have to remember that our government system is supposed to be one of checks and balances. That in as much as the legislator with his (or her) legally allocated fund can assign projects to which it will go to, the rest of the process involves a series of steps and procedures supposed to ensure that the project and its proponents are vetted and that the funds make their way to the right people and projects and that spot checks are done in each step of the way.

Simply put: when the legislator assigns the PDAF fund, the allocation application goes to the implementing agency which assesses it and all its aspects (ie The Department of Agriculture for farmer or planting assistance, the department of Public Works and Highways for building a road or Department of Tourism for a promotion event), then it goes to the Department of Budget and Management (DBM) for the needed funds. In all this the Commission on Audit (COA) has in-house auditors in each office for pre audits, post audits and everything in between.

From here we can clearly see that the PDAF scam that Napoles and company perpetrated was not so much a legislative scam but an executive scam, it going through the process and supposedly due diligence of the executive departments. So even if the congressman or senator wrote a lengthy treatise on how good and noble a project or NGO is, the executive has all the chances to say "No, this is not right" or "No, this is criminal."
Which leads me to think, where do we go from here?
Now that we've pretty much seen QUITE CLEARLY that the Aquino Administration has not and can not fulfill it's promise of "walang mahirap kung walang korap", what do we do now?