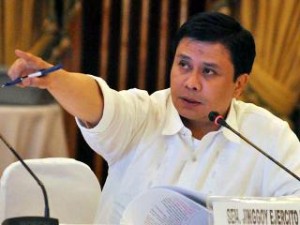 People saying that they're concerned about the P10 Billion Pork Barrel Fund Scam should not ignore or entirely discredit Senator Jinggoy Estrada's privilege speech on "The Untold PDAF Story That The People Should Know".
A few days before delivering his privilege speech, Senator Tito Sotto said that Senator Estrada would unleash figurative bombs and expose a scam bigger than the pork barrel scam.  This must have shaken Malacanang a bit because early this week, an article in the Manila Bulletin warning people not to believe revelations by key people accused in the Pork Barrel scam started circulating in social media.
The fact that Ateneo Professors Benito Lim and Benjamin Muego as well as UP Professor  Prospero De Vera were used as talking heads for a story obviously aimed at preemptively discrediting Estrada's speech before he even delivers it betrays the ongoing "perception management" being foisted upon people.
In the article, it was said:
the three warned against the deterioration of the political situation should the public be distracted from the issue of "prosecuting and convicting" parties who face charges filed by the Department of Justice (DOJ).

"The opposition already forewarned the public of a 'bombshell' on Monday. Haven't you heard? They have been saying that from the day (Justice) Secretary de Lima brought the so-called 'truckloads of evidence' on the Napoles pork barrel scam to the Ombudsman," said Lim.
I don't know about you, but, what really revolts me are people who tell other people what to think.  It shows utmost disrespect and I usually fire-back by telling them about things I can shove up their choice of hole — durian, jackfruit, pineapple, or UPO comes to mind.
The issues opened up by the can of worms called the P10 Billion Pork Barrel Scam is way to darned important to listen to just one side or not listen at all.  The issue goes deep and so deeply that it questions our people's capacity to truly participate in a democracy and keep their God-given freedoms.
This really isn't about that bleeding heart crap about "tax payer's money being stolen", because if you really worked government revenue numbers income taxes only account for about 20 percent of the total national budget in 2012 — at least, according to Finance Secretary Cesar Purisma.
The biggest stink in this whole mess is what I refer to is the carte blanche or blanket agreement we all end up signing when politicians are elected into office.  The simplest way to illustrate how this carte blanche works is that your President, your Vice President, Senators, Governors, Congressmen, Mayors, and Provincial and City/Municipal Board members will do whatever they please once elected.
The "how" and "why" this happens is simply explained: "Because they can and because you allow it."
The question, really, is not whether these elected officials actually consult the people in their jurisdiction when policies or regulations are formulated and implemented.  The core issue here is whether the people intelligently and wisely assert their right to be heard in every level of governance.
There is overwhelming evidence that after doing their "democratic duty" of voting for candidates, people just forget all about the people they voted for and why they voted for them (assuming they had some good reason to) or worse, ask them to do things they shouldn't.
Democracy is not a "fire and forget" missile, my friends — it needs careful handling and the participation of all from conception to execution.  It's not something you leave to a "political party or organization", much less a "political personality", thinking things are going to just "happen" as a result of the way the "system" is set to operate.
Does that sound anything like democracy?  Over a hundred years after declaring "freedom" from Spain and it seems there are those of us who have ended up as careless citizens, opportunistic sycophants, and victim-minded serfs.
And, THEN we wonder why or how the Pork Barrel Scam happened! Jeez…  I should just end this blog post here!
Having listened to the entirety of the speech Estrada delivered yesterday in the car while my kid was in his class, I cringed as his words confirmed what people in my circle have been thinking about the Priority Development Assistance Fund and the Commission On Audit.
What we've been thinking is that all crucial safeguards that were supposed to regulate the use of PDAF or Pork Barrel Funds were either over-ridden or not implemented at all.
During the Pork Barrel Scam hearing, Senator Chiz Escudero already pointed to one safeguard, the Procurement Act, that was not heeded at all by the Administration's Department agencies.
Escudero also asked Salacup if he is familiar with the COA and GPPB rules on NGO participation in public procurement to which the latter said no.

"It is very incredible for these officials to feign ignorance of the existing procurement law which has been in place since 2007. I asked them about this because they have been totally ignoring the laws governing procurement. If it's a negotiated procurement, the NGO is required to come up with the performance, security or bond equivalent to the amount of the project. This is because in cases like when it reneges or dissolves or disappears, like in most of these 82 NGOs, the government has a hold on them."

"Now in clear violation of existing laws and regulations, these line agencies simply awarded funding to the seemingly favored NGOs. As long as there are endorsements from legislators, as they admitted, they funneled funds hook, line and sinker."
In his privilege speech, Estrada identified more problems the safeguards against the abuse of pork barrel funds and among these problems, he focused on the Commission on Audit's ineptitude.
While Senator Estrada's detractors kept saying that the speech didn't answer to any of accusations against him (which would have been self-serving), I think Estrada did good in outlining the core issue in accountability in the use of public funds and in this case, the real onus is on the COA.
Given the length of the speech (which lasted more than one hour), I've decided to pick just a few of the major points raised in the speech and skip parts where Estrada raised issue with the "selectiveness" and bias of the COA's PDAF report.
COA Did Not Issue "Notice of Disallowance", No Scrutiny from Congressional Oversight Committee on Public Expenditures 
Ang totoo po, taon-taon (simula ng 2004) ay kasama sa regular audit ng Department of Agriculture ang PDAF na napupunta sa kanilang ahensya. At malamang nasa regular audit din ito ng DSWD, DPWH at iba pang implementing agencies kasama ang local government units. Ang siste, year in and year out, pare-pareho ang findings ng auditor na hindi tama ang pag-gugol patungkol sa pdaf na napupunta sa implementing agency ngunit wala ni isang disallowance kaya nag-tuloy-tuloy ang pagdaloy ng PDAF sa mga ahensiyang ito.
(Translation: The truth is that every year (starting in 2004), the Department of Agriculture includes in its regular audit all the PDAF that they receive.  Most likely, this is also in the regular audit of DSWD, DPWH and other implementing agencies as well as local government units.  The way it happens, year in and year out, the finding of the auditor are all the same and they point to the fact that the PDAF given to them isn't being used  properly and yet not a single notice of disallowance was issued, that's why PDAF continued to flow to these agencies.)
Kung taon-taon ay kasama sa regular audit ng mga implementing agencies ang PDAF dapat ay taon-taon din kasama ito sa sinusumiteng report ng COA sa kongreso.  (Translation: If the PDAF is included in the regular audit of the implementing agencies, the same should be included in the report that COA submits to Congress.)
It should be remembered that under republic act 7226, COA is required to submit to congress annual reports of amounts obligated, warrants issued and expenditures made in each municipality, province and city by national government agencies, and instrumentalities, including GOCCs. Did this escape the scrutiny of the powerful congressional oversight committee on public expenditures?
… …
Mga kababayan, eto po ang kopya ng COA Special Audit Report. More than 450 pages all in all.  And nowhere, nowhere in all these pages can you find a single peso of disallowance or even a suspension! Ito po dapat ang nagpahagulgol kay Chairman Pulido-Tan.
No single peso disallowance.  This, Mr. President, ladies and gentlemen, as our people must know, is the most blatant, inept defect in the special audit report. Given that under the constitution, the COA has exclusive power to disallow expenses and given the plethora of cases decided by The Supreme Court upholding the disallowances made by coa, bakit walang ni-piso na disallowance dito sa audit ng pdaf? (translation: why wasn't there a single peso of disallowance in the audit of PDAF?) There were also no recommended realistic and effective measures to enable the government to recover government funds allegedly wasted on anomalous transactions by the implementing agencies and LGUs.
Very clearly, chairman pulido-tan failed to obey the constitutional mandate reposed on COA, and that is, compliance audit focused on public accountability that disallow irregular, unnecessary, excessive and extravagant or unconscionable expenditures or uses of government funds. Add also the fact that she violated, and continues to do so, COA resolution 97-006.
I am sure that Malacanang and their trolls will easily brand Estrada's speech as "passing the buck" to COA, but if you really think about it and not let the Palace do your thinking for you, whose job was it to make sure that public funds are spent properly?  Isn't it COA?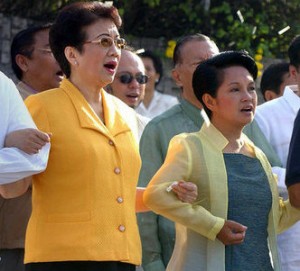 The thing is, if it is true that the COA has been remiss and selective in its audit since 2004, it would have benefited a whole lot of other congressmen and senators.  NOT THE LEAST OF WHICH WOULD BE PRESIDENT AQUINO HIMSELF, who had been a congressman and senator during President Gloria Arroyo's term.
Does anyone still remember the words to "Magkaisa?"