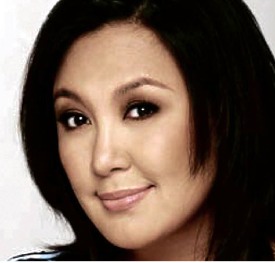 Without a doubt, a lot of people would gladly do it for free. But ten million pesos to prove Senator Francisco "Kiko" Pangilinan stole from his pork barrel fund? It's an offer that can hardly be refused. Across two tweets Pangilinan's wife and Pinoy "megastar" Sharon Cuneta issued the following challenge sometime this week:
If anyone reading this can prove to me that my husband has stolen any amount from his PDAF in his 12 years as senator, I will give you P10 million in cash and I will leave my husband. That is how confident I am
Too bad the tweets have since been deleted.
It has long been known that Pangilinan is a minion of President Benigno Simeon "BS" Aquino III in the Senate. Back in 2010, presidential sister and Cuneta's fellow showbiz celebrity Kris Aquino had reportedly offered "perks" to Senators Jinggoy Estrada, Lito Lapid, and Bong Revilla in exchange for support for Pangilinan's bid for the Senate Presidency…
The celebrity actress is said to have firmed up the commitment of three senators – Senate President Pro Tempore Jinggoy Ejercito Estrada, Senators Manuel "Lito" Lapid, and Ramon "Bong" Revilla Jr.

According to the source, Kris promised Lapid and Revilla that their committee chairmanships will be retained under Pangilinan's watch.

Lapid is currently handling the Committee on Sports, Games, and Amusement, while Revilla is chairman of the Committees on Public Services and Public Works.

Aquino reportedly promised Estrada that he will remain Senate President Pro Tempore under a Pangilinan-led Senate.

The source also confirmed that Aquino's sister is also calling up Senate Majority Leader Juan Miguel Zubiri to solicit support.
Pangilinan was also a staunch pro-impeachment "senator judge" during the trial of former Chief Justice Renato Corona in 2012, exhibiting visible annoyance as Congressman Tobias Tiangco related his damning testimony of how President BS Aquino railroaded a hastily-written impeachment complaint against Corona through the House of Representatives. As my colleague Ilda observed back then…
[Pangilinan] tried to stop his testimony perhaps because he did not want to damage PNoy's integrity any further. Who can blame Pangilinan for coming to the aid of the President? He is after all a staunch Aquino ally and Tiangco was outright confirming the allegations that the impeachment of Corona was backed by the president's orders and that the Congressmen were not even allowed to ask questions during the Power Point presentation outlining the hastily and badly-written articles of impeachment.
As revelations of millions of pork allegedly being dangled as "incentives" to "cooperative" senator-judges during Corona's trial emerge, the question of whether or not Senator Pangilinan and his other colleagues did steal pork will continue to intrigue Filipinos. Certainly, Sharon's legendary P10 million tweet will have upped the ante for fortune hunters had she not deleted it (in bad tweetizen form) subequently.
As always:
Abangan ang susunod na kabanata…
benign0 is the Webmaster of GetRealPhilippines.com.