"If we live, we live like kings.
If we die, we take a great many with us.
That is Sing Wah."
– Kung Fu, the Legend Continues
P50M additional was given to senators who would convict then Chief Justice Renato Corona. This was stated by Senator Jinggoy Estrada in a recent privilege speech. He further added that that "was provided in a private and confidential letter memorandum of the then chairman of the Senate finance committee."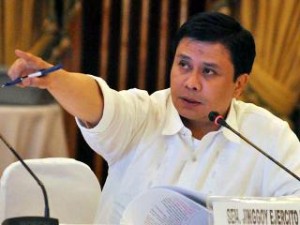 The then chairman of that committee was Senator Franklin Drilon.
In the same speech, Estrada also had words for the Commission on Audit (COA), his fellow senators, the House of Representatives, and the media.
"Why the propensity for selective reporting? Why are some pieces of information released while others are kept?", Estrada had to say about the COA's supposedly incomplete report. The chairman of the COA is Grace Pulido-Tan.
Estrada used the word "hypocrite" to refer to his colleagues who didn't seem to wonder why administration allies weren't taking as much flak as he and others were, with regards to the pork barrel issue. He further went on and questioned why known allies such as Congressman Neptali Gonzales III, who supposedly had his own questionable uses of the Priority Development Assistance Fund (PDAF) or pork barrel, according to the COA report, were apparently not being highlighted as much as he or other lawmakers belonging to the opposition, like Juan Ponce Enrile or Bong Revilla have been. He also criticized fellow senator Teofisto Guingona III for putting repeated emphasis on his name during the Senate investigations.
Estrada also took to task the media for "there being a serialized and obvious concerted effort to demonize him along with other members in the Chamber."
A copy of the full privilege speech is here.
Looks like Jinggoy is finally learning what it feels like to be on the side opposite of the sitting president. He is realizing only now that daang matuwid isn't so straight when you're not in the same political party as Benigno Simeon Aquino III (BS Aquino). Big deal; critics of the administration have known this for years.
With regards to his pronouncement regarding the additional P50M, a question needs to be asked: what was he doing sitting idly by while Corona was being hammered and subjected to such indignity?
Do Jinggoy's pronouncements in his speech make his involvement in the pork barrel issue, if any, less severe? Do his statements absolve him of the charges of misuse of public funds that he faces? They shouldn't. Remember that just last month, Jinggoy was quoted as saying that "it is not up to the senators to decide whether an NGO is bogus or not." In other words, he couldn't care less where his pork, which is still public money no matter how you look at it, goes.
All this laglagan and bistuhan (Filipino terms for people outing each other's dirty laundry) only really serves to reinforce the fact that PDAF is really a political tool more than anything. The Executive branch wants its way from the Legislature, who is supposed to be a co-equal branch of government? Show them the money and dangle it as a prize!
Malacañang, for its part, doesn't seem too alarmed. It "respects" Estrada's "desire to voice his opinions concerning the issues he raised in his privilege speech."
According to presidential spokesperson Edwin Lacierda, "What is important at this point are the ongoing investigations (on the pork barrel scam) and that it is the evidence that will determine where accountability lies."
In other words, dig up more evidence on non-allies, and keep your political friends safe. Like it's always been done. Everybody is guilty except us. Life goes on in the pigsty called the Philippines.
Or maybe Malacañang will come to "amicable arrangements" just to keep their names from being dragged further into the pork barrel mess. Either way, the Palace can no longer ignore that they have been complicit to the PDAF issue's being persistent.
As always, stay tuned for the next episode in this "only in the Philippines" political thriller/telenovela…
[Photo courtesy: GMA 7 ]
А вы, друзья, как ни садитесь, все в музыканты не годитесь. – But you, my friends, however you sit, not all as musicians fit.