The rains that came just this weekend intensified to the extent that come Monday, August 19, the resulting floods brought traffic in the Metro to a standstill. Several parts of Metro Manila had no choice but to call off class for all levels. Government offices were forced to declare "no work" due to the hazards that the weather posed, and the roads becoming impassable. The provinces did not fare much better, either; some were flooded to the point of impassable as well.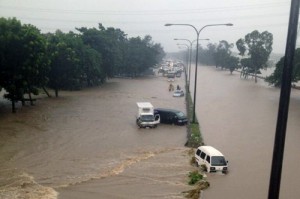 When it rains, it pours. Just when the Filipinos already have a big problem on their hands with the current imbroglio involving the misuse of the Priority Development Assistance Fund (PDAF), better known as pork barrel, the heavy rains come. How could things possibly get worse, right?
At this point, it would be tempting to join the ranting that occurred on social media against Janet Lim Napoles. Netizens blamed her and corrupt government officials for pocketing money that could have otherwise gone into flood control or flood relief programs.
On Facebook, Raia Dela Pena from Laguna narrated how her family has always been troubled by regular flooding in their area.

"I think of the floods and I remember all this talk of pork barrel funds and government corruption. You realize a lot of that money could have gone to resolving flood issues in different areas all over the country but it didn't. It went to the pockets of corrupt individuals like the Napoles family and the politicians who benefit from this whole system of corruption," wrote Dela Pena.
Corrupt government officials form only one part of the equation. Consider the Filipino electorate who put them there in the first place. Remember also, that Filipinos don't really take care of their surroundings very well. A cavalier attitude towards proper waste disposal and the clogging of essential waterways have only served to aggravate the problems they have with rains and the accompanying floods.
You've got politicians hooked on pork (pork-liticians?), and you've got people who put those people in positions of authority. Add to that the cavalier attitude that Filipinos have when it comes to treating their environment, and one has more than enough reason to describe the current state of the Philippines for what it is: A pigsty.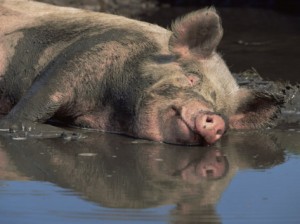 Year in, year out, the same old problems occur as a consequence of the Filipinos' actions both at the ballot box, and on the streets where they live.
How long do they plan to keep on clinging to their insanity?
А вы, друзья, как ни садитесь, все в музыканты не годитесь. – But you, my friends, however you sit, not all as musicians fit.