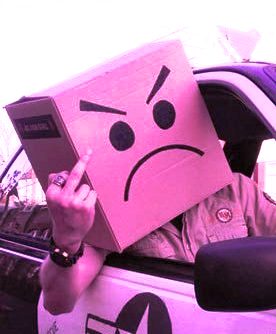 Lest anyone is tempted to buy the desperate attempt of the current occupant of Malacañang (to the extremely limited extent he has had anything at all to say about it) that abuse of the pork barrel is something that only happened when OTHER people were in charge, here's a reminder from a little more than a year ago (first published on the now-dormant Weather on Neptune last July) of Mr. Straight Path's official perspective towards this curious institution:
DBM Secretary Abad Confirms "Douchebaggery" as Official Administration Policy
In a brief interview published in the Inquirer this week, Budget Secretary Florencio "Butch" Abad, Jr. confirmed that the Aquino Administration would continue to use the Priority Development Assistance Fund (PDAF) allocations otherwise known as "pork barrel" as a political tool to curry favor with Congressional allies and punish opponents. Abad did not clarify whether or not anyone who disagrees with the policy should kiss his ass.
Abad named Zambales Representative Mitos Magsaysay, Iloilo Representative Augusto Syjuco, Jr., and the two sons of former President and Pampanga Representative Gloria Macapagal-Arroyo as among those Congressmen who did not receive any of their PDAF in the past two years, and had zero allocation in the 2013 budget submitted to Congress this week. When asked why the funds were being withheld, particularly in an election year, Abad explained "These are political realities we have to consider," without elaborating, although he earlier characterized Rep. Magsaysay, an outspoken critic of President Aquino, as "a special case" because "she says a lot of things."
Abad's home district, incidentally, comprises the Batanes Islands, which have a population of roughly 15,000 (the country's smallest province) and are represented in Congress by his wife Dina. While most Congressional districts receive between P70 million and P140 million in PDAF funds, Abad reportedly approved P800 million for his wife's district at the end of 2011.
What is truly disappointing – appalling, really – is that for all N/A's rhetoric about "transparency" and "good governance", not only did the current occupant of Malacañang reject the chance to literally put his money where his mouth is and put an end to the entire inefficient and corruption-ridden PDAF scheme, he has directed that it be used in the most blatantly cynical way possible. It would have even been praiseworthy, if only mildly so, if strict rules for its rational distribution and accounting had been imposed, but no; instead, he trots out his bookkeeper to announce that the new "political realities" are that those who oppose him – and by extension, the people they represent – will be sanctioned for doing so.
Daang na matuwid? Absolutely. It's the same money-paved path to hell walked by every government this country has had for the past quarter-century.
I write a column for The Manila Times on Tuesdays, Thursdays, and Saturdays. Most of the energy sector and the heads of several government agencies probably wish I didn't.