I am normally ambivalent to calls for street protests organised around objects of "outrage" that could have been mitigated or prevented if Filipinos had simply participated in democratic governance properly and intelligently (such as voting wisely and applying a critical mind to politicians' trite populist rhetoric). So I have mixed feelings about the latest call to attend the "million people march" to the Luneta Grandstand at 9 a.m. on the 26th August, Monday.
On one hand, I am inclined to regard it with bemusement considering many of those who are now set to march with fists pumping in the air in "indignation" are the very people who routinely eat up the banal bullshit weaved into the campaign rhetoric of the popular politician of the moment. On the other hand, the breadth and volume of the clamor to do something about Congressional pork we are seeing today is unprecedented. As such, I believe we should in this instance all set aside our political colours and give this movement a chance.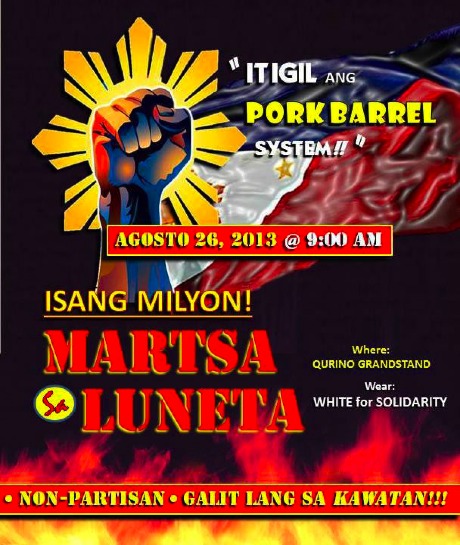 Grace Pulido-Tan, chairman of the Commission on Audit, in a media conference she called shortly after releasing their audit report on Congress's use of pork barrel funds confirmed what Filipinos have long suspected — that the national scam is deeply systemic to governance in the country and far far bigger than "the Janet Lim Napoles issue"…
Pressed to capture in one word what the special audit – on pork barrel releases from 2007 to 2009 – found, Pulido-Tan replied: "Kahindik-hindik." In English, "Disgusting".

Pulido-Tan said the misuse of the billions became possible because of a combination of corruption and the failure of national government agencies, lawmakers' offices, and lapses by the Department of Budget and Management itself, which did not follow its own rules in some cases. She also said there was widespread disregard for rules that appeared loose to begin with.
Confirmed too is the role media plays in engineering confusion and misguidance in the public in order to protect politicians who happen to bask in Big Media's favour or demonise people so that they serve as decoys and distractions to the real issues surrounding pork barrel thievery. Media watchdog Spin Busters, for one, have examined the details of the COA report and noted how legislators who had worked closely with Malacañang had been conveniently left out in the "exposés" and "scoops" issued in recent weeks by the country's major news organisations.
[Iloilo Rep. Niel] Tupas [who was chief prosecutor in the impeachment trial against former Chief Justice Renato Corona] was tagged by COA in questionable NGO deals worth P542 million along with fellow BS Aquino BFF, Joel Villanueva, now the head of TESDA. Also, Edgardo Angara, father of Sonny Angara, who won a Senate seat on the Yellow ticket last May. COA was deeply suspicious of old man Angara's P81.55-million financial assistance to a pet NGO and a P14-million feeding program with another NGO where he's, uhm, an incorporator. That looks like the Napoles business model: cultivate a cottage industry of paper NGOs and monopolize the pork barrel pipeline.
Funny how quickly the tables turn on the sneaky business that is Philippine "journalism" as Spin Busters now observes…
Now that COA chief Grace Pulido-Tan let the cat out of the bag, [the Philippine Daily Inquirer (PDI) is] forced to report about the widening scope of the pork scam. Thanks to Gil Cabacungan, even if his reputation precedes him, for incessantly pitching the story about BS cabinet exec Proceso Alcala's own meat processing operation to a PDI newsdesk that's always looked the other way.

Don't be surprised about the apparent PDI "news management," one that contains the damage to Napoles and steers clear of President BS buddies. Whoever leaked the story to PDI editors (who eventually assigned the writing to the brilliant and no-strings-attached Carvajal) sure had his own news management in mind and specific, laser-focused targets for the exposé.
Goes to show the erstwhile "heroes" of 1980s "people power" mythology — the supposedly "free" Philippine press, and certain yellow-shirted senators and congressmen — simply cannot be trusted.
If this "Million People March to Luneta" to protest Pork in Congress is really the "non-partisan" movement it advertises itself to be and a true grassroots emergent initiative that is independent of and not associated with any of the known news engineers like the PDI, ABS-CBN, and Rappler.com, then it's got my vote and encourage all to heed its call:
TARA LET'S DO THE MILLION PEOPLE MARCH TO LUNETA! AUGUST 26, ARAW NG MGA BAYANI

WE, THE TAXPAYERS, WANT:
1. THE PORK BARREL SCRAPPED.
2. THE SENATORS AND CONGRESSMEN IN THE PORK BARREL FUND SCAM INVESTIGATED AND CHARGED ACCORDINGLY, WITH FULL MEDIA COVERAGE FOR THE PEOPLE TO SEE.

HOW: With a massive "pocket picnic" get together
WHEN: 26 August 2013, 9am
WHERE: In front of the LUNETA Grandstand
COLOR: White
STATUS/MEME/TWEET: I am *NAME* PINOY ako. I pay my taxes, on-time & in-full. YOU, my government, owe me a full explanation. @ProtestaNgBayan
HASHTAG: #OnePinoy #MillionPeopleMarch #ProtestaNgBayan

No group banners. No political colors. No Speeches.
Just ALL OF US ordinary, tax-paying people showing GOV'T THEY ANSWER TO US. TAYO ANG BOSS DITO.

We need this outrage, anger to reach critical mass. SPREAD THE WORD. REPOST.
See their Facebook event page for details and to confirm your attendance. Could I add too: No EPAL, plez.
benign0 is the Webmaster of GetRealPhilippines.com.