A slew of indignant comments raged over Gogs' insightful article "Why A Smart Gilas Win Means Nothing To Me." This is the same outrage fadism which flooded my own article "Why Pinoy Pride will not save the Philippines." Instead of taking the lesson and doing better from it, or even just making some noteworthy and effective counter-arguments, some Filipinos take the article as an attack on them and they counter with insults and anger. There's even that classic loaded question, "what have you done to help the country," which is better asked if the asker himself can name something he did.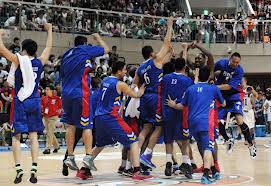 Perhaps the reason why Smart Gilas' progress in the games is very important for many Filipinos is because the team carries the country's name (although they also carry the name of corporate sponsor Smart). They are an official team. So their success or failure in the series is assumed to be the success or failure of the whole country, similar to those who went to the recent 2012 Olympics.
A commenter, matthew habacon said:
Para sakin these kinds of victories can serve as an inspiration for individuals to aspire for greater things. While I do not dispute na marami talagang maling nangyayari sa Pilipinas, Yung mga ganitong panalo ng isang team representing our country can make some of us want to do better.
While it is a good point, there is still a problem here. It is true that Filipinos need to aspire to do better, but the Gilas team is a basketball team. So will most Filipinos need to do better in basketball? No. You need to do better in school, do better in your work, do better in business, and more. Filipinos can get the wrong idea on "doing better."
When we say, "do better," we might have have forgotten other examples like Dado Banatao who founded S3 Graphics, or Katherine Luzuriaga, who helped develop a cure for the AIDS disease. Or even Yelle Castro, who decided to stay a medical professional abroad despite the promise of a singing career. We always look at sports and performing arts figures, we forget those in science, the military, the fine arts, and others who have achievements based on discipline and good behavior.
However, there seems to be another reason for Filipinos to cling on others' successes. As fellow blogger Paul Farol tried to explain in his article, "Pinoy Pride… sometimes it's a candle in the dark," Filipinos try to use others' successes to divert attention from Filipino faults. Because of the Bus Hostage Crisis and other things I mentioned in my Pinoy Pride article, Filipinos seem to have a bad reputation abroad. Thus, Filipinos try to save face.
Hiding behind the skirts of other successful Filipinos is one way of saving face. If Smart Gilas wins, Filipino fans may say "look at how great the Gilas team is! If they are great, then we are great too! So you don't have any right to criticize us or put us down!" Unfortunately, this is only trying to make up excuses to deflect accountability and responsibility. If a Filipino abroad uses this argument so say, "you can't fire me just because I seduced the boss's daughter! We Filipinos are great, like Lea Salonga and Manny Pacquiao! So you should not fire me or else," then you know the guy has a screw loose. If only there were no Filipino faults, there would truly be a reason to be proud.
And the ultimate lesson: if the Gilas team wins, it's not because they are Pinoy. It's because they are disciplined… which most Pinoys are not. If most Pinoys do not display this discipline, which is demonstrated in following rules and the law, being more frugal with money and being less arrogant and more accepting of criticism, as a few examples, then it has come to nothing. As Paul said, be proud to be a Filipino by being like your Filipino Idol.
And as commenter Amir Al Bahr asked in reply to Mr. habacon above:
Where are the results?
I believe, as my cohorts here do, that what Filipinos embrace as their culture is what actually pulls the country down. And those who seem to be anti-dictators, who may also believe themselves to be "heroes," are the real dictators.