I really don't know what to make of it, but an article from Rappler says that at least 15 lawmakers allied with the Aquino administration are also involved in the P10 Billion Pork Barrel Scam.
The names left out by Benhur Luy, the self-confessed bagman of an alleged public fund syndicate, include 15 who are now allied with the Aquino administration, Rappler learned.

They are:

1 former senator whose son ran under the administration's Team PNoy last May
8 turncoats who are now with the President's Liberal Party
2 party-list representatives who are with the administration
4 who have long been with the LP
I can only guess why this bit of information has surfaced surfaced weeks after the story broke in the Philippine Daily Inquirer and after the names of five senators were accused of being beneficiaries of the pork barrel scam, some of whom are regarded as President Aquino's political enemies.
These are senators Juan Ponce Enrile, Ramon "Bong" Revilla Jr, Ferdinand "Bongbong" Marcos Jr, Jinggoy Estrada, and Gregorio Honasan II.
One clue that came up in the deluge of articles on the P10 Billion Pork Barrel Scam is the insinuation that the whole story had been propped up and pumped through Malacanang Palace propaganda machinery to distract as well as get back at Aquino's enemies for the alleged Ballsy Aquino $30 Million extortion try story.
Including the names of lawmakers allied with the Aquino Administration in the P10 Billion could possibly be a good way to lay the predicate for a possible refutation of the insinuation that it could be revenge — assuming it'll be probed by either legislature or the executive or a constitutional body.
It is a funny to think though that senators and congressmen could conduct a probe on their peers' use of the pork barrel fund, considering that it's quite possible that almost all lawmakers may have committed "indiscretions" with their funds.  It'll be a TV fiesta of pots calling kettles black… ugh!
Then again, if a congressional probe might look like a sh*t storm, the whole scam story from the start didn't have the usual complexion of other scam stories where the whistle-blower was characterized as somewhat of a do-gooder fed up by corruption.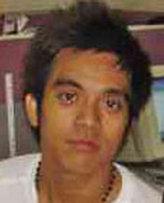 At the center of the P10 Billion scam is a certain Benhur Luy, who by his own admission, had been somewhat central to the perpetration of the pork barrel scam.  Also, in various reports, it seems Luy's credibility has been quite damaged by accusations drug-use and reports of an arrest warrant issued against Luy by the Pasig Regional Trial for qualified theft involving P300,000.
While most of the reports on the P10 Billion pork barrel scam have been quite dignified expositions of facts and analysis, one thing that caught my eye was a rather gutter level personal attack perpetrated by a certain journalist and former official of the National Press Club named Berteni "Toto" Causing.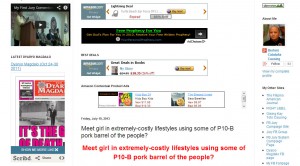 While most of his peers seem to have reported on the pork barrel scam with a good measure of decency, Causing came up with a post on his personal blog (www.totocausing.blogspot.com) which seems to go against journalist ethics and standards.
In a post titled "Meet girl in extremely-costly lifestyles using some of P10-B pork barrel of the people?", Causing accuses Jeanne Lim-Napoles using proceeds from the scam to support her lavish lifestyle.  Jeanne is the the daughter of Janet Lim-Napoles whom Luy alleges is the mastermind of the P10 Billion pork barrel scam.
Causing writes:
"This daughter of the "mother f*cker" should know she wears all the money out of the blood of poor Filipinos. Where is the conscience of this girl?"
"Like her mother, she must be f*cked to prison, too, and all her signature apparels confiscated as unexplained wealth."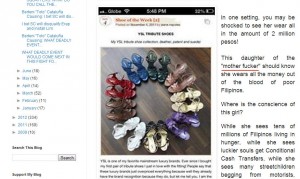 Going beyond Causing's the gutter talk, the former National Press Club official should have put out evidence (documents, affidavits, etcetera) that would prove Jeanne had used money skimmed off from pork barrel funds to support her lavish lifestyle.  Alas, nothing in Causing's blog post shows anything of the sort.
A gay friend who read Causing's post remarked that the vileness of the words used against Napoles' daughter tended to make the whole P10 Billion pork barrel scam appear like "away bakla".
He said, "Hay nakuh! Mukhang overblown na away bakla lang yan.  Ang bakla, lalaban ng siraan ng buhay and that's what it looks like to me.  They'll say anything and everything, even invent outright lies to destroy the life of their enemy.  Apart from that, isa pang tell-tale sign is the kampi-kampihan that happens! Did you see that news report of Eddie Badeo? My gawd… ewan ko ha, pero there are stories going around that he asks for advances for design work but doesn't deliver the goods!! Kalurkey!"
Anyway, if ever the P10 billion pork barrel scam gets air-play during a congressional probe hearing, I just hope it focuses on exposing the real problems of government fund use and not on this gutter level mud slinging.