President Benigno Simeon Aquino III (BS Aquino) delivered the State of the Nation Address (SONA) to mark the opening of Congress for year 2013 last Monday, July 22. As much as the content of said address (all 102 minutes of it), what's also being discussed by the chattering classes is what our politicians wore to the said event. Frankly, neither the unremarkable speech itself nor such blatant display of ostentation should be really surprising anymore; life goes on and our politicians remain the same, whether we're aware of it or not.
Outside of the Batasan complex the riot police were deployed to keep any and all protesters at bay, and as far away as possible. And came the protesters did.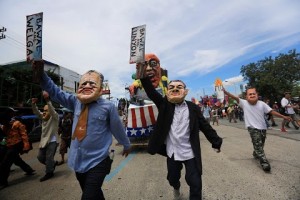 Such stand-offs eventually degenerate into violent encounters, and this year was no exception. Amid the rock and truncheon throwing and crowd dispersal, photojournalist Rem Zamora described a sight he thought he'd never see in such a situation:
It was a long and tiring dispersal. People were injured. But amidst all of this, I saw a scenario which I thought I will never see during a dispersal.

A foreign protester was berating a policeman asking him why were the policemen hurting the people. Why were they pushing them. The officer simply stood ground and said he is a policeman it is their job to maintain peace and order. That they were given orders and they had to follow.

Suddenly the officer cried. The foreigner kept on shouting at this officer. He was still crying. He was trying to hold his tears but he can't.

A second round of dispersal erupted and while every other anti-riot policemen are pushing and shoving trying to remove the protesters from the ground, the crying cop simply stood ground. He was still holding his shield firmly. Still weeping. Sobbing.

I approached the policeman and asked him his name. He said he is Joselito. A quick glance at his name tag reveals he is Policeman Joselito Sevilla. He said he is a private and his uniform patch reveals he is from Marikina police unit.

When asked why he is crying he replied, "Sa gutom at pagod. Walang tulog. Walang pahinga. Dalawang draw na kame nakadeploy dito. Tapos ganito nagkakagulo." This was also PO1 Sevilla's first dispersal assignment. (Because of hunger and no sleep. We have no rest and we have been stationed here for 2 days already and now it's getting violent.)
The other stand out this year, also pointed out by Zamora in the above passage, is a foreigner joining the fray. Apparently, his Facebook profile and open letter to policeman Joselito Sevilla seem to suggest his leanings towards communism. He insisted that the protesters were entirely peaceful, and that the escalation to violence can be entirely blamed on the police. It makes you wonder, what was a visiting foreigner doing in a demonstration, essentially interfering in the internal affairs of this country?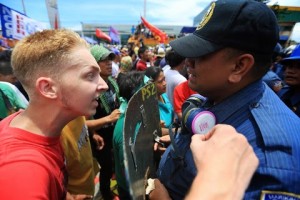 Perhaps we will never truly know who started the violence first. The protesters will stand their ground that the police started beating and pushing them back first, and that throwing stones was a response in kind. On the other hand, the police will say that they are tasked to exercise "maximum tolerance" and that the protesters started throwing stones first, though they may have been unwittingly provoked by the protesters into "dealing the first blow", so to speak.
At this point, that hardly matters.
Amidst the turmoil going on, Zamora wanted to highlight that in the end, we are all human beings. Though on opposing sides of a conflict, the involved parties can still show compassion towards each other. Sevilla may never be able to get rid of the "crying cop" moniker, but his "ordeal", if you may even call it that, clearly underscores something lacking among the many interest groups in Filipino society: peaceful, rational, and sincere dialogue.
Of course, it doesn't hurt to highlight that with communists, dialogue is a bit more difficult. They want nothing less than to violently overthrow whichever government is in power, and replace it with one of their own. They frequently emphasize the "armed revolution" part of their ideology, but I digress.
As Zamora pointed out, men in authority, in particular, are expected to be firm and not show emotion.
Well, welcome to the Philippines, the land of contradictions, I say. This is the land of "just grin and bear it" hard times, while at the same time, Filipinos are some of the most emotional people in the world. Filipinos are supposedly people who avoid confrontation, yet are not hesitant to resort to violence just because of a perceived slight. Filipinos are passive-aggressive complainers, yet when given the chance to air out their grievances directly, they beat around the bush. Filipinos love gossiping about other people, but they can't take direct and constructive criticism. Obviously, Filipinos love to do a lot of talking, what we call in the vernacular dakdak nang dakdak; but when it's time to listen to the other party, they suck.
Such conditions present in a contradictory society can break even the most stoic Filipino citizen. Why bother with a country whose citizenry is apprehensive towards peaceful dialogue? Why bother with a country whose people are easily riled up? Why bother to talk to people when it will degenerate to self-aggrandizing noise? Why bother with this country, when it is easier to get away from it instead?
Do you still wonder, then, why issues take a long time to be resolved in the Philippines? Why the same old shit happens every year? People aren't willing to look past their differences here. Very few are willing to listen to the other side genuinely. There exists here only self-interest, enlightened or not. The concept of a greater good and win-win situation is all but alien to the Filipino mind.
It's all about what the Filipino wants, to satisfy his baseless need to be more important than everyone else.
When you find yourself in a country full of self-aggrandizing and self-important people, it's hard to remain stoic and to just "grin and bear it". Sooner or later you're going to want out. Such is the sad truth about Filipino society.
It's enough to make a grown man cry.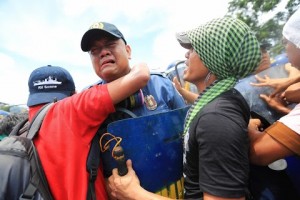 [Photos courtesy of: Rem Zamora]
А вы, друзья, как ни садитесь, все в музыканты не годитесь. – But you, my friends, however you sit, not all as musicians fit.