One wonders what else Kabataan party-list Rep. Terry Ridon wants to discuss with Bianca Gonzalez in a "dialogue" he is reportedly seeking with the famous model-turned-TV-personality.
I suppose the question to Ridon is quite simple: What part of Gonzalez's tweet that "So many people working hard to save to buy a house on prime land while paying their taxes. Why do we have to baby these informal settlers?" (translated from
a tweet she fielded in early July
) is subject to further interpretation? Apparently a tough question for many in the "party-list" community as "other party-list groups are seeking a meeting with Gonzales to clarify some issues about informal settlers," according to Ridon.
SUPPORT INDEPENDENT SOCIAL COMMENTARY!
Subscribe to our Substack community GRP Insider to receive by email our in-depth free weekly newsletter. Opt into a paid subscription and you'll get premium insider briefs and insights from us daily.
Subscribe to our Substack newsletter, GRP Insider!
Learn more
Ridon adds that Gonzalez's words "makes [them] sad because Bianca is one of the celebrities who [they] expect to understand national issues like poverty" and that this may just be a "knee-jerk reaction" on her part and thus deserves to be given "the benefit of the doubt."
Quite a lot of "expectations". Not surprising considering Bianca Gonzalez's mega-celebrity affords her enormous influence when it comes to shaping public opinion. She has a 2.46 million-strong following on Twitter and her now famous tweet has been retweeted 1,807 times. She has emboldened thousands of her fans to speak their minds about squatters many of whom have likely long held their tongue for fear of being summarily labelled "anti-poor" by polite society.
One of the most eloquent of these ordinary Filipinos to speak out is a certain Allan Espinosa who, in a moving letter to the Philippine Daily Inquirer wrote…
And this is the point where I part ways with the majority and some media in the Philippines which put emphasis on the "helplessness" of informal settlers as victims. This "victim mentality" may have created a false reality for many poor Filipinos. Thus, we have bred generations of hopeless and dreamless Filipinos who might have been productive citizens had they been given the proper motivation and education. Barring a dictatorship and another failed economy like the one we had during the Marcos regime, poverty should be no excuse for sloth.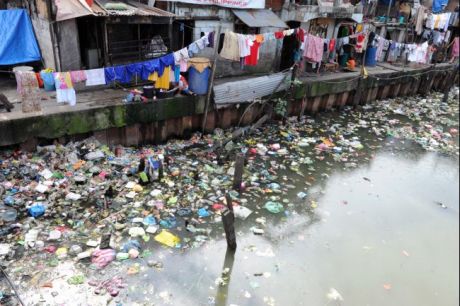 [Photo courtesy Global Post.]
The phenomenal response to Gonzalez's 24-word statement on squatters in Tagalog has earned her the title The Long Awaited Messiah of Anti-Squatter Activism. Apparently Ridon recognises this and reportedly "hopes that after the meeting, Gonzales would be able to use her celebrity status to correct this impression about informal settlers."
That remains to be seen.
Manila residents have long put up with the impunity of the hundreds of thousands of squatters that have colonised thousands of hectares of prime land in the metropolis. The cost to the economy has been enormous — among others, unfathomable loss of productivity due to the horrendous traffic jams caused by flooding and the unsightly blight to the citysccape that have put off countless potential tourists and long-term investors. Just recently, a huge fire fuelled by a vast tract of illegally-built homes adjacent to the Makati Medical Center once again highlighted the risks to public health and safety posed by the proliferation of these illegal settlements.
But because the be-all-end-all agenda of the average Filipino politician — harvesting votes — trumps just about every other reason for their existence, the immensely intractable problem that is the Philippines' squatter situation had festered for decades and persists to this day and will likely do so for the foreseeable future.
It is up to the thought leadership of celebrities like Bianca Gonzalez to shunt the freight train of Filipino cultural dysfunction off the tracks leading to wretched oblivion.
benign0 is the Webmaster of GetRealPhilippines.com.