This is a response to the call of the eminent and radical American Professor Noam Chomsky with regard to his call to the world to support the Turkish Resistance/Occupy Movement.
I overwhelmingly concur with the great professor in his stern condemnation of Turkey authorities' brutal police crackdown on protesters who merely are denouncing the demolition of Taksim Gezi Park.
I agree with Chomsky that the barbaric act committed by the powers that be in Istanbul, Ankara and other cities is "the most shameful moments of Turkish history"!
According to the reports, the outspoken professor has "showed his support for the Gezi Park occupiers by sending a video message with a banner saying "I am also a 'çapulcu' in solidarity."
"Çapulcu" means "marauder" in English and it refers to a speech by the Turkish prime minister, who dismissively referred to protesters as "marauders."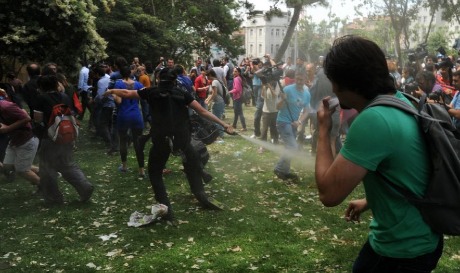 The Spark
According to the Hürriyet Daily News, "US philosopher Chomsky supports Gezi Park movement with video message" June 1st:
"The Istanbul Metropolitan Municipality had planned to replace the little green patch surrounded by multi-storey hotels with a reproduction of the Artillery Barracks ("Topçu Kışlası") that used to occupy the sight. According to the project revealed by Turkish Prime Minister Recep Tayyip Erdoğan, the barracks would be converted into a shopping mall and could also serve as a residence with social facilities.
"However, the plans stirred huge debate among Istanbul locals, who objected to the conversion of one of the last green areas at the heart of the city into yet another shopping mall."
According to the report to the Guardian of Constanze Letsch, "Social media and opposition to blame for protests, says Turkish PM": 'Social media is the worst menace to society,' says Recep Erdogan after thousands take control of Istanbul's main square, June 3rd:
"What started last Monday as a relatively small, peaceful protest to save an inner city Istanbul park from having to make way for a kitschy Ottoman-style shopping centre, rapidly snowballed into the largest and most violent anti-government protests that Turkey has seen in years.
"Hundreds were injured, some seriously, by the heavy-handed police response and excessive use of teargas. Riot police withdrew from the city on Saturday evening, handing a victory to the demonstrators.
"The protests had spread across Turkey to half of its 81 provinces by Sunday, the interior ministry, Muammer Guler, said. Guler said 1,750 people had been detained since Tuesday, but most had since been released, while damage costs have not yet been announced. The Turkish Doctors' Association said the demonstrations had left 1,000 people injured in Istanbul and 700 in Ankara."
Koray Caliskan, a political scientist at Istanbul's Bosphorus University said that:
"Erdogan does not listen to anyone any more… Not even to members of his own party. But after the protests this weekend, he will have to accept that he is the prime minister of a democratic country, and that he cannot rule it on his own."
He further stated that:
"The Turkish media have embarrassed themselves…
"While the whole world was broadcasting from Taksim Square, Turkish television stations were showing cooking shows. It is now very clear that we do not have press freedom in Turkey."
Worst, "the dramatic events also exposed the complicity and almost complete government control of mainstream Turkish media, which has largely failed to report the protests."
Tayyip Erdogan
I do not deny that formerly I place such a high hope to this man! Then, I thought that Mr. Erdogan could be a model for all Arabic and Muslim leaders for his secularism, able leadership and vibrant sense of democracy.
I even quoted him and commend him in one article concerning Syria. This is what I said in my article, SYRIA: Nations should impose economic sanction on Syria, The New Straits Times, (Malaysia), March 14, 2012:
I praise the bold stance of the Turkish government under Prime Minister Recep Tayyip Erdogan, especially when he stated at a press conference held in Tripoli: "Those who are attacking their people with tanks and guns will not be able to remain in power." The Syrian authoritarian regime "will eventually have to pay the price for this".
Now, the shoe is on the other foot!
Mr. Erdogan is now the one who is attacking his people who are merely protesting peacefully with extreme police brutality and worst, he is sanctioning the on-going state violence against his very own people! What a shame!
Then, this person who enjoys a substantial global support is now being mock as a dictator and an enemy of his own people. He attacked the dictators of Syria, Tunisia, Libya and Egypt for their evil acts against the people, yet now, he is also doing the same things that he attacked — to his very own people! I do not know now the difference between Erdogan and those dictators that he condemned. Nonetheless, in my view, they are all the same; they are all pieces that were cut from the same clothes. In a word: all of them are dictators.
What a shame!
Sad but true, but he has already shown his true colors. He is not what a true, secular and liberal Muslim leader and model should be!
Warning
The Turkish dictatorship must learn from the lessons of history. If not, Recep Tayyip Erdogan and his cohorts will suffer the fate of the leaders of Tunisia, Egypt and Libya who were thrown out by the collective powers of the people, while the Syrian dictator is on his way to the garbage-can of history!
It is on this great and noble sense that I join iconoclast professor Chomsky in his official written statement, dated June 1st pledging his support and forging solidarity to the Turkish protesters.
"I would like to join Amnesty International and others who defend basic human rights in condemning the brutal measures of the state authorities in response to the peaceful protests in Taksim in Central Istanbul.
"The reports of the past few days are reminiscent of some of the most shameful moments of Turkish history, which, it seemed, had been relegated to the past during the progress of the past years that has been welcomed and praised by all of us who wish the best for Turkey and its people…"
To the people of Turkey
Turkish brothers, sisters, friends and comrades:
Soldier on! Continue with your just and noble Struggle! You are not alone! We are with you! WE SHALL OVERCOME!!!
WE ARE ALL CAPULCU!
[Last May 31st, the first book of the author entitled Dissidente was published by the Central Professional Books! It is a collection of his articles, commentaries and op-ed published by various Malaysian and Philippine newspapers! Photo courtesy Global Post.]
The writer has a Master's degree in Philosophy, a law degree and a degree in AB Political Science. He was previously teaching Philosophy, Ethics and Anthropology at an institution of higher education in the Nilai University College at Nilai, Negeri Sembilan, Malaysia. He is currently a lecturer at the College of Arts, Department of Philosophy at the Polytechnic University of the Philippines.
As of the moment, he is preparing to publish his first book entitled "Dissidente". It is a collection of his articles, commentaries and op-ed published by various newspapers in Southeast Asia.