My Fascination for Old Manila and my Quiapo Roots
I have been engaged in a rather long running hobby of hunting for old pictures of Manila on the internet.  So much so that it led me to create Lumang Tao Moments a few years back — it is a site where I curate all the Old Manila pictures that I find. Given that I haven't updated it for a months now, the site gets a pretty decent traffic and earns quite a bit of ad revenues — for some unfathomable reason which only Google Adsense can fathom.

I think I acquired my fascination for Manila's Old Glory because of my Dad, who grew up in pre-World War II Quiapo.   He'd take me on these extremely long slow walks through the Quiapo district and at odd intervals, point out one place or another, all the time explaining what it was before the Americans bombed the hell out of it.
Perhaps there's nothing about Quiapo's streets that he didn't know about, the whole area was his childhood neighborhood.
For instance, he'd point out one corner and say, "That's where people sold rats for food during the war" or this is where such-and-such important person did something odd.  I wish I could have listened more to his stories, but the problem was that back then I was rather distracted by the soreness I felt in my short, stubby legs after walking quite a way.
What was great about these long walks is that it would usually terminate at my Lola's house and that's where I'd get my fill of pochero or pesang dalag and a great heaping of sorbetes.  Usually, after lunch, Dad would play several rounds of mah-jong with my uncles and aunts, all the while arguing and recriminating each other over trifles.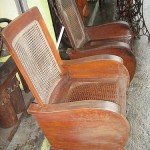 The clinking of bottles of Cerveza would join the rattle of mah-jong tiles until it became like the drone of an old engine, lulling me into an afternoon nap on one of Lola's ambassador chairs — the ones with seats and back made of woven rattan strings.  Dad would usually wake me up after an hour or so  
My Lola Jule's (Dad's mother) house straddles Matapang St. and Progreso along Bilibid Viejo, a smaller street parallel to R. Hidalgo.  Together with my Lolo Bitong (Pablo Farol), they managed to buy a pretty large lot in the area after making it as one of the larger fruit suppliers in Manila — supplying even Malacanang and Manila Hotel.
Lola's house is near Raon Street, where you can get pretty much any kind of electronic gadget at wholesale prices and other odd stuff like pilik-mata ng kambing, herbal potions like pampa-regla, bronze amulets, butot page, etcetera
It is also just a short walk away from San Sebastian Church, which is perhaps the only church in the Philippines made entirely of steel and is known as an example of a revival of Gothic architecture.  The Ocampo Pagoda is also another decades old landmark in that section of Quiapo and something that most people don't see or know much about.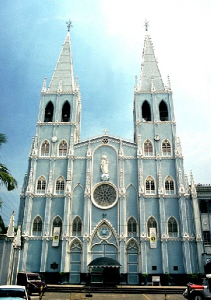 Bilibid Viejo street is a lesser known street compared to R. Hidalgo, which for decades and up to the present (I think) has been known as a haven for photographers.  Years ago, there was some talk of a "Hidalgo Heritage Street Project" which would see its restoration, having been known in the 19th century as one of Manila's most beautiful streets.  But after a recent visit to that area, it seems the project must have lost its way from the drawing board on its way to actual execution.
(As to why the street Bilibid Viejo (Old Prison) was named such, I am not completely sure, but I have a hunch that it may be because it has something to do with the location of Manila's old city jail — which is now actually on the Quiapo Church side of Quezon Boulevard.)
From all my Dad's stories, I had grown to think that if there IS an Old Manila, it's certainly in Quiapo and not in the former beach house district of Malate.  I could be wrong, but that wouldn't be interesting to me — after all, I am the one telling the story, right?
Right.
Without a Vision, Reviving Manila is a Lost Cause
The rather contrived protest against a reclamation project on Manila Bay has had the rather quaint effect of fostering digital babble  swirling around a nebulous idea of reviving Manila's old architectural "treasures".  The fact that what is actually being referred to as a "heritage preservation advocacy" is comprised of one building here and another building there, and not a whole row of buildings that would conjure the same magic possessed by the grand boulevards leading to the Arc de Triomphe.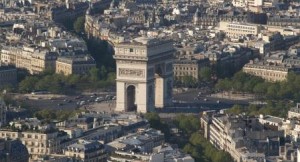 As mentioned in previous articles on SOS Save Manila Bay, the group's woeful calls for "environmental" and "heritage" preservation is as shallow and meandering as the silted Pasig River that disgorges its black sewerage water into Manila bay.
Why? It's not out of negativity or plain meanness that I say this, but rather out of sheer disappointment because the group has proven that it can't offer an alternative beyond self-serving demands for the "gentrification" of a section of Manila.  (Not that the irony of the term 'gentrification' in more current connotation was detected by the self-professed cultural stewards.)
Renovating a few buildings here and preserving another building there may have little hope of later leading up to the manifestation of a grand vision of what Manila should be other than a lose collection of historical landmarks strung up like the dangling phrases and clauses that litter a certain tour guide's walking tour monologues.
If for anything, what Manila Goldcoast Development Corporations's Manila Solar City represents is a grand vision of what Manila should be and a new, better introduction to the treasures it holds.
(To Be Continued…)