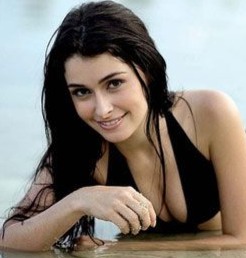 I used to wonder how an obscure former Congressman from Cagayan de Oro could bag a hot Brazilian babe like Daiana Menezes. But then after reading about his million-dollar lifestyle in a Mindanao Gold Star Daily article describing his "imeldific" lifestyle, it suddenly all made sense to me. What red-blooded female after all can resist Benjo Benaldo's debonaire demeanor and flashy Italian threads?
Benaldo allegedly ridicules congressmen whose fashion sense differs from his. Several times, he allegedly made fun of Rep. Yevgeny Vincente Emano of the 2nd District of Misamis Oriental over the way the latter dresses. His exact words, according to the source: "Morag taga bukid magsanina." The source said Benaldo also jests at Emano's suit, said to be relatively cheap and tailored "only in Cagayan de Oro," which the Misamis Oriental congressman allegedly wears in the Lower House over and over again.

There's nothing wrong with being fashionable. But Benaldo's idea of fashion is screaming and high-priced clothing and accessories by Hermes, Louis Vuitton, Burberry, Ralph Lauren, Armani, Hugo, Boss and Valentino, among others.

The source said going out with a US$1,400-Hermes belt, US$400-Louis Vuitton cellphone pouch, US$300-Burberry shirt, US$200-denims, US$700-boots and a Rolex watch that costs at least P1.4 million, is exactly Benaldo's idea of fashion.
Well, I guess as far as red-blooded females go, Brazil fits my stereotype of the sort of place that churns them out, what with the way Rio de Janeiro sizzles with its Carnival every Lenten season and how it is now lavishing billions on hosting soccer matches. But a Brazilian model who marries a James Bond caricature, comes to the Philippines to live and make her living here hosting Eat Bulaga can't really be considered the brightest among them. To the US's place as the prime destination for the world's "best and brightest", Daiana it seems represents the Philippines' being an antithesis to that — we attract the worst and the dumbest.
Exactly on what basis Cagayan de Oro voters chose Benjo Benaldo to represent them in Congress will forever remain a mystery to me. Suffice to say, his ascent to that Congressional seat can probably be chalked up to yet another instance of starstruck ignorance in the Philippine electorate. But then at least they wizened up this year and booted him out. It remains to be seen if Daiana will do the same, however. You'd think when one is already dumb enough to marry a guy like Benjo (who can't even aim a gun properly), one couldn't get any dumber.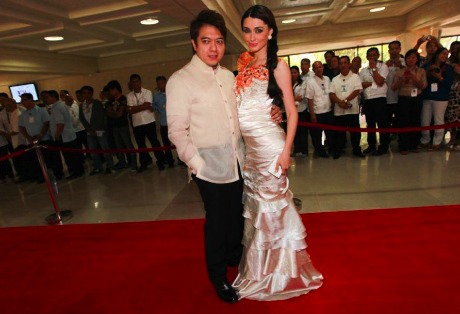 All Benjo ended up achieving was highlighting the fact that unlicensed firearms can actually be carried into the House of Representatives (HoR) building with impunity. Maybe this should prompt the police to do a random check of all the offices within the HoR building to see if there are any other offending objects to be found.
I also wonder why the House Speaker Sonny Belmonte is always quick to defend this guy. In the latest report, Belmonte again stepped up as Benjo's spokesman…
Speaker Feliciano Belmonte Jr., meanwhile, said Friday that carrying of firearms is strictly prohibited inside the House of Representatives premises, but admitted that the policy is difficult to implement among congressmen.

"I think there's a policy against it (carrying firearms), but it's hard to implement in so far as members are concerned," Belmonte said in a text message.
Yeah, it's hard to implement because Congressmen are notorious for being paranoid jackasses who are constantly watching their back. I suppose it is because of the convoluted webs of patronage and under-the-table deals they've spun around themselves that assures them a life of not knowing exactly who their real friends and enemies are. Best thing for these Congressmen, I suppose, is to ensure you pack a piece wherever you go.
But according to Cibac Party-list Representative Sherwin Tugna, "guns are strictly prohibited inside the HOR premises. This is the standing rule. However, those who have a permit to carry a firearm can bring their gun inside the HOR, provided there is a sufficient justification (of threat to life) given to the HOR security department." You wonder though how enough dangers to one's life could lurk even within the corridors of the Batasan Pambansa building to justify carrying a weapon there. Then again try explaining that to Dumb and Dumber and you will likely get a glazed look as a response.
[Photos courtesy FanPix.net and CDODev.com.]
Frustrated artist doing geek for a living.