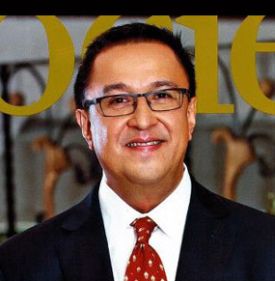 As expected, Cagayan Congressman Jack Enrile who is running for a Senate seat in the coming elections is "vehemently" denying his role in the shooting of Ernest Lucas Jr during a soiree (a party organised between classes in exclusive private gorls' and boys' high schools) in San Lorenzo Village in Makati back in 1975. The charges against Enrile were dropped after his bodyguard Danilo Cruz "confessed to accidentally shooting Lucas Jr." According to Fr. Robert Reyes, activist and uncle of Lucas Jr, the incident "wasn't really properly investigated. (Cruz) eventually was just transferred (to another assignment). He was not jailed.."
Enrile's father is current Senate President Juan Ponce Enrile who in 1975 was the Philippines' Defense Minister and the "chief martial law enforcer" of then President Ferdinand E Marcos. The elder Enrile was regarded as Marcos's right-hand man and, as such, one of the Philippines' most powerful men. "It was dangerous to cross paths with Enrile at that time," according to Reyes.
The scandal came to light again after transcripts of supposedly confidential cables sent and received in 1975 at the height of the scandal by the United States Embassy in Manila were exposed by whistleblower site Wikileaks. The cables revealed various diplomats' opinion on and intepretations of the events transpiring at the time.
Then US Ambassador to the Philippines William H. Sullivan in another cable revealed by Wikileaks dated after the the prosecution withdrew their case against Enrile described Jack's behaviour during the prior proceedings and included an account of what he knew of about the events that led to Lucas's death…
"Jackie did not even appear in person at hearings since he was "˜attending classes.' While taking sworn statement accords with recognized Philippine procedure, in cases of this importance, witnesses are normally interrogated in person by investigating fiscal. Government relied on his deposition," Sullivan said.

In another cable, the ambassador said Lucas Jr. was killed after he escorted his sister to the party at San Lorenzo Village on the night of Sept. 20, which Jack Enrile also attended. Reyes said it was a soiree for high school students from St. Paul and Ateneo de Manila.

"Lucas reportedly asked to be admitted as well but was told (the) party (was) private. Lucas and three companions returned later to pick up Lucas' sister. During unexplained altercation, Lucas was shot in the head by Enrile Jr.'s security guard. He died five hours later," Sullivan said.
Congressman Jack Enrile dismissed these revelations as "demolition jobs" perpetrated by his political rivals and his United Nationalist Alliance party issued a statement calling former Ambassador Sullivan a tsismoso or rumour-mongerer.
In a statement, UNA secretary general and campaign manager Toby Tiangco said the former US Ambassador to the Philippines did not provide any evidence to support his allegation that the young Enrile was responsible for the murder of Ernest Lucas Jr.

"He admitted it was based on rumors circulating at that time. In short, tsismis lang, and the former ambassador was being 'tsismoso' when he passed on to Washington this piece of gossip," Tiangco said.

Enrile himself also dismissed the reports.

"Please note that Sullivan states that the basis of his report were rumors and hearsay. I believe I have answered this before thoroughly in print, TV, radio and the internet and would like to move forward talking about my advocacies and what we together can and should do for our country and our people," he said.
Jack Enrile has been linked to other mysterious violent deaths including the controversial "suicide" death of movie star Alfie Anido in 1981 — something that he and his father reportedly attempted to "bury".
Alfie Anido was dubbed as one of the Regal Babies, along with then-young actors such as Gabby Concepcion, William Martinez, Albert Martinez, Jimi Melendez, Maricel Soriano, Snooky Serna and Dina Bonnevie. He was famously linked with Bonnevie, his co-star in the 1980 camp classic
Temptation Island
.
Enrile also denies shooting Anido although admits that his account of the incident differs from his father's…
The older Enrile earlier wrote in his memoir that his son did not go to Anido's house when the suicide happened.

"My account is actual. I was actually there. He probably did not know. He was probably trying to recall. You know, these memoirs, he started writing these memoirs I think in 2002, roughly 20 years after. He was at that time; he is 89 now, he was 79 so memories tend not to be fresh. But for me, these things actually happened to me so I know," he said.
To date, an air of mystery still surrounds the circumstances behind Anido's death. The official version, contemporaneously reported in the mainstream Manila media, was that Anido had shot himself in a suicide. This version has not been officially or authoritatively contradicted to this day. However, immediately after his death, rumors quickly spread that Anido was actually murdered, and that such fact was covered up owing to the prominence of the personalities allegedly involved. Fingers started pointing to the direction of the family of ex-girlfriend Katrina, Jack's sister and daughter of Enrile Sr. Other versions on the death of Anido were printed in the alternative press such as the Philippine Collegian, the official student organ of the University of the Philippines, a hotbed of anti-Marcos activism. While the rumor that Alfie Anido was murdered still persists, with the aura of an urban legend, the fact remains that no evidence has been put forth to rebut the official version of a suicide.
[NB: Parts of this article were lifted from the Wikipedia.org article "Alfie Anido" in a manner compliant to the terms stipulated in the Creative Commons Attribution-ShareAlike 3.0 Unported License that governs usage of content made available in this site.]
benign0 is the Webmaster of GetRealPhilippines.com.