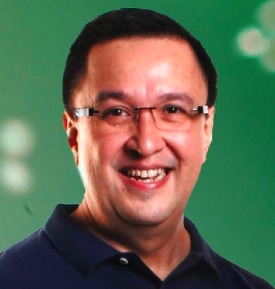 Jack Enrile is the legendary "spoiled brat" who was "once suspected of having his bodyguards shoot down a guy who stared at him in a nightclub." (Domini M. Torrevillas, Demythologizing Jack Enrile Philippine Star) and is allegedly linked to a "number of 'incidents', ranging from the supposed suicide of his sister's boyfriend, to the shooting of perceived enemies and critics" (Rina Jimenez-David, The mythology around Jack Enrile Inquirer.net).
According to a "confidential" 1975 cable supposedly originating from United States diplomatic outposts in Manila revealed by whistleblower group Wikileaks, US diplomats found merit in these allegations. The following is text lifted from the Wikileaks site…
1. SECRETARY OF DEFENSE ENRILE LEFT THE PHILIPPINES SEPTEMBER 30. ALTHOUGH HE DESCRIBED PLANNED ABSENCE TO AMBASSADOR AS ONLY FOR A FEW DAYS WHILE GOVERNMENT INVESTI- GATED CHARGES AGAINST HIS SON, RUMORS HAVE INCREASED THAT VISIT MAY BE LENGTHIER.

2. STRENGTH OF RUMORS MAY BE RELATED TO FACT THAT WE HAVE RECEIVED FAIRLY FIRM INDICATIONS THAT ENRILE'S SON MAY BE CHARGED. NBI SOURCES HAVE COMPLETED THEIR INVESTIGATION AND HAVE INDICATED TO US THAT BOTH THE ENRILE BOY AND HIS BODYGUARD ARE LIABLE TO PROSECUTION. WE ARE NOT INFORMED AS TO SPECIFIC CHARGES NBI WOULD PREFER ALTHOUGH SOME NBI SOURCES HAVE TOLD US UNEQUIVOCALLY, AND CONTRARY TO SECRETARY ENRILE'S ASSURANCES TO AMBASSADOR (REFTEL), THAT ENRILE'S SON DID THE SHOOTING.

WE ALSO UNDERSTAND THAT CHIEF PROSECUTING ATTORNEY NOCON BELIEVES THAT NBI INVESTIGATION RESULTS PROVIDE ADEQUATE BASIS FOR LEGAL ACTION, CHARGES UNSPECIFIED.

3. FIRMING UP OF REPORTS AGAINST ENRILE SON COINCIDES WITH CONFIDENTIAL CONFIDENTIAL PAGE 02 MANILA 13806 011020Z SPECULATION ABOUT FUTURE OF ENRILE HIMSELF. WHEN ENRILE LEFT, PRESIDENT MARCOS TOOK OVER AS ACTING SECRETARY OF DEFENSE. PRESS POINTED OUT THAT PRESIDENT HAD DONE THIS ON SEVERAL OCCASIONS BEFORE AND SUGGESTED TEMPORARY NATURE OF SUCH ACTION. VALENCIA IN PARTICULAR HAS REITERATED THAT ENRILE WOULD BE BACK SHORTLY. ON OTHER HAND, THERE HAVE BEEN A NUMBER OF RUMORS SUGGESTING THAT ENRILE'S CAREER AS DEFENSE SECRETARY MAY BE OVER. MELCHOR MAY BE PRIME CONTRIBUTOR TO THESE STORIES. LATEST MELCHOR CONTRIBUTION WAS TO SUGGEST TO AMERICAN BUSINESSMAN TWO DAYS AGO THAT IT LOOKED AS THOUGH ENRILE WOULD HAVE TO GO. 4.COMMENT: IT IS PROBABLY PREMATURE TO TALK OF EFFORT TO OUST ENRILE FROM GOVERNMENT BUT TALES NOTED ABOVE ARE DAMAGING AND MIGHT PRESAGE LATER EFFORT TO TAKE ADVANTAGE OF CASE AGAINST SON AND MOOD OF PURGES TO STAMPEDE ENRILE OUT OF GOVERNMENT. HIS LONG RUN PROSPECTS PROGABLY INTIMATELY TIED TO HOW AND IF MARCOS PROCEEDS WITH MILITARY PURGE AND TO STEPS HE MUST TAKE THEREAFTER TO RESTORE LOYAL AND MOVING GOVERNMENT. SULLIVAN

CONFIDENTIAL
Juan Castaner Ponce Enrile, Jr. (born on July 16, 1958), also known as Jack Enrile, is a Filipino government official. He is a Representative of the 1st District of Cagayan in the 15th Congress. He is the only son and namesake of Senate President Juan Ponce Enrile of Cagayan and the former Ambassador to the Holy See, Cristina Castaner of Manila. He is married to former Cagayan Province Congresswoman Salvacion 'Sally' Santiago. Sally traces her roots to the Santiagos of Angat and Guiguinto, Bulacan.
[NB: Parts of this article were lifted off Wikipedia.org and used in accordance with that site's Creative Commons Attribution-Share Alike License consistent with the same license applied by Get Real Post to its content.]
benign0 is the Webmaster of GetRealPhilippines.com.