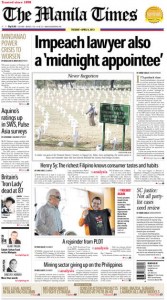 It is probably welcome news to environmental activists but a disappointing turn of events for anyone who likes the idea of tapping the Philippines' imposing stockpile of mineral resources to attract tangible industrial investment and create jobs: Some subtle hints have recently been made by the companies behind the most promising planned mining operations that trying to move forward during the remaining three years of the Aquino Administration is more trouble than it's worth, and that they have resigned themselves to wait until beyond 2016 or even 2022 before applying any more money or effort to projects in this country.
The two mining projects that have attracted the most attention are the Sagittarius Mines Inc. (SMI) Tampakan gold and copper mine in South Cotabato, and the Lepanto Consolidated Mining-Gold Fields gold and copper mine in Mankayan, Benguet. SMI was awarded an environmental compliance certificate for its Tampakan project in February after a delay of about a year, but recently announced it was pushing back the planned start of commercial operations at the controversial open-pit mine from 2016 to 2019, citing additional delays in obtaining licenses and permits. In Lepanto's case, the first clue many observers had that something was amiss was the swan dive Lepanto stock (symbol: LC) took just after the Easter holiday, losing more than 15% between March 26 and April 2, with volume exploding from 4.5 million shares to more than 104 million. The apparent reason? A note buried in Lepanto's partner company Gold Fields' 2012 Integrated Annual Review moving the start date for production at the Mankayan project to 2022.
Read the rest of the article here.
I write a column for The Manila Times on Tuesdays, Thursdays, and Saturdays. Most of the energy sector and the heads of several government agencies probably wish I didn't.