First of all I would like to request my readers to look at this funny video below from the show Bubble Gang.
Funny, huh? But let's think about a certain angle for a moment. Suppose that you are a student in a public school and you (or your parents) saved enough money to pay for your school's overseas fieldtrip to Europe. You are excited about the trip as this will be a great opportunity to see and learn about Europe's cultural wonders. Then you suddenly hear that in order for the poor students to be able to enjoy and learn from the European experience as well, the school will pay for their trip. How would you feel about it? Does the benefit of educating everyone (especially including the many poor students) outweigh the cost of your (or your parents) sacrifice of working hard and saving earnestly to pay for this trip? Does that even spell "justice"? If you think that it sucks that you have to pay for something while others get a free ride just because they do not have enough money for it then you are not alone. I also think it sucks! Yeah, what the fudge, right?!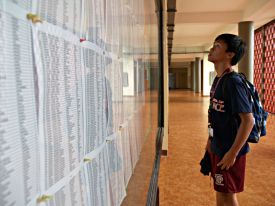 I don't mean to sound so "anti-poor" but I just don't see the long-term and sustainable benefit of the government subsidizing higher education for everyone especially the poor. If subsidizing the poor was meant to level the playing field because without it, those with money will be the only ones to get access to higher education, leaving the poor folks behind, then this form of affirmative action undermines the very concept of affirmative action. Affirmative action was meant to make a system (or institution) more inclusive towards individuals who have been discriminated against based on factors they have no control over (such as race and gender). Socio-economic status is something that can be worked on. It's not that if you are born poor that you will always be poor all your life. Unlike being black where you will always be black (unless you are Michael Jackson), there are avenues where socio-economic status can change.
Now let's suppose that the State provides higher education subsidies and university/college admission preference based on income. This will mean that all folks belonging to the low socio-economic class (e.g. C and D class) will have the advantage of getting into State colleges or universities, leaving the class A and B folks underrepresented. How would the disparity in representation achieve the purpose of affirmative action if affirmative action was meant to promote equal representation? More to the point, if affirmative action in the form of subsidizing the poor will mean more opportunities to develop and tap the many talents, intelligence, and promise of people from various perspectives and abilities, then how can using income as basis for subsidy achieve this? Are we saying that talent, intelligence and promise are specific only to poor people?
Let's go back to the question of whether the benefit of subsidizing the higher education of the poor outweighs the sacrifice of those with money to pay their own way. Suppose you are a poor parent who did not have a college education and you are working as a blue collar laborer. You have kids who are in school and you want them to finish college in hopes of turning them into professional white collared workers with a significantly better income than yours. There is nothing wrong with this dream. In fact, this is a common dream amongst poor parents wanting a better life for their kids. So if the poor blue collar parent works hard and dutifully pays his taxes in his quest to achieve his dream, he is, in effect, paying for the tuition of future white collar professionals (through his taxes) regardless of whether these future white collar professionals are his kids or not. But here's the question: Why should the blue collar parent pay for other parents' "future high earner kids" outside of his own volition? Heck, can't we ask the same question about rich parents as well? If the deed is voluntary then I see no issues with it. However, taxation is not a voluntary matter in our society; it is compulsory.
Militant activists are always ranting against increasing tuition costs and at the same time calling for more government subsidies for (higher) education. That is fine and dandy but how exactly can any government prevent the increasing cost of education (in general) if the government will continue to pump in more subsidies? This is like printing more money into circulation to address the problem of a recession; the problem that will come out of it is called inflation! What do you think will happen if subsidies continue to increase? Wouldn't this encourage more folks (especially the poor majority) to seek college education? With more demand for college education, given a finite and limited number of "reputable" State Colleges and Universities, is it any wonder why the cost of post-secondary education is continually rising? Militant activists might want to consider looking at the law of supply and demand for a change.
Another thing to consider is that not everyone (yes, including the poor) is ready or suited for college or university. Just to accommodate these folks who aren't exactly college material, we have State Colleges and Universities that offer degrees for fields that really should not take four years of bachelor's education to finish. I mean come on! Do we really need a four year degree in Hospitality Management , Welding , Refrigeration and Airconditioning , heck even Hotel and Restaurant Management? So basically we are flooding the State Colleges and Universities with degree programs that would enable more people to get college degrees for the sake of accommodating those folks who probably wouldn't be able to academically compete with folks going for degrees in, say, Biology, Math or Law. Sure, more people (including a lot of poor people) will look good having college or university degrees but the standards for a college or university degree has been lowered just to make more people look good. It's like lowering the basketball goal post for a team with shorter players so that they can make more shots and slam dunks. It will make them look good but that would not necessarily mean that their basketball skills are any better or even equal to the taller team's skills.
Look, the suicide of that young 16 year old student from the University of the Philippines (UP) in Manila last month was a tragedy. There is no question about that. However, I think to use this tragedy to justify affirmative action in providing free higher education for the poor (or increased subsidies for the poor), stands on shaky grounds. If one could not enter a college or university because of the color of his or her skin or because of his or her gender, then that basis where the victim has no control over, can justify the call for affirmative action. But socio-economic status can be changed, although I recognize that it may be very difficult for some folks to do. Who said poor (but college ready and suitable) students cannot save by studying in a part-time mode while working on the side? Who said poor students cannot avail of grants and loans from private financial institutions and philanthropists? Speaking of which, wouldn't there be more interest amongst private philanthropists to support promising, low-income students if the government were only out of the student aid business?
Subsidizing the higher education costs of the poor certainly sounds good and would certainly enable more kids to attain college or university degrees, making them look good. However, continuing to increase these subsidies may end up being more harmful for the general population through education cost inflation and lowering the bar for getting a college or university degree. In addition, not only would it spell an unfair burden on taxpayers it may also result in underrepresentation of the middle and upper middle class at State colleges and universities. Moreover, a blanket subsidy for the poor may undermine the benefits of competition. Sure, it is always convenient to "tax the rich" and say that making them pay the full price (or more) of education will not be very detrimental for them. But where is the justice in financially penalizing one group of people merely for the reason of their financial success? I say the government should move away from the educational dole-out business and move more towards the free market forces and encourage more private philanthropic support for low income but deserving students, perhaps through tax breaks and other incentives. Otherwise what the fudge?!
[Photo courtesy Philippine Collegian.]
Calling a spade, a spade…