What exactly does it mean when a President is reported to be 'monitoring' an on-going crisis? Nothing, other than as a statement for the media to blather to the public and bring across a perception that said President 'cares'.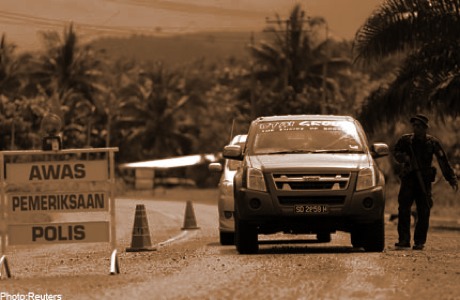 "Social news network" site Rappler reports how President Benigno Simeon "BS" Aquino III paused from his priority activity this week of campaigning for his favoured senatorial candidates to "monitor" the situation in Sabah.
Aquino apologized to the crowd. "Pasensiya na ho kayo kung kanina paakyat-baba ako ng entablado. Alam naman po ninyo na may nangyayari sa Sabah. Mukhang natapos na po yung pangyayari. (Forgive me. You know that there's something going on in Sabah. It looks like the incident is over)," he started his speech.

Aquino did not have the complete details on the Sabah firefight when he was speaking before the Pampañgenos. He said he wanted to head back to Malacañang immediatelly to address the issue.

"Hindi pa ho kumpleto ang detalye. Medyo nagmamadali ho tayo pabalik dahil inaasahan natin na pagdating natin sa opisina ay handa na po -'yung kumpleto yung impormasyon. Alam na po nating yung nangyari ng may katiyakan at naasikaso lahat ng dapat maasikaso. (I don't have the complete details. I expect that once I return to Manila I would be getting the complete details of what happened in Sabah and that we would have fixed things that needed fixing.)
How exactly President BS Aquino plans to "fix" the Sabah situation is anybody's guess. A succession of Manila governments since 1965 couldn't have been any clueyer of this "situation" than the current President. After all, this "situation" is today's most recent in what has been a storied series of international kabuwisitans that has distracted Cory's Son from his mission to secure Uncle Peping's family jewels since his ascent to power in 2010. Indeed, the Second Aquino Administration seems to be a magnet for international crises.
What was President BS Aquino doing in Pampanga in the middle of such an appalling crisis to begin with? Apparently Pampanga holds a special place in Aquino's heart, the province being (1) "vote-rich", and (2) "the bailiwick of his political nemesis former President now Pampanga Rep Gloria Arroyo". Now it begins to make sense. Oiling the election winning machine is an activity that trumps everything else.
As if to point out just how insignificant the Philippine south is to the politics of Imperial Manila, the Rappler report crows, "Team PNoy has declared the vote-rich province an 'Aquino country' because it delivered for President Aquino in the 2010 elections."
Too bad.
Had BS Aquino backed Filipino citizen Sultan Jamalul Kiram III instead of sending the Philippine Navy to protect the coast of Sabah from Tausugs (also Filipino citizens) threatening to sail to Sabah to come to the aid of Kiram's besieged followers there, perhaps he may have gone a bit of a way to healing the deep rift dividing the predominantly Christian Filipinos of the north and their Muslim compatriots in the south that they insist on calling their "brothers".
This tragic standoff in Sabah and the way Manila has "handled" this situation (no less by a President focused on infesting the Philippine Senate with his henchmen) is a testament to the reality that any rhetoric paid to the idea that Mindanao is important in the overall scheme of Philippine national politics is nothing more than lip service.
benign0 is the Webmaster of GetRealPhilippines.com.