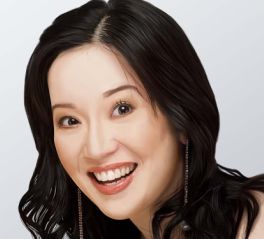 Presidential sister Kris Aquino surprised everyone Thursday night when she reportedly announced on ABS-CBN "news" program TV Patrol that she will be "resigning" from showbiz…
During a live interview with "TV Patrol," an emotional Aquino told anchor Ted Failon that she must do what's best for her son, James "Bimby" Yap Jr., even if it means sacrificing her lucrative career.

"I'm giving up my shows. Hindi ko sinasabi 'yan just so that I can say na I'm the one making the bigger sacrifice. Tinatalikuran ko ang mundo na kinilala ko na bumuhay sa akin dahil higit doon sa karera ko, mas mahal ko ang anak ko," she said.

Aquino currently has three shows on ABS-CBN: the morning talk show "KrisTV," the primetime drama series "Kailangan Ko'y Ikaw" and the talent search "Pilipinas Got Talent," where she sits as a judge.

Aquino explained that she wants to be able to tell her son when he grows up that she did everything for his sake.
Included amongst the surprised people, it seems, were characters one would expect would be the least surprised: "My sisters don't know that this is what I was going to say. My lawyer doesn't know that this is what I was going to say…" As to how long Kris Aquino will be taking leave from showbiz? Well, it is always handy to include an escape clause in one's fits of drama: "I don't know. I can't speak about forever, I can speak about what's best for my son…" As such, it really depends on Kris's concept of exactly how long is "forever".
The whole drama erupted after a domestic row with Aquino's estranged husband James Yap that led to a nasty legal battle over visitation rights to their son Bimby following allegations of "psychological" abuse perpetrated by Yap against mother and son. A temporary protection order (TPO) has since been granted by a court in favour of Aquino. The order has a validity period of 30 days, but Aquino legal counsel Frank Chavez will be petitioning the court to make the order permanent.
The influence Kris wields over an electorate renowned for their beholdenness to celebrity over substance in political platform is legendary. As such, the timing of these spectacles is suspect.
This latest of media frenzies surrounding Kris comes at a time when polticians and their bankrollers are turning the heat up on the campaign effort to bag a lucrative seat in the Philippines Senate in the May 2013 elections. The Aquino clan is seemingly under intense pressure to seize control of as many branches and agencies of the Philippine government as possible to progress its goal of securing Hacienda Luisita from subjection to the Comprehensive Agrarian Reform Program (CARP).
Back in 2010, just as then candidate Benigno Simeon "BS" Aquino III was set to ascend the Philippine presidency, another media circus also errupted over a war of words between Kris and showbiz honcho Annabelle Rama and her daughter Ruffa Gutierrez. As that showbiz crisis raged, Kris also "promised" to retire from showbiz and leave the country.
benign0 is the Webmaster of GetRealPhilippines.com.