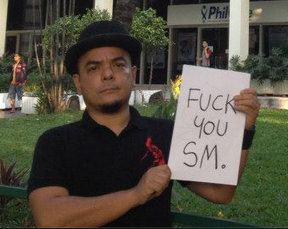 A lot of kids on Facebook and Twitter are somewhat susceptible to the "influence" of social media celebrities. Â The bad thing about it is that sometimes these celebrities don't care enough to make sure that what they say on social media represents some degree of accuracy, fairness, or decency.
Social media is supposed to be the realm of intelligent discussion, but what seems to be happening right now is that even the supposedly more cogent icons of social media are failing to show either intelligence or a capacity for real discussion. Â Even worse, some have gotten it into their heads that they've got "power" of some sort that gives them the license to be crass, vulgar, and arrogant.
The bulk of Twitter and Facebook users in the Philippines being between the ages of 18 to 24, it wouldn't be any wonder they find most kids on social media gravitate towards social media celebrities who seem to get away with nasty and outrageous antics.
Carlos Celdran, after shooting to stellar heights with his Damaso Stunt, feels somewhat obliged to bleed every drop of blood he can get from his rebel poseur act.  Because after bashing the Catholic Church and members of its Philippine hierarchy, he apparently apologized for his Damaso act and some say cowered in fear after he was convicted for offending religious feelings.
After being sentenced by a court of law to 2 months of imprisonment, one would have expected Carlos to take the sentence like a man and endure the punishment — unjust as it may have seemed to him as well as his followers.
In fact, allowing himself to be arrested and then serving his sentence would have made him more like Jose Rizal — in a way. Â Rizal's arrest, conviction, and execution was, indeed, the manly way of fighting for what you believed in. Â In Celdran's case, all he would have to endure would be 2 months in jail and he couldn't even do that.
What's worse is that he protested his sentence, saying that he had apologized to the members of the Catholic church that he had offended.
"The protest which I mounted, however passionate and earnest on my part, was done without deliberation. It was my attempt to catch the attention of the Church regarding certain political issues but it was not my intention to disrespect the solemnity of the ecumenical event being celebrated on that day."
The last I heard about Celdran's conviction is that he appealed the sentence. Nice.
And now, as if to follow up his Damaso act, Carlos is now training his crassness against SM, the multi-billion mall chain and real estate empire of the Sys.
Not that I am at all offended by Celdran's choice of words or not that I haven't been crass or vulgar myself at times (yes, I've made my mistakes), but coming from someone who claims to be presenting Manila and the Philippines to the world through his somewhat overpriced but short of substance tours… Well… He could probably drop the act because he ain't Willy Revillame — no one is buying it.
The thing is, in the early days when Carlos was profiting immensely from his tours in Intramuros, the place was filled with squatters and dirty as heck. Â There was really now effort on his part to do anything for the place he was using to corner money from tourists.
In 2002 or 2003, then Tourism Secretary Dick Gordon took it upon himself to clean the place up and add a couple of attractions in order to drive tourism to the area.
Guess what Carlos did? He railed against Gordon and the Wow Philippines showcase.
And now, here we have Carlos railing against SMDC whom he mistakenly claimed was planning to tear down the Philamlife Theatre.  Carlos was all over the internet, posting all manner of slurs and invective against the Sys in his typical overblown fashion.
Either Carlos seems to have erased a number of status updates or tweets, but a few friends say that he wrote something like "Fuck you Henry Sy" or something to that effect.
But apparently, all the vile language he used was completely undeserved at least in the case of SM's acquisition of the Philamlife Building.
In an article on ABS-CBN's News Website, the proponent of a Change dot org petition to save the Philamlife Theater, French Conductor Oliver Ochanine, met with executives of SM. Â They discussed the petition and Ochanine came away with good news:
"Surprisingly, I was told by his team that SM had not even considered a performance hall in the development before they came across my petition!!" the French artist wrote. "Now, he is even considering keeping the hall itself and doing some renovations. They promised to stay in touch with me and asked that I be a consultant on this journey."
I think Carlos high-pitched, grating, and childish antics were trumped by the quiet and dignified approach that Ochanine took towards the whole thing.
He stated his case with a bit of urgency, but restrained any over the top language that would have made him look like a nut — which may thwart even the most open minded businessman from engaging in a discussion.
True, SM said it was merely considering to keep the theater but that's a start and anyone who knows a bit about negotiations will know that an agreement — no matter how small — is an opportunity to forge larger agreements in the future.
All this just emphasizes lessons that I've shared in the past when it comes to dealing with large multi-national corporations and even elected officials: Engaging them in a non-threatening and rationale manner leads can be more productive than ranting on the internet.
The power of a well written letter of complaint seems to have been lost to the present generation who would rather mob personalities and organizations into submission.
But it seems there is hope and there are people who are being turned off by the likes of Carlos Celdran.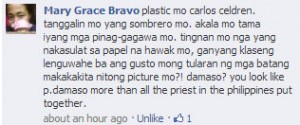 In the coming days, I don't think Carlos Celdran shouldn't be surprised at all if he gets slapped with another libel suit.