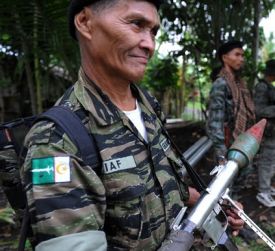 Between Malaysia and the Philippines, it is obvious who has the most to lose as the Sabah conflict rages on. Figures from the Commission on Filipinos overseas reportedly place the number of Filipinos residing in Sabah at 570,000 of which 447,000 are illegal aliens…
On Sunday, nearly 300 undocumented Filipinos arrived in Zamboanga City from Sabah after they were deported.

Last year, more than 7,500 Filipinos were deported, according to the Department of Social Welfare and Development's Western Mindanao Processing Center for Displaced Persons. Most of those deported were men working in oil palm plantations in Malaysia. Some 160 children of illegal workers in Sabah were also deported in the last quarter of 2012.

In January this year, a Royal Commission Inquiry on illegal immigrants said more than 446,000 immigrants have been deported from Sabah since 1990, according to an article posted on the Malaysian Insider website. A 2007 census showed some 60,000 Filipino refugees in Kota Kinabalu, the same article said.
As of a recent Sydney Morning Herald (SMH) report, Malaysia has escalated its troop movements into Sabah as reports of reenforcements coming from the Philippines to assist the embattled Royal Army of the Sultanate of Sulu circulate. The fighting has also started to spread all over Sabah and Princess Jacel Kiram, daughter of Sulu Sultan Jamalul Kiram III tells of Malaysian police "indiscriminately capturing Filipinos."
Philippine President Benigno Simeon "BS" Aquino III in between his priority activity — campaigning for his Liberal Party cohorts as the May 2013 elections loom in the horizon — is busy spreading conspiracy theories against his imagined nemesis former President Gloria Macapagal-Arroyo…
SUPPORT INDEPENDENT SOCIAL COMMENTARY!
Subscribe to our Substack community GRP Insider to receive by email our in-depth free weekly newsletter. Opt into a paid subscription and you'll get premium insider briefs and insights from us daily.
Subscribe to our Substack newsletter, GRP Insider!
Learn more
In a televised address with officials of the Autonomous Region in Muslim Mindanao (ARMM), the President spoke of the alleged involvement of officials of the Arroyo administration in the conspiracy, but he indicated that evidence was still being gathered on the role of former President and now Pampanga Rep. Gloria Macapagal-Arroyo.
Princes Kiram has challenged the President to prove his allegations while Nur Misuari, head of the Moro National Liberation Front (MNLF) has since denied any involvement in inciting the incursion into Sabah. The Malaysian government is also conducting its own investigations as speculation of its own opposition groups' involvement in the alleged plot surface.
Interestingly, battle-tested MNLF commanders trained by the Malaysian military have joined the fray. These commanders reportedly "know Sabah like the palm of their hands," and have been armed by former Libyan dictator Muammar Gaddafi through Malaysia…
During that training, Malaysian military trainors even joked about the firearms at the MNLF training camp on Jampiras Island, off Sabah, as they turned over Khadafy's weapons' supply.

"We are not even sure if the firearms we are giving you will not be turned against," the Malaysian trainors had said in a jest.

"Well, speaking of self-fulfilling prophecy," [former MNLF chief propagandist Hadji Acmad Bayam] said, recalling the jokes of the Malaysian trainors.
Suffice to say, the situation in Sabah has become a rather poignant microcosm of similar quagmires big powers like the United States and the former Soviet Union had found themselves mired in in Vietnam and Afghanistan respectively in the past.
You will not succeed.
Unfortunately, where small minds go, small solutions follow. President BS Aquino has renewed his threats of punitive action versus the Filipinos involved in instigating this escalating international crisis and called for those involved to turn themselves in; "To those people behind this, I'm telling you now: You will not succeed. Those who have committed a crime against the country will be called to account," the President said.
Considering the Philippines' belated and mostly flaccid response to the crisis (as evident in the sort of statements being issued by no less than the President), it is hardly surprising that the armed claimants to Sabah have not shown any signs of standing down. The same SMH article reports that Kiram's men had allegedly "taken hostage a Malaysian police officer, two soldiers and a government official"…
"We advised the people on the ground to take care of them, to feed them, so that in case there shall be international agencies to investigate the matter we can present those four captured government officials of Malaysia as witnesses to the atrocities committed by the government of Malaysia," the group's spokesman, Abraham Idjirani, said Sunday.
So what's really going on in Sabah?
The answer to that question is anybody's guess. Both the Philippine and Malaysian governments have long track records of controlling their respective countries' media and mishandling the manner with which they inform their respective citizens. It does not help either that Sabah is a vast wilderness conducive to the sorts of combat Moro fighters have excelled in for centuries.
benign0 is the Webmaster of GetRealPhilippines.com.