Note:
The following is from CTALK,
Cito Beltran's column
for the Philippine Star. Cito Beltran has provided advice and options to private clients as a consultant in the area of Crisis Management, Corporate Culture Change, Conflict Resolution, Media Training and Government Relations. In addition, he is engaged in developing advertising and promotional campaigns for consumer products.  Cito Beltran is also an established media practitioner. Between 1999 and 2006 he hosted several talk shows on ABS-CBN/ANC. He is the son of the late broadcast journalist and newspaper columnist Louie Beltran.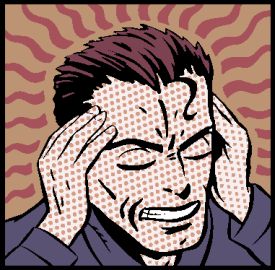 I am not surprised that a hundred to a thousand men were crazy enough to think they could get on ferry boats and simply "reclaim" the island of Sabah as theirs.
To understand why they think that way, all you really need to do is drive around Metro Manila and you will find proof enough that Filipinos regardless of what tribe, religion, province or economic status they come from, have such a sense of entitlement that they think they own the road. They think and act like they directly employ civil servants and therefore have every right to treat them the same way they treat their domestic helpers. Rich or poor, we detest or look down upon security guards, garbage collectors, beggars and squatters.
In fact one word of advice given to people choosing a future spouse is to watch how their would-be partners treat their parents, waiters, drivers and maids.
Sorry but we are ALL guilty of this cultural disease in one form or another. Some call it arrogance, some call it bad attitude, but it could also pass as being "Filipino". I'm sure this will piss off some of you, but my intention is just that: to piss off enough people into facing the issue and at least admit to ourselves that we all share this "negative cultural gene."
We all want to talk about how warm, generous, courteous, religious, etc. we are as a people. If we ever talk about the bad things, it is in the context of criticizing our government, our leaders, our neighbors and other Filipinos, but never about ourselves.
If a group of wise men and women went through the chain of events and process to define and understand our problems in this country, I have no doubt that somewhere along the chain we will find a person or people who think they have the right to do whatever it is they do in spite of the fact that they are causing or creating big problems for the rest of us.
Our roads are blocked because drivers believe they have the right to make a living any which way because of their poverty. Screw everyone else behind me as long as I'm ahead of the line. The maniac on a scooter doesn't care if he cuts in front of you and nearly gives you a heart attack. He has a small vehicle and he's in front of you so it's your look out!
Most of us have to walk on the street because this is the only country I know where there is the official term: Sidewalk Vendor. City halls and malls can blatantly disregard formal tenants and taxpaying store owner's interests and allow transient vendors to block and obscure stores because malls, by virtue of ownership, have the right to maximize their profits, while City Halls want to generate jobs and additional income.
Some people will most likely blame Magellan and the conquistadors, others will blame the American colonizers etc., etc. I personally blame it first on our system of having "helpers" that we call maids or houseboys. Second, our culture of impunity where the law is not enforced as much as it should be. In effect, because we are the "boss" as P-Noy put it, we can't be wrong and should not be punished for doing what we believe is in our best interest. Unfortunately, there is a third component that causes our aberrant behavior and this is our "Awa" based sense of justice.
Call it a feudalistic remnant, or a different shade of slavery, but when you are born into a setting where maids and houseboys do your every bidding, it does not take rocket science to recognize its effects.
If you happen to be in a racially mixed marriage, the foreign spouse will most likely pick-up on the effects. For instance, an expat lady I know commented on how her pinoy husband suddenly changed tone and character when talking to household helpers. In the early years of our marriage, my wife Karen noticed how I always had an "alalay" or had someone hovering or assisting me when working around the house.
The problem with the household helper system is that it ultimately creates a multitude of "Bosses" who go through life carrying this subconscious false sense of power and entitlement. We don't have to target the modern day villains demonized on Youtube like Carabuena and "Amalayer", we just have to catch ourselves as I often do, displaying some form of arrogance we eventually regret and confess in our private prayers. In my case, it is not as much entitlement as it is being self-righteous. Unfortunately, even when I'm in the right, my behavior or attitude quickly puts me in the wrong.
Ultimately, accountability and consequence help us sort things out on an individual basis, but in terms of our national state of mind, the Sabah stand-off is evidence of how most Filipinos are rich in opinion but poor on consequence. It was an opinion that convinced a hundred or a thousand to do a flash mob and "Occupy Sabah." The cold consequence is some 68 people are now dead on both sides.
I don't really know what laws were violated or what punishment awaits the "Occupy Sabah" group. But now would be a good time to punish not just the 100 or 1000 but everybody else up and down the line. If certain government officials fumbled or lost the ball on this incident, they too should be punished. If there are any conspirators, by all means charge them and jail them. It is high time for Filipinos to learn that it is not enough to take out corruption in government. It is also necessary to remove the corruption in the hearts and minds of Filipinos.
This can only be done by holding sacred all our laws and imposing its full force. To prioritize mercy or awa, is to corrupt not only the law but ourselves. When we, as a people, and our government move heaven and earth to gather tens of millions of pesos to save an OFW, or send high ranking leaders to spare the life of a drug mule who is guilty as charged, we have in fact perverted how we view the law. This is the only way to explain why politicians would raise millions of pesos for "Blood Money" but turn a blind eye to donating one or two million for a kidney or liver transplant of a poor child.
If fear of the law has reduced corruption in government, how much more would our lives be better off when we remove it from our hearts and our minds.