Fledgling entry into budget travel business in the Philippines, AirAsia Philippines is currently feeling the heat as Filipino Tausugs wage a guerrilla war in the Malaysian state of Sabah. This is in the aftermath of the spread of publicity shots depicting its planes transporting Malaysian troops to the battle front in early March. The online backlash had put the Malaysian Defense ministry on the defensive…
A Twitter post by AirAsia group chief executive officer Tan Sri Tony Fernandes that day, showing images of soldiers preparing to board the AirAsia aircraft, was shared by Netizens on Facebook.

Freelance defence journalist and analyst Dzirhan Mahadzir had also written that although the air force had 14 C-130 Hercules capable of carrying 90 soldiers each, there were some 1,400 soldiers in two battalions.

For the standoff with Sulu militants, the army had to transport between two and five battalions to Lahad Datu.

Taking to task Netizens who posted inaccurate information, [Minister Datuk Seri Dr Ahmad Zahid Hamidi], describing them as "heartless people", said they were deliberately trying to provoke emotions among the public.

"Most of them have no knowledge of military strategies but simply criticize the force," he said.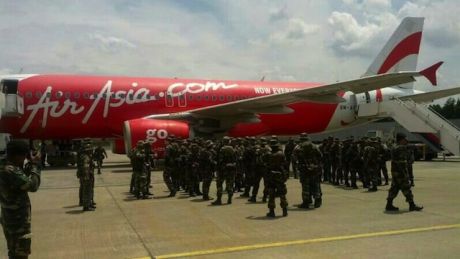 The escalating imbroglio in Sabah that has increasingly revealed the underlying rot in Philippine-Malaysian relations that successive governments have covered up for decades puts to question moves by AirAsia to seize a sizeable chunk of the lucrative budget travel market in the Philippines. It has also highlighted the close relationship the owners of its local subsidiary, AirAsia Philippines, have with the government of Philippine President Benigno Simeon "BS" Aquino III who is under fire for his consistent mishandling of the issue since it erupted in February.
AirAsia Philippines Chairman Antonio "Tonyboy" Cojuangco is a cousin of President BS Aquino. He is also reported to be behind "research" firm Pulse Asia which has long been criticised for allegedly using "surveys" to tilt voters' preferences towards candidates who support the Aquino-Cojuangco clan agenda during Philippine elections. Its CEO Marianne 'Maan' Hontiveros was a key media "activist" in the 1986 People Power "revolution" that catapulted the President's mother Corazon 'Cory' Aquino to power.
Since the Philippine Constitution does not allow 100% foreign ownership of a Philippine-registered business, Malaysian investor Tony Fernandes entered into a 40-60 joint venture with a group of Filipino businessmen. The joint venture application was approved on December 7, 2010 by the Board of Investments of the Philippines.
On August 15, 2011, AirAsia Philippines took delivery of its first brand-new aircraft[4], an Airbus A320 which arrived at Clark International Airport in Clark, Angeles City, Pampanga. On 8 November 2011, AirAsia Philippines took delivery of its second A320.
On February 7, 2012, the airline received its Air Operator Certificate[5] from the Civil Aviation Authority of the Philippines which gives the airline permission to fly on Philippine airspace.
On April 8, 2012, AirAsia Philippines has tied up with Victory Liner, one of the largest provincial bus companies operating in the Philippines, to provide free shuttle service for inbound and outbound passengers of Clark International Airport.
AirAsia Philippines, Inc. signed on March 12, 2013 a share swap agreement with another Philippine-based airline Zest Airways. The share swap deal involves exchange of shares between the owner of Zest Airways, Filipino shareholders of AirAsia Philippines, Inc. and AirAsia Berhad of Malaysia,
The deal dubbed a "dream merger" plans to see full integration the operations of Zest Airways and AirAsia Philippines whilst retaining the identities of both brands. The 60 percent shareholding of of AirAsia by Filipino nationals will be composed 15 percent ownership each held by Zest Airways' Alfred Yao, AirAsia Philippines (AAP) CEO Marianne 'Maan' Hontiveros, AAP Chairman Antonio 'Tonyboy' Cojuangco, and AAP Vice Chairman Michael Romero. The remaining 40 percent will be owned by AirAsia Bhd Malaysia.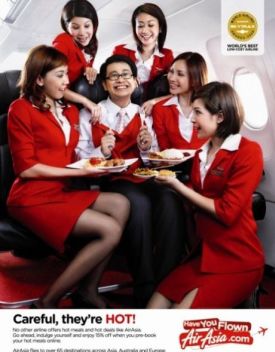 AirAsia was established in 1993 and began operations on 18 November 1996. It was originally founded by a government-owned conglomerate, DRB-Hicom. On 2 December 2001 the heavily-indebted airline was bought by former Time Warner executive Tony Fernandes's company Tune Air Sdn Bhd for the token sum of one ringgit (about USD 0.26 at the time) with USD 11 million (MYR 40 million) worth of debts. Fernandes turned the company around, producing a profit in 2002 and launching new routes from its hub in Kuala Lumpur, undercutting former monopoly operator Malaysia Airlines with promotional fares as low as MYR 1 (USD 0.27).
In 2003, AirAsia opened a second hub at Senai International Airport in Johor Bahru near Singapore and launched its first international flight to Bangkok. AirAsia has since started a Thai subsidiary, added Singapore itself to the destination list, and started flights to Indonesia. Flights to Macau began in June 2004, and flights to mainland China (Xiamen) and the Philippines (Manila) in April 2005. Flights to Vietnam and Cambodia followed later in 2005 and to Brunei and Myanmar in 2006, the latter by Thai AirAsia.
Notable in the way AirAsia does business is how it revived an old marketing tradition of the airline industry (long purged from the politically-correct societies of the West) in the way it makes liberal use of what has been described as "tawdry" and "sexist" images in its advertising.
[NB: Parts of this article were lifted from the Wikipedia.org article "AirAsia Philippines" in a manner compliant to the terms stipulated in the Creative Commons Attribution-ShareAlike 3.0 Unported License that governs usage of content made available in this site.]
benign0 is the Webmaster of GetRealPhilippines.com.