First Of A Series
I am not about to argue on semantics here, but I think the guys over at the "Save Manila Bay" movement are being a bit anachronistic.
Manila Bay has been dead for decades, really.  So, do we mean that we want to keep it that way?  Of course not.  I don't think that's what the group behind the protesters against the Manila Bay reclamation project wants to happen.
Pasig River Avenger's Tony Sudden, a blogger with roots in Canada, conveyed his thoughts on SOS Save Manila Bay rather simply but clearly:
Saving the beautiful sunset on Manila Bay isn't a simple matter of keeping Manila Bay the way it is right now.
Among the forces behind the effort to stop the Manila Bay reclamation project are Carlos Celdran and Jim Libiran. Â I like reading what these guys have to say about everything and they seem like they have their hearts in the right place and they're a lot of fun to read in Facebook.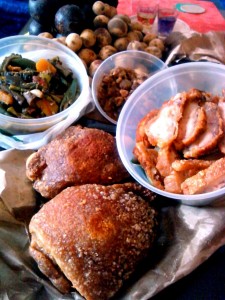 Last night I caught Jim posting pictures of his bagnet and I love this stuff. Â It isn't just friend pork with crackling kept on, it's pork that has been slow fried in a vat of pork lard which is then dried and re-fried to crispy perfection. Â Uplanders love pork and if ever they got to vote for it, the Philippines would probably have to consider having the "pig" as a national animal because it is the mainstay of a lot of rituals — watwat, kanyaw, etcetera.

Jim shot into prominence as one of the guys in the now defunct public affairs TV show "The Correspondents". Â It was one of the TV shows I used to stay up late for because Jim is a master at producing episodes that deliver grit and substance in a heady combination that somewhat lifts the ordinary into the extraordinary.
I think it's the artist in him that allows him to pull it off so well and so memorably.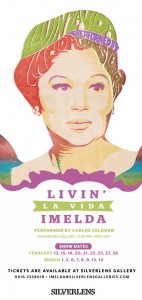 Also on my wall was a status update from Carlos who I think is gearing up for another good run with his Imelda-centric tours of the CCP and it's got a pretty good poster. Â Brings back to mind all the huge bottles of perfume that she left at Malacanang Palace after she and her dear Ferdie boarded a plane going to Hawaii. Â Yes, she's our very own Evita Peron and the fascinating story of Imelda, I am told, couldn't be told better than the way Carlos tells it.
But they can also stir a lot of outrage over a number of things and turn it into a cause of sorts.
From saving 182 trees in Baguio City, would you believe these two guys are now huffing over Manila Bay's sunset? Â Yep and they are apparently up in arms against another developer — where the thread between these two protests really lie is any body's guess.
Maybe they move in the same crowd, maybe they met at some party, or maybe they just care about the same sort of stuff.
Then again, it really doesn't matter at all. Because, like I said, it's any body's guess.
But there is a common denominator between the 182 Pine Trees of Luneta Hill and Manila Bay, no one really cared about these things until someone decided to do something with it — other than watch these places rot.
Over the odd number of times that I had passed by Luneta Hill in Baguio City, I don't think I've seen anyone protest the condition it was in or for that matter, did anything about beetle infestation some of the trees had. Â Well, not until SM Baguio decided to develop that area and then the part time "tree huggers" came out in force.
As for Manila Bay… Well… I've been a Manilenyo all my life and almost all my childhood memories are tied to trips to the bay. My mom and my eldest brother Gene used to take me with my cousins there on weekends for a romp.
Over the decades, Manila Bay has been getting worse and worse.  Not that it was in good condition in the late 70s or early 80s which was the period of my childhood and early adolescence, but at least, at that time, you could still go to Aroma Beach (just a few kilometers down Roxas Blvd and past Baclaran) and have fun with the lumot as well as dikya on its shores.
From then on, the waters of Manila Bay have turned from icky to toxic and it's no wonder it has, because, all of Manila's sewers drain into it. Â Of course, that's not to mention that Manila's piers (and the ships that go through them) are also to blame of the pollution of the bay… And don't forget that trash barges also go over this body of water or that people still routinely throw garbage into the bay or that all the trash that floats on Pasig River ends up there.
Eco-waste coalition did a pretty good job when it raised awareness over solid waste pollution in Manila Bay and I think their work contributed to the ban of plastic bags all over the country. Â This movement against plastic pollution was something I supported and continue to support because of my experience with Ondoy. Â It seemed that the movement had worked out the rationale quite well and even got some science to back up their claims, this made it pretty easier to sign on to.
I can't say the same for the movement to "save the Manila Bay sunset", at least not right now.
For instance, did you know that the reason why Manila Bay's sunset is so gloriously colored is because we're actually looking at it through a thick layer of air pollution? Â Did you know that the reason why that the waters of the bay seem more "sparkly" is because of the layer of oil on it?
Kinda makes you think, what are we really saving when it we are called upon to "Save Manila Bay"?
I think there's pretty much a misunderstanding about what "Saving Manila Bay" ought to mean and this is something I hope the likes of Celdran as well as Libiran help clarify in the coming days.