President Benigno Simeon "BS" Aquino III is quoted as saying that the high volume of traffic commuters face while going along EDSA is a sign of a booming economy. He did not limit his pronouncement to the high traffic volume; he also employed positive spin on the rise of the Philippine Peso, which otherwise should be a cause for concern. He further added that these were better alternatives to having "dismal economic activity."
"Maganda na siguro ang problema na binabanggit na ma-trapik sa EDSA, tama po yan, dahil marami ang nasa kalsada, buhay na buhay ang ating economiya kaysa naman walang trapik sa EDSAa dahil wala ng makabili ng gasolina na patakbuhin ang kanyang sasakyan (The heavy traffic on EDSA is a better problem, that's right, because many vehicles are on the road because the economy is doing well. Having no traffic on EDSA, on the other hand, means nobody can buy gasoline for their cars)," the President said.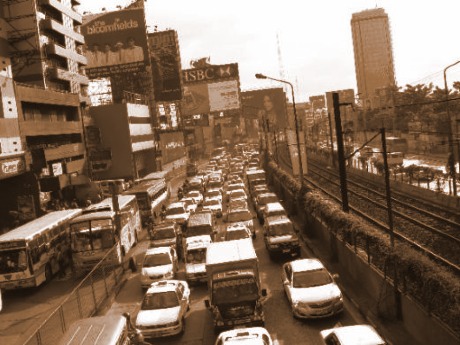 Is it just me, or did I just smell another big non-sequitur brain fart?
SUPPORT INDEPENDENT SOCIAL COMMENTARY!
Subscribe to our Substack community GRP Insider to receive by email our in-depth free weekly newsletter. Opt into a paid subscription and you'll get premium insider briefs and insights from us daily.
Subscribe to our Substack newsletter, GRP Insider!
Learn more
BS Aquino might as well be telling his "bosses" to deal with the traffic because it has been there since time immemorial. The commuters have to deal with utter discomfort, overcrowded transport utilities, pollution coming from vehicles, and the utter stupidity of Filipino drivers, but hey, it's a booming economy! The more gas his "bosses" buy, the more his oligarch friends get richer! It's a booming economy!
Nice try, Noynoy. With every pronouncement like this that you make, you show the Philippines why you earned the BS moniker. Please, please stop trying to baffle us with bullshit like "booming economy" just to cover up your government's complete lack of any systemic solution to the traffic problem primarily along EDSA.
What have been the results of the following methods that have been tried to ease the traffic situation?
1. That moronic road blessing commissioned by the Metro Manila Development Authority (MMDA) July last year.
2. The attempt to introduce a fixed salary scheme for bus drivers and conductors which was ultimately stopped by the Supreme Court.
3. The ABC bus segregation scheme where three classifications of buses stop at specified points
Out of the three above, the third seems to make the most sense. But whether it alone is enough remains to be seen.
While both private and public vehicles significantly contribute to the traffic volume, the inefficiency of the public transport system and the Filipinos' lingering stupidity in dealing with it are things that have been pestering problems for years. Unless the government recognizes the futility of tingi-tingi solutions to three (3) fundamental roadblocks to solving the Philippine public transport system in the Philippines then the problems will persist. A large scale systemic solution is needed to deal with the high traffic volume.
With regards to the rise of the Philippine Peso, the business process outsourcing (BPO) sector here in the Philippines does not consider it good news. The Business Processing Association of the Philippines (BPAP) has expressed concern that rising costs and decreasing revenue make it more difficult for them to keep operations here in the Philippines.
Keep in mind that local jobs provided by the BPO sector constitute a big part of the pie. A rise in the peso will only serve to slow down or curtail all together any more prospects of growth in that industry.
Let us not forget as well that because overseas foreign workers (OFW's) send home to their palamunin relatives back home in US dollars, a rising peso means that the dollar's value in peso steadily becomes less and less.
So once again, what is the government doing long-term to steer the Philippine economy away from its excessive dependence on BPO and OFW remittances?
Is this the booming economy that BS Aquino is talking about? The traffic volume problem and the inflation risk waiting to happen are signs of it, indeed.
A bubble waiting to burst, to be more exact.
А вы, друзья, как ни садитесь, все в музыканты не годитесь. – But you, my friends, however you sit, not all as musicians fit.