Second of a Series on Manila Bay
When I used to go to work at the Department of Tourism and then at the Philippine Senate from 2003 to 2009, my drive to and from work would always include going through heavy traffic along Roxas Boulevard.
Not once did I look forward to driving on this stretch of road for a number of reasons. Â The fact that on certain days (Wednesdays, mostly) traffic would be awful is only one of the things that bothered me. Â The other things that bothered me was the fact that being stuck on Roxas Boulevard meant I'd probably smell all the icky stuff that pours out of Manila's gazillion sewers and have my car's windows hammered on by a long parade of peddlers or beggars. Â Once in a while, the boredom of sitting through hellish traffic would be interrupted by some random criminal act — someone's bag getting snatched, someone getting held up, or some wayward bus causing an accident.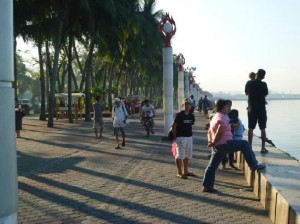 There was a time when things changed a bit along Roxas Boulevard and that was the time when former Manila mayor Lito Atienza converted a stretch of the boardwalk into a restaurant row of sorts — Manny Pacquiao even had a restaurant there. Â  Perhaps it was an off shoot of the revival of Remedious in Malate as a nightspot of sorts, but certainly, it made the hellish drive along the Boulevard an even more special hell. Â Because, on top of having to practically do the cha-cha on gas, brake, and clutch pedals, you'd have to do the El Bimbo on the steering wheel as you try not to bump careening drunks who cross the boulevard at random tangents.
Recalling other things done during Lito Atienza's time as Manila Mayor, I did like the fact that he undertook the re-paving of so many kilometers of sidewalks and that attempt to make a part of Rizal Avenue nearest Quiapo Church into a fully pedestrian zone. Â But as far as some or all of the parks and would be tourist attractions in Manila, things stayed pretty much in a decrepit state.
I actually have an impression that Manila Zoo, Rizal Coliseum, and Paco Park as well as all the other places that my mom used to take me to when I was a kid suffered a lot of neglect.
The Children's park beside the Department of Tourism building, for example, was pretty much an assortment of concrete pissing cages masquerading as dinosaurs. Â It was only recently, during the Second Aquino administration, that the park was actually given some attention and revived along with Rizal Park.
I don't know if China Town in Binondo, Escolta, and some parts of Malate beyond the Red Light district got any attention, but my impression is that it didn't.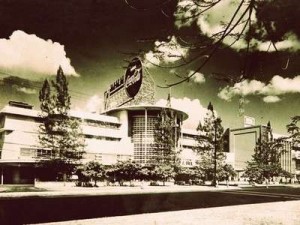 Lito Atienza should be the last person to talk about preserving the historicity of Manila and be vocal against the Manila Bay Reclamation Project, because Atienza destroyed the Jai Alai building on Taft Avenue  — a building designed by Hollywood architect, Welton Beckett.
Despite the passing of the Republic Act No. 10066—the National Cultural Heritage Act of 2009—that protects all 50-year-old buildings and specifies that special permission be secured from the National Commission for Culture and the Arts for their renovation or demolition, their destruction goes on.

The trustees of the Heritage Conservation Society have sent this open letter:

"The Heritage Conservation Society, the country's leading conservation nongovernment organization, remembers the jai alai and the start of its demolition on July 15—12 years ago.

"Public outcry and his promise not to demolish one of the largest and finest Art Deco structures in Asia did not stop Manila Mayor Lito Atienza from ordering the demolition.
Moreover, let's not forget what Atienza did with Mehan Garden:
…he decided to build a new campus for the Universidad de Manila, (formerly called City College of Manila) on the historical Mehan Gardens. Environmentalists and historians were opposed to the project stating that Mehan Gardens should remain as an open space, one of the few remaining open spaces in the City of Manila and for historical reasons, with the gardens an untapped archaeological resource that dates back to the time of the Spanish colonial era.