For me, the only person who is coming out the usual chump (that he really is) in the on-going circus in the Senate is none other than "senator" Antonio Trillanes. He is, after all, the guy who led a failed military rebellion in the early- to mid-2000s, got convicted and imprisoned, then was pardoned by President Benigno Simeon 'BS' Aquino III. His pardoning and eventual instatement as "senator" in the Philippine Senate was facilitated by Senate President Juan Ponce Enrile.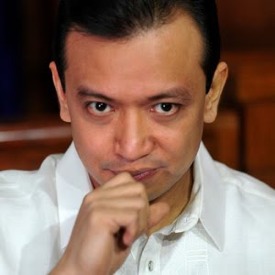 It is a testament to the continued consistency of Trillanes's utak-tilapia faculties, that he'd go on to clash with Enrile in two high-profile incidents. The first was his getting called out by the Senate for acting as a backdoor negotiator with China then engaging in a verbal duel with Enrile the results of which further highlighted how outclassed he is in this chamber of statesmen. Needless to say, Trillanes's China Connection adventure embarrassed his former benefactor BS Aquino and, as usual, made him look like the fool that he is.
The second Trillanes bozo show is transpiring today as the embattled Enrile shores up and regroups after the public relations fallout following the budget dole-out imbroglio he found himself in when disgruntled Senators whining over not getting the Christmas bonuses they expected from their boss blew the whistle on the way Senate money was appropriated. Trillanes, being the biggest chump among the crybabies had the most to say as usual. Unfortunately for him, he also had the most to say about. And for Enrile, Trillanes was easy pickin' in a privilege speech he delivered announcing his "resignation" from the Senate presidency…
Referring again to Trillanes, Enrile said one senator "is so desperate that he has repeatedly and shamelessly invoked and sought Malacañang's involvement and intervention just to get enough support to oust me."

Enrile said he has had enough of coup rumors in the Senate.

"I am way too old to be threatened by anyone, least of all by cowards and hypocrites," he huffed.

"Replacing me does not have to take so much effort, planning or plotting. I am tired of plots. And I don't advertise plots… That's only the work of braggarts," Enrile added.
Trillanes, after all, chose a luxury hotel as his hole-up in his 2007 act of rebellion. He also used a crowd of over-eager "journalists" as his shield, and endangered civilians' lives while he commanded armed renegade troop movements at the heart of Manila's business centre. He'd then go on and successfully mount an appeal to compassion that got him out of prison thanks to a Philippine idiocracy that rewards that sort of "heroism".
The administration of President BS Aquino, itself an embodiment of the Philippines' renowned idiocracy, demonstrated the sort of idiotic thinking that underlies such things in the wording it used in the order it issued to pardon Trillanes in 2010…
Malacanang recognises that Trillanes and his mob have violated the law; and as such have given the following reasons for this amnesty to be granted these bozos:

(1) Because there is a "clamor" for "amnesty"; and that,

(2) Because the President can; and,

(3) Said "amnesty" is "needed" to foster "a just, comprehensive and enduring peace";

The rationale of this "amnesty" boils down to (a) a motivation stemming from popular pressure, (b) availability of the power to do it, and (c) some vacuous nebulous goal.

One thing I can say about Noynoy's administration is that it is consistent — consistent in its ability to insult the already meager intelligence of the Filipino.
Enrile may be an old fogey who despite delivering a speech described as "a brilliant stroke by a wily politician to redeem himself" still fails to convince people why he is justified in using personal feelings as bases for determining how he allocates public funds amongst his colleagues in the Senate. But Trillanes is, quite simply, outclassed and he is too dumb to even realise it. The tenacious Senate President, despite his direct association to what many perceived were the dark days of tyranny, applies shrewd political savvy to remain in power. As he is demonstrating now, he seems about ready to survive this crisis as well. Trillanes, always the bumbling chump in contrast, muddles along squandering political equity gained from that singular act of Pinoy-style "heroism" mounted in the ocho-ocho decade.
benign0 is the Webmaster of GetRealPhilippines.com.