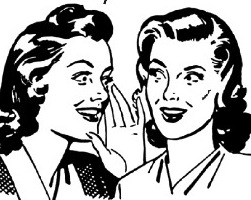 To give credit to 'investigative journalist' Raissa Robles, who pioneered the journalistic technique of investigative crowdsourcing, blog comment threads are indeed treasure troves of dirt on a who's-who list of the Philippines' hottest celebrities. People can be called out for shoplifting just on the basis of hearsay, and the portfolios of Chief Justices laid bare for the public to ogle on the bases of mere haka-haka.
You gotta love social media and its "practitioners".
Here's one from a commenter who goes by the handle 'Justice' posted on a comment on Get Real Post…
Disclosure: I used to work in ANC.

I used to watch Maria Ressa on CNN back in the days. You can imagine how happy I was when I heard that she was coming on board as a News Consultant to ABS-CBN to give our news organization the overhaul that it needed. Her ideas were fresh and her positive vibe was infectious. I was glad that Maria came on board. Many controversies hounded Maria during her tenure, but there were two controversial moves that haunted her the most.

1. When she fired 35 people. (Frankly, the 35 people she axed needed to go.)

2. When she had an affair with the Producer, Lilibeth Frondoso while she was in a long time relationship with another woman.

Frankly, it's really none of our business who Maria goes out with. It's not really the fact that Maria Ressa is a Lesbian that shocked us, after all that was in 2005. We were a progressive bunch and a lot of our news reporters were out and Gay that we loved dearly.

No, it wasn't the news that Maria Ressa was a lesbian that was shocking.

What shocked us was:

1. Maria, A woman of principles, who turn down bribes and tells us to be fearless, is cheating on her current long term partner. I had many conversations with Maria, and I wouldn't think she was the cheating kind. If this was in the US newsroom, this was grounds for termination. If this was in America, she'd stepped down because Gen Petreus dishonored his position. Maria Ressa's standards are American. In fact, that's why she was brought to the newsroom, to uplift the standard of Philliipine Journalism to the Standards used in US! Maria authored the ethical code of conduct! Cheating is not a good ethical conduct, and with someone from the office? Professionalism out of the window.

2.Sad to say, the Producer, Lilibeth Frondoso is not worth leaving anyone for. Why? On a superficial level, she's not a looker. On her background, we knew she has 3 children (she was proud of them) and the father, a member of the NPA group, Alex Boncayao brigade. Her career? A lackluster performance at ABS-CBN. Underperformer. Why would Maria leave her longterm partner for this kind of person? Plus, Lilibeth, despite her siga nature, was known to be STRAIGHT. People doubted that she was a lesbian even with her belly and boycut hair.

http://www.rappler.com/about-rappler/staff-profiles/2526-beth-frondoso

People at the office said that Beth went for Maria for survival because Beth was supposed to be part of the 35 who was going to get fired.

Maria, on the other hand, needed allies. Beth provided her with support to continue with the "good fight" that her current partner couldn't provide, that's why Maria went with her. People close to Maria also said that Maria, despite her accomplishments was an affirmation addict. Beth new this vulnerability and insecurity of Maria and she latched on it.

It really shouldn't matter who Maria goes out with, but this relationship affected the newsroom. Their affair lowered the morale of the newsroom where promotions and achievements were based on merit and good performance, not on who you go out with. Beth acted like she owned the newsroom. Beth was not impressive as a Producer. Her lackluster performance inside the newsroom was covered because she delegated, and she hired people who were better than her. She was quiet and private, but she never hid the fact that she was going out with Maria, who was already promoted as Head of News.

My view on Maria changed after learning she was going out with Beth Frondoso. Maria, with all her credentials and achievements turns out has no taste and settled when it came to women. I couldn't believe "eto lang ang katapat niya." Kala ko pa naman, sosyal si Maria. Then after thinking about it, It's not as if Maria Ressa is a looker herself. Short, Dark and with Skin Asthma, what Maria going for her is that she's rich.

Beth is far from sosyal. Pa sosyal, pwede pa. After they started their affair, Beth was suddenly heard speaking English, a language she hasn't mastered, but at least she tries.

So magka level sila.

Beth has been on the receiving end of this relationship. After working in ABS-CBN for 11 years, she moved to CNN as the Manila stringer, now she's working at Rappler along side her lover. Beth has no shame in this. What do you take for a woman who steals another woman, her boss no less, why would accepting jobs she didn't earn be an issue to her?

Beth admitted to a confidant in the newsroom that Maria took her places that she herself would never go, and that people like Karen Davila, Kim Atienza, Ces Drilon, noticed her unlike before when they *just* regarded her as one of the Producers. She now gained respect, not for her work, but because she's now Maria Ressa's buttercup.

What was kadiri to death was the story that one time, Beth went inside Maria's office one afternoon. Though the door was closed, people heard pants and heavy breathing. When they both left the office, Maria with her dark complexion, looked flushed. Beth smugly told someone in the newsroom that she [performed a service to] Maria in the office. This is Beth's way of showing who was in charge between the two of them.

We wondered who was the Alpha Male between the two, but we all said the person with money is in control of the relationship.

In fairness to Beth and Maria, theirs was a happy ending. Maria used to live in Makati, Beth used to live in Quezon City in a rented house with her 3 children, namely Lejuene who graduated from Interior Design from UP, Uyo an Engineering student at UPLB and Luis, a highschool senior from Claret. None of them took after their hoodlum father, thank God! Now, the entire family lives in Greenhills in a gated community where Beth likes to shop in VirraMall. This is an upgrade from her Isettan days. Beth's 3 children didn't approve of Maria at first, but they all relented when they realized that Maria pays for their tuition and standards of living, something their father, Lejune De La Cruz, a gun man for hire can't provide.

At work, Maria Ressa fought Luchi Cruz Valdez, Charie Villa, Chi Gonzales and Cheryl Favila. Maria was not well liked by Charo Santos. Maria had difficulty with authority and with people who have ideas who are better than hers. This is one of the reason why the people at Rappler are young, and not senior with substance like at Abs-cbn. Maria also got the Abs-cbn rejects like Rupert Ambil, who Beth once had a relationship with before Maria. Correction, Beth TRIED to have a relationship with Rupert but was rejected immediately.

I tell this story because Maria Ressa used to be my idol, until she let go of her own principles for this woman at the expense of the newsroom's values of fairness, meritocracy and ideals.

I'm just glad that she's no longer at ABS-CBN, the most powerful news organization in the Philippines, and is now at Rappler. Rappler is nothing. They say that she created Rappler to remain relevant to the Philippines, after all, who is she without a job? A job that defines her as a person.

Now I read that she's protecting a 40something couple. Hmmn, I guess she hasn't changed after all. Lies, going behind people's back, limited disclosure…reminds me when she was having an affair in the newsroom of Abs-cbn. Some things never changed.
Not that there is anything wrong with being gay… 😉
But what I do find wrong is getting away with not walking the talk. After all, Ressa insists that "You have to do what's right – not just for your company, but for yourself." She goes on, "It's that simple. And you must make it that simple."
Excuse me but it was moi who originally made the phrase a household philosophy…
Never mind the beeping gaydars, but there is one little thing that still hasn't been resolved about the way Rappler reporters behaved back during the Renato Corona impeachment trial when they compromised confidentiality of alleged dollar accounts protected by Philippine Law…
Interestingly, "social news network" Rappler.com "online reporter" Magtanggol de la Cruz published the balance of one of those foreign currency deposits in an article that bears the ironic title "Secrecy in foreign currency deposits" dated the 8th of Feb…

The latest one that has grabbed my attention has to do with whether or not a Philippine bank can be compelled via a subpoena to disclose information relating to a foreign currency bank deposit of its depositor, in this case, the Chief Justice of the Supreme Court.

The scuttlebutt, of course, is that Justice Corona has a US$[bleep] deposit held by the Philippine Savings Bank (PSBank) and that the prosecutors even know its account number.

…refering to a previous article dated the 4th of Feb where "online reporter" Carmela Fonbuena reveals not only that dollar amount but the account number where it is deposited as well…

The $[bleep] deposited in account number [bleep] is supposedly just one of 14 accounts that the Chief Justice and his wife Cristina individually and jointly own with daughter Carla Castillo and her husband Constantino III. Prosecution wants the branch manager of PSBank Katipunan branch to appear before the court and bring the bank documents on February 7, Tuesday.
Kanya-kanyang "source" lang yan. There is "online journalism" and there is online journalism. In the latter, it is the crowds that ultimately validate the credibility of content, not money coming from shady shareholders.
Is it true or is it false? The readers will be the judge, and their comments the voice of said judgment.
benign0 is the Webmaster of GetRealPhilippines.com.