The title applies to you, as a Pinoy, if you swallow hook, line, and sinker, everything that you are told by media, your elders, and your politicians. You submit to the matrix that is Da Pinoy condition. You submit yourself without question to the collective "bliss" of the Hive. You hope that the world will change, yet you sit on your ass and apply a bahala na attitude to life.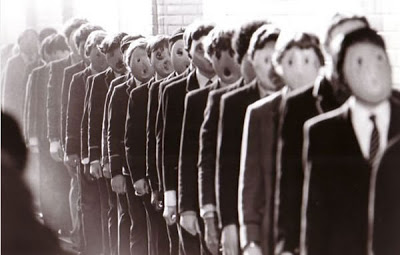 [Photo courtesy vastrm.com]
If this is not you, read on below.
By the time you read this, 2013 will have officially started. 2012 was not a dull year; in fact if you go by Malacañang's standards, it was the best year for the Philippines according to presidential spokesperson Edwin Lacierda. I've got one thing to say about that, though; activity does not necessarily mean accomplishment.
If you want to go by the latest SWS surveys, 92% of Filipinos supposedly look forward to 2013 with hope. As usual, the following question is just begging to be asked:
Hope in what exactly?
Not very often have we here in GRP come across commentators who can actually substantiate what it is that Filipinos can have hope in. More often than not Filipinos pin their hopes on the very politicians whom they're very poor at choosing anyway.
It is but normal to look toward the future with optimism, but are we just going to stop there? As Gandhi says, be the change you want to see in the world. And so the process of getting real simply continues in 2013. This being an election year, it looks like there will be plenty more matters than usual to scrutinize and to focus our ever-so critical eye on. One of them is the ever-so stubborn collective failure of the Pinoys to learn from their mistakes, whether it be from elections or bracing themselves for the next natural or man-made disaster.
Is change for the better something that will elude the Filipinos indefinitely?
We don't need no education
We don't need no thought control
No dark sarcasm in the classroom
Cue in the music from Pink Floyd.
Depending on whose point of view you take, one can apply the above lyrics to da Pinoy condition in more than one way:
1) Pinoys are satisfied with merely getting by and coping with whatever life and Mother Nature want to throw their way. They don't want to learn from their mistakes. They don't want to question their existing ways. Pwede-na-yan and bahala-na mentalities kick in. If you try to give them advice, you have to deliver it softly-softly, lest they take offense and consider the advice as insults to their intelligence. The phrase constructive criticism is all but alien to the Pinoy mind; so is the concept of personal responsibility. Pinoys believe they are always victims of circumstance and thus take every opportunity to use the victim mentality and puppy dog eyes paawa act.
The New Year is certainly a time to make a list of resolutions, of things one wants to improve. Unfortunately, the idea of a New Year's resolution seems lost on Da Pinoy because he/she does not see the need for change.
[Photo courtesy: Calvin and Hobbes by Bill Watterson, published by Universal Press Syndicate]
2) From the Get Realist's view, one will, at the very least, question, but not necessarily shun altogether, such "traditional" sources of information such as one's elders, mass media such as television and/or the broadsheets, and, oh yeah, the politicians. This is not to say that everything they say is wrong, but if something smells fishy, Filipinos need to speak up and not to learn to take things sitting down. They should learn to question authority intelligently.
Pinoy society, as we know it today, has become a rigid and inflexible one where the people just believe everything they hear, and where subservience and deference to authority are valued above creativity and innovation. People are taught what to think but very little emphasis is put on how to think. It is a society where mediocrity and impunity run rampant, and people don't take questions about themselves too kindly. Even the most innocent of questions can seem offensive to the hypersensitive Pinoy. And Pinoys certainly haven't taken too kindly to satire and sarcasm as literary devices either.
Is the influence of the mass media unshakable?
And when you trust your television
What you get is what you got
Cause when they own the information, oh
They can bend it all they want
– John Mayer, "Waiting on the World to Change"
[Photo courtesy: knowledgeisking.ning.com]
There is a reason why mass media is called mass media. Their circulation is extensive, and they are in charge of a very broad and wide-reaching information dissemination system. It is a disconcerting thought, indeed, that the power to shape the minds of so many is in the hands of so few. The bottom line of the main TV stations and newspaper dailies that we have here in the Philippines is profit. Why argue that they need to make money in order to keep their companies running? Unfortunately, because sensationalism sells, it has become the norm here in the Philippines to compromise journalistic integrity for either profit or currying favor towards the powers that be (e.g., government officials).
What is disturbing, more so last 2012, that media has transformed itself from being the watchdog to being a lapdog of government. They have become the current president's propaganda machine and cheerleading squad.
Now we see everything that's going wrong
With the world and those who lead it
We just feel like we don't have the means
To rise above and beat it
For sites like GRP that seek to point out to Filipinos the cultural dysfunction that exists, the battle is uphill. Sometimes it can seem hopeless because the mass media have the resources we could only dream of having. Mass/popular media, whose bottom line is profit, counts on having as many people coming back to them as primary sources of information, even if it's not entirely correct or even if it's not an objective, impartial, or unbiased account. It is ultimately two opposing voices vying for the same audience.
GRP does not sugarcoat or use the softly-softly approach in its analysis of Filipino cultural dysfunction. To the greatest extent possible, all the articles here are backed up with solid facts and draw little from hearsay or conventional beliefs. GRP often takes the unpopular stance on many issues; one of the main contentions here is that the popularity of an idea is not a good indicator of its validity.
Unlike many other alternative blog sites who have folded or have become part of the Establishment, GRP is still here. And it will be here to stay for quite some time, as the ideas presented here will always be relevant as long as Pinoys refuse to do anything about their cultural dysfunctions.
With that said, here's to a 2013 where Getting Real becomes a reality for many more of us!
А вы, друзья, как ни садитесь, все в музыканты не годитесь. – But you, my friends, however you sit, not all as musicians fit.