Droll, unintelligent, petty, and pathetic – these words describe the "debate" that has surrounded the discussion of the Reproductive Health Bill (RH Bill), the passing through both houses of Congress and its eventual signing into law as RA 10354.
The whole point of the exercise was to implement some sort of semblance of population control. Somewhere along the way, Filipinos lost the plot and the whole point of population control was politically-corrected beyond recognition.
Let me make it clear from the onset: the RH Bill isn't necessarily the problem itself; how Pinoy society handled the discourse until its eventual signing is. In fact, the RH Bill is but one of the many "casualties" of world-renowned Pinoy flawed thinking.
Both the pro- and anti- camps had moronic arguments to boot. Exhibit A: ladies first, Sen. Pia Cayetano. Safe sex is arguably a state concern, but satisfying sex? Excuse me, when did personal matters become something for the state to meddle in? Is this what they meant by empowering women, hmm?
If growing older used to equate to growing wiser, perhaps Senate President Juan Ponce Enrile is an exception to this "rule". There are just so many thing wrong with his statement on why he opposed the RH Bill. That our biggest export is OFW's — is this something to be proud about? How long will we continue to export warm bodies to work in inhospitable conditions just to feed the frenzied consumerism of Da Pinoy? How long do we plan to be extremely dependent on the OFW remittances and the economic, social and political situations of other countries? If the wells dry up, do we have enough room to accommodate our former "exports"? What was the good Senator drinking, I mean, thinking?
Has the Roman Catholic Church in the Philippines become irrelevant? The scare tactics that they used to employ every time an issue that they deem "immoral" comes along don't work anymore, at least to people who have seen through their hypocrisy. The passing of the RH Bill certainly put the Church and its senior officials down a peg or two; perhaps instead of meddling in what are otherwise state and secular affairs, they should just focus on guiding Filipino spirituality. On the other hand, the Church happened to be the next domino to fall because they found themselves in opposition to BS Aquino.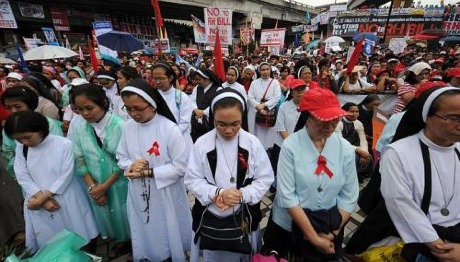 [Photo courtesy Straits Times.]
One of the biggest ironies surrounding the Church and the Catholic Bishops Conference of the Philippines (CBCP) is that they continually ingrain into the people's thinking that being poor is a blessing. When methods to enlighten the people are brought up, they cry foul yet absolve themselves of blame and responsibility. Have you ever wondered why for the longest time, contraception, and until now, divorce, remain such no-go topics here? Just recently, a bishop failed to frame his statement in the proper context and came out looking like he downplayed overpopulation and poverty as problems for Filipinos.
The RH Bill has been hijacked as a victory by the "pro-choice" people. Yet I have always held the belief that Filipinos have never been deprived of choices; they just keep making the wrong ones. Filipinos have always had it in them to plan families naturally and properly. Did they take "go forth and multiply" literally? Or is it that Filipino males going around being indiscrete about their sexuality and "manhood" is but a manifestation of the obsolete tradition-religion complex found here?
Just as common sense, and good manners cannot be legislated, I do not think is it possible to legislate discipline or "satisfying sex" either. Nor is it possible to legislate family planning when the problem in Filipino society is the second word. Filipinos live by the all too familiar bahala-na mantra (come what may, anything goes). God will provide, anyway, so to speak.
The palamunin Pinoy is a money pit; I don't understand how throwing more money and condoms into the pit's mouth will solve it. The RH Bill will supposedly provide better access to health care services and contraceptives, but if the Filipino simply sees a "freebie" without the corresponding responsibility that comes along with it what good will this new "bill" do?
One more thing; how will the benefits of this RH Law be measured and quantified? Is it by the number of condoms given? Is it by the number of people who have reported "satisfying sex"? How I wish this would be made abundantly clearer.
One of the biggest issues I have with the RH Bill is summarized as such: You can lead a horse to water, but will it drink by itself? And especially if the horse is being jockeyed by an institution that has refused to cope with the modern times. Giving out free condoms is not the answer; proper sex education and education on family planning is, regardless of what the CBCP has to say.
Because Filipinos are world-renowned for losing the plot, it is hard for their society to stick to debating an idea on its merits. As the brouhaha over the RH Bill has shown, things degrade to a pro- versus anti- indignation shouting match, with the louder voice usually winning. Popularity trumps logical coherence any day, and the wrong arguments always win.
Speaking of wrong arguments, check out this list of anti-RH Bill arguments that will make you go WTF.
The bottom line is, as long as Filipinos allow their debates to revolve around the wrong ideas, to be derailed by emotionally charged arguments, and to be hijacked by grandstanding demagogues, they will forever be trapped in an intellectual prison of their own making.
А вы, друзья, как ни садитесь, все в музыканты не годитесь. – But you, my friends, however you sit, not all as musicians fit.